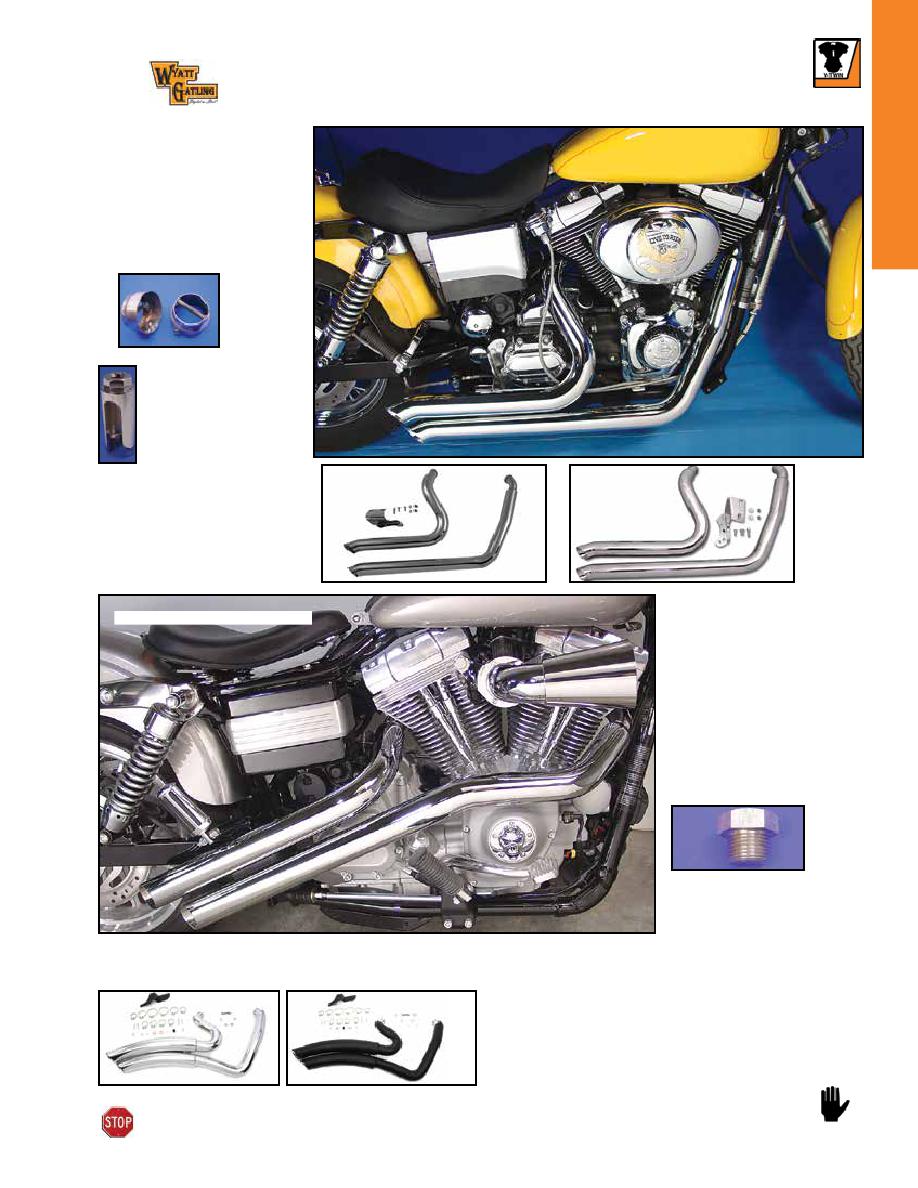 315
BIG TWIN
30-0371,
30-0475
2¹⁄₄" Drag Pipes fit FXD-FXDWG.
Brackets are included. Order baf-
fle rings separately.
VT No. Fits
30-0371 1995-05 FXD
30-0475 2006-17 FXD
31-0811 1995-17, Repl. Bracket
30-0050 Baffle Rings
30-0786 Installed on 2006 FXD
2¹⁄₄" Exhaust for FXD-FXDWG
Wyatt Gatling Exhaust Sets feature "Quad Finishing" which includes triple dura nickel and chrome as the final finish. After
chrome plating, pipes are normalized and dried @572° F for the final finish process.
30-0423
30-0050
Sweeper Exhaust fits FXD
models including 2006-17 mod-
els with oxygen sensors. Pipes
are 1³⁄₄" to 2¹⁄₄" at end portion.
Bracket included. Order baffle
separately.
VT No. Item
30-0786 1991-17 Pipe Set
30-0423 Oxygen Sensor Plug
Important Note:
Some items on this page may be emission-related parts subject to California or other emission control laws. Please
see note for important information regarding emission control regulatory compliance and warranty information.
30-0371
30-0475
Vance & Hines Super Radius 2 into 2 Pipe Set. Super radi-
us brings a deeper richer tone to the custom styled exhaust
and is engineered for today's larger capacity engine to get
solid performance and just the right sound. Features include
deeper tone, full coverage heat shields and available in
chrome or matte black.
Chrome Black
Fits
30-1650 30-1651
30-1651
30-1650
Oxygen Sensor Tool will
remove and install oxygen
sensors on fuel injected
models. Can be used with
VT No. Fits
16-1131 18mm
16-1132 14mm