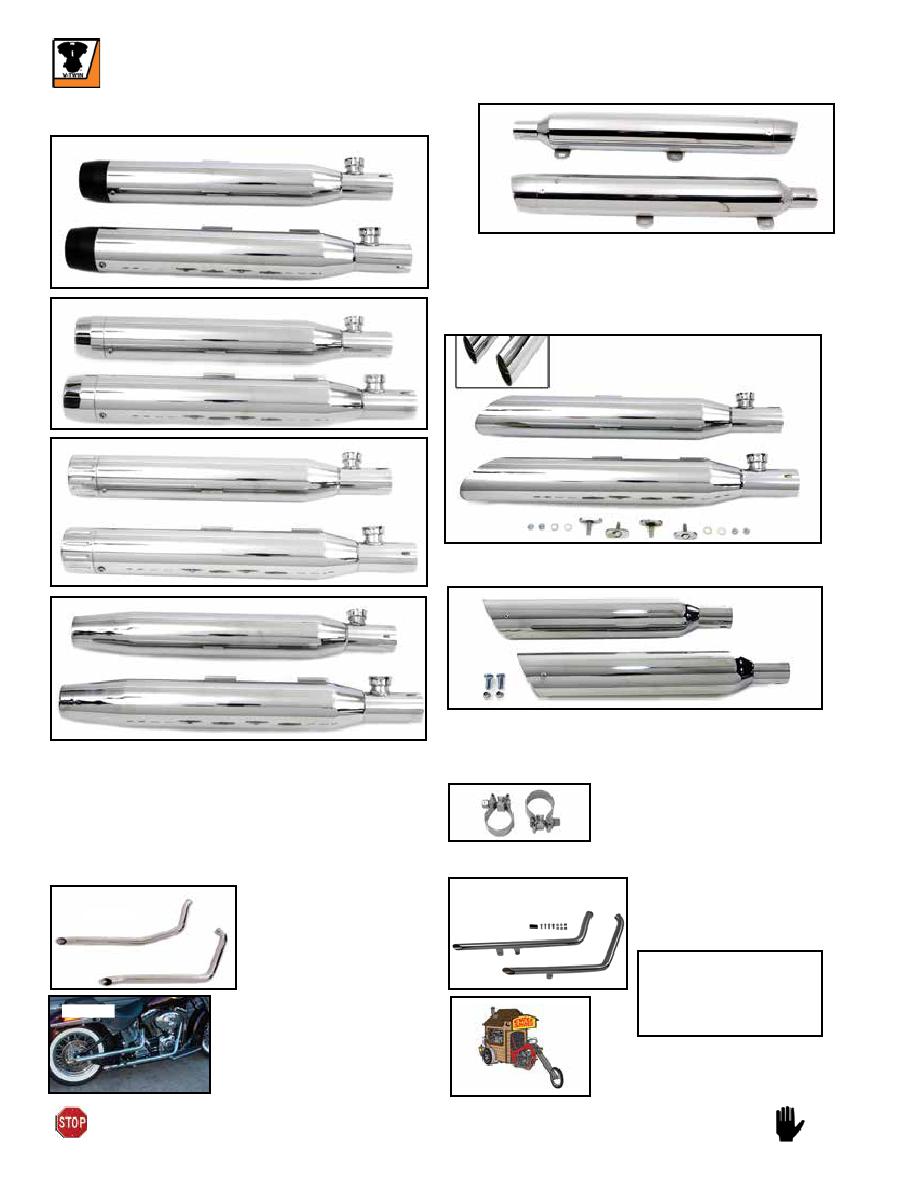 314
Pipes for FLSTF
Chrome Deluxe Drag Pipe Set fits
2005-06 FLSTF models. Features
1³⁄₄" header pipes, 2¹⁄₂" diameter
mufflers and one piece construction.
Uses stock flange rings, gaskets
heat shields and mounts to stock
bracket.
VT No. 30-0078
30-0078
30-3368
Pipes for FLSTF-FXSTD in
1³⁄₄" header pipe.
2000-06 1990-99
30-3368 30-3368
Note: Modification to original equipment
exhaust systems may not be permitted
under local or Federal noise limitation
and/or emission laws. Check your local
regulation before ordering. The high per-
formance exhaust components offered in
our catalog are legal for off road use only
on 1979 and later models.
40" Goose Style Drag Set
features retro chopper styling
in 1³⁄₄"
ends. Use with existing brack-
ets. Fits 1996-99 FXST.
VT No. 30-2166
30-2166
Exhaust for
2000-17 FXST-FLST
Slip On Chrome Muffler Set for stock OE headers. Fit 2007-
17 FXST.
VT No. Type
30-1282 Black Tip
30-1281 Chrome Tip
30-1283 Chrome Ball Milled
30-1284 Chrome Tapered Cone
30-1282
30-1281
30-1283
30-1284
Slip On Muffler
Slip On Muffler Set with side slash style ends mounts with
5/16 T bolts which are supplied. Order clamp set separately.
Sold as set. Fits 2000-09 FXST.
VT No. 30-0985
Cycle Shack Patch.
VT No. 48-1432
Important Note:
Some items on this page may be emission-related parts subject to California or other emission control laws. Please
see note for important information regarding emission control regulatory compliance and warranty information.
The Best Muffler Clamp!
VT No. 31-1007
Chrome Slip On Muffler Slash Style Set fits 2007-17 FXST.
VT No. 30-0997
30-0798
Chrome 29" Muffler Set has a 1³⁄₄" inner diameter and a 4"
outer diameter. Fits 1997-2017 FLST.
VT No. 30-0798