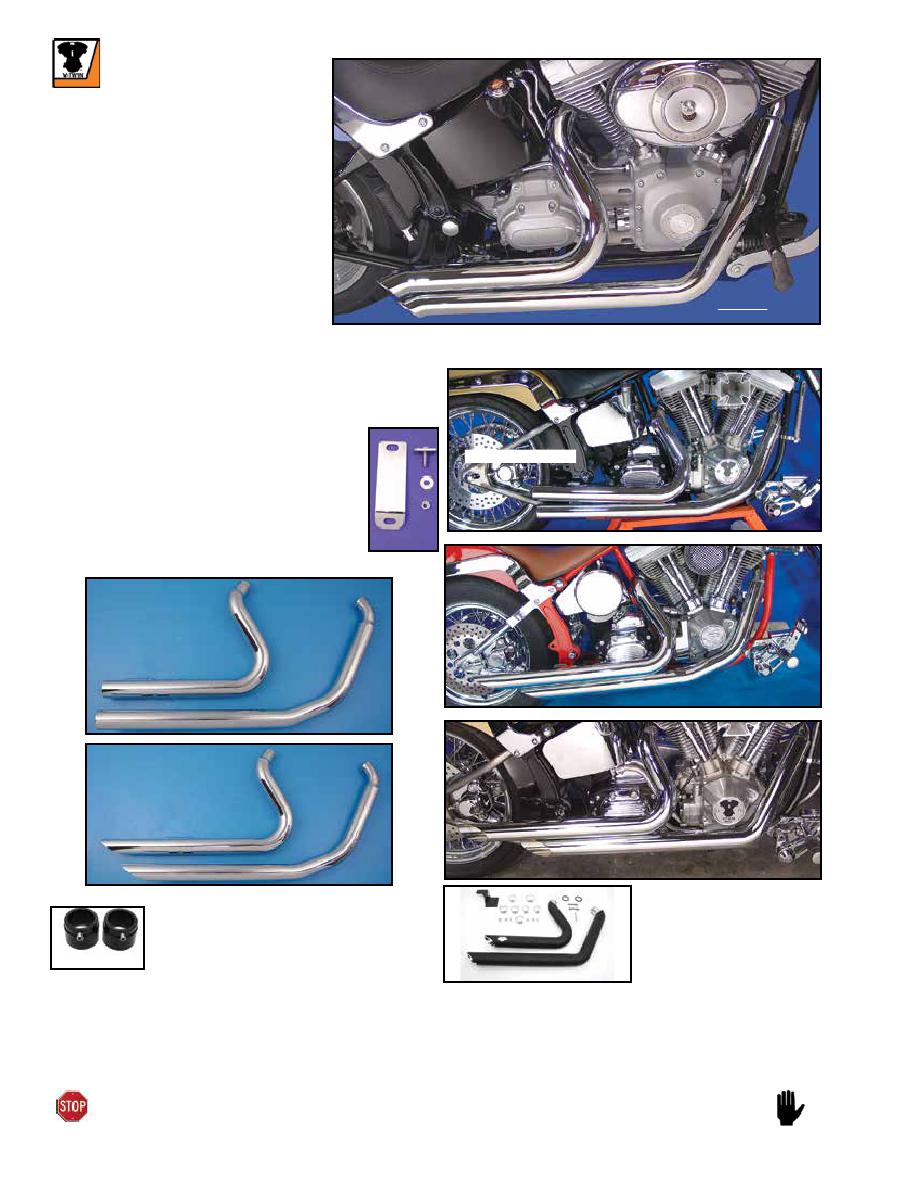 310
Monster Drag Pipe
30-0551 Installed
30-0551
30-0552
30-0552 Installed
30-0556 Installed
31-0016
Black Billet Tapered Tips for 2¹⁄₄" pipes.
VT No. 30-0799
30-0799
2¹⁄₄"
Wyatt Gatling Monster Drag Pipes feature 2¹⁄₄" outside diam-
eter and mount to stock brackets. Fits 1986-06 Softail models.
Order baffles separately. Black end cap fits straight cut end
pipes, by drilling ¹⁄₄" mount hole. Order 30-0452 end caps sep-
arately.
VT No.
Fits
30-0551* Straight Cut
30-0552 Down Slash, Shorty
30-0578 Down Slash, Longs
30-0556 Side Cut
30-0579 Side Slash, Shorty
31-0016 Bracket
*Note: Does not include mounting hardware.
Important Note:
Some items on this page may be emission-related parts subject to California or other emission control laws. Please
see note for important information regarding emission control regulatory compliance and warranty information.
2" Side Sweeper Exhaust Pipes fit 5 and
6-Speed 1986-17 FXST models without foot-
boards. Pipes have oxygen sensor ports with
plugs which can be removed for 2007-17
models to install sensors.
VT No. 30-0792
Wyatt Gatling Exhaust Sets feature "Quad Finishing"
which includes triple dura nickel and chrome as the final
finish. After chrome plating, pipes are normalized and dried
@572° F for the final finish process.
30-0792
Exhaust
Vance & Hines Black Short Shots feature 1³⁄₄" header pipes
with full coverage 220° heat shields that run all the way back
to the end caps. Includes removable baffles and mounting
hardware. Available in black. Fits 2012-17 Softail Slash cut.
Note: Will not fit models with kickstart.
VT No. 30-1599
30-1599