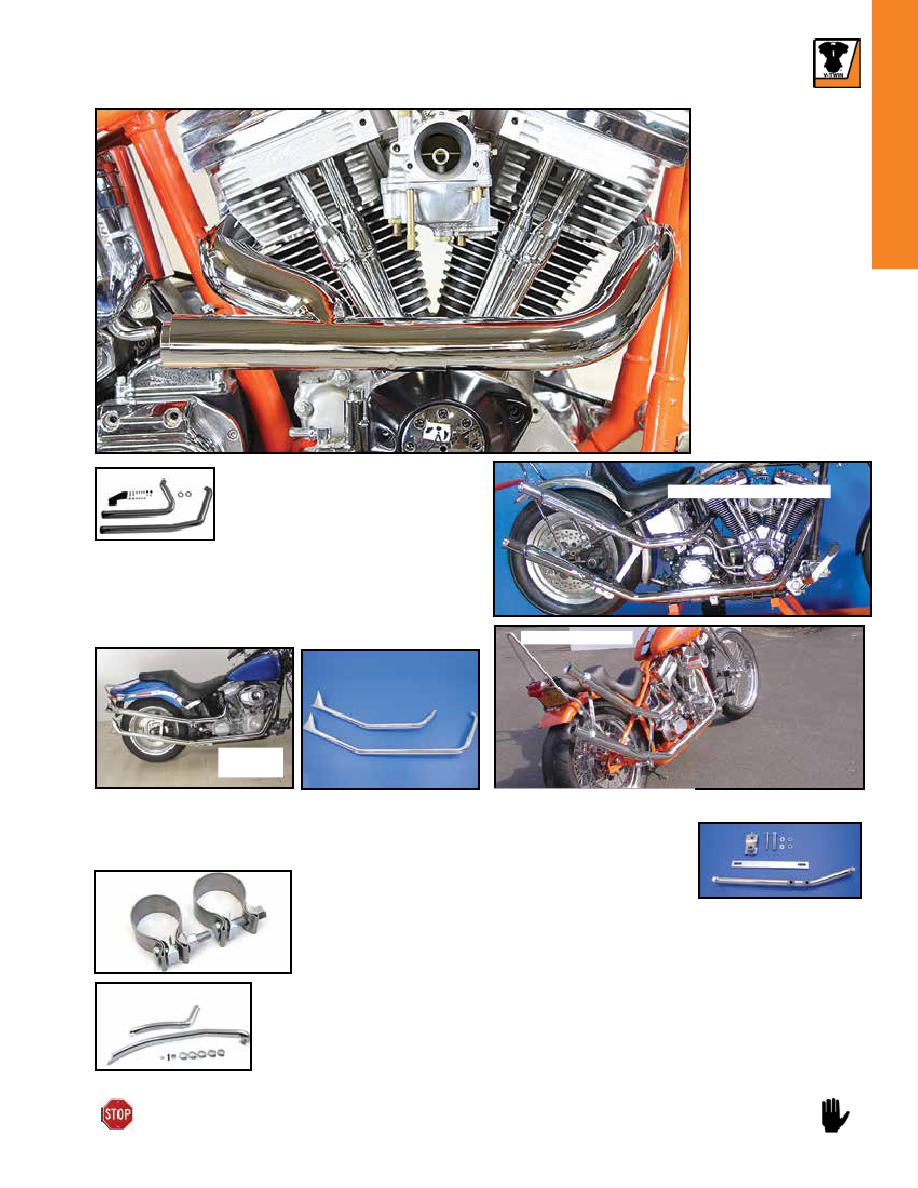 309
BIG TWIN
FXST Fish Tails are chromed with upsweep in 1³⁄₄" diameter
for Evo and TC-88 models. Baffles not included
VT No. Year
29-1131 1986-99
29-0500 2000-06
29-0500
Installed
Upsweep Exhaust
29-0086 with Megaphone
Header Set
Fits Mounting Bracket
VT No.
VT No.
29-0086 1984-94 31-4088 Rear Pipe Mount

29-0089 1995-99 31-4090 Mounting Bracket Kit
30-0589 2000-06 Included
29-0089 Installed
Bracket
Set
Chrome 1
3
/
4
" Up Sweep Header
Sets for 1984-86 FXST models.
Use with straight fishtail exten-
sions or mufflers which must be
purchased and mounted sepa-
rately. 1984-99 applications will
also require separate purchase
of correct mounting brackets.
Important Note:
Some items on this page may be emission-related parts subject to California or other emission control laws. Please
see note for important information regarding emission control regulatory compliance and warranty information.
Samson Hell Raiser Series
Sinners Piranha Exhaust Pipe
Sets for 1984-06 Softail model.
Feature 220° heat shields, 1³⁄₄"
head pipes, 2¹⁄₄" diameter body and
includes mount hardware when
required.
VT No. 30-0057
30-0057
FXST Muffler Clamp Set
VT No. 30-1435
2:1 Siamese Exhaust
Header Set with a 1³⁄₄"
outer diameter, fits under
the carburetor on rigid or
swingarm frames. Muffler
not included. Fits 1986-99
FX.
Chrome Black
30-0582 30-0583
29-1131
Rinehart Exhaust Systems feature a
three step header pipe that starts at 1
the head, increases to 1⁷⁄₈" and finishes at
2". The system has permanently mounted
2¹⁄₂" full length heat shields, removable
performance baffle and polished black anodized billet aluminum
end caps. Fits 1986-06 FXST.
VT No. Style
30-0390 Flush Cut
30-0391 Staggered
30-0390