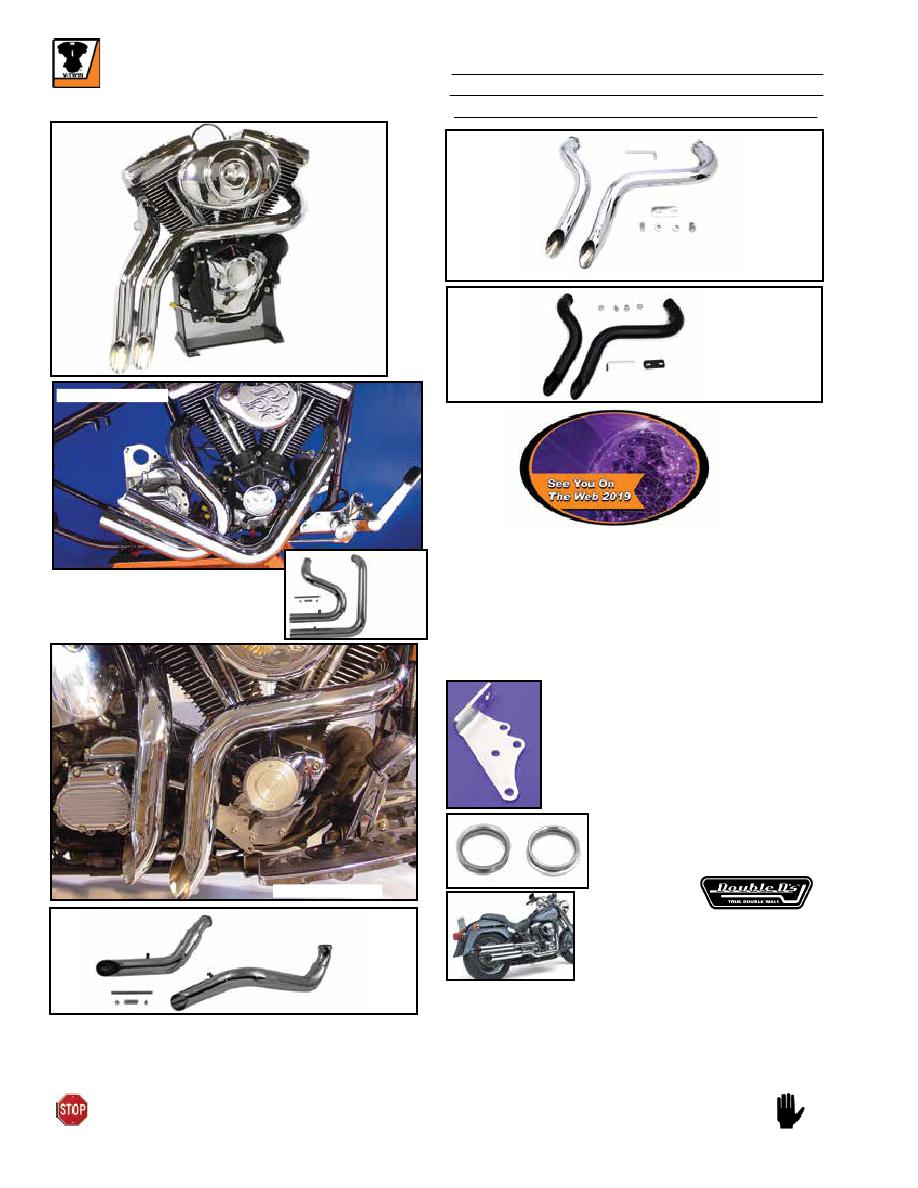 308
30-0544 Installed
Pipe Bracket mounts to cam cover on
Evolution and TC-88 models for 30-0544.
Hardware not included.
VT No. 31-0894
Model
Hardware
31-0894
30-0543 Installed
Exhaust
Before Starting Engine wipe all fingerprints off
exhaust pipes after installation. Oil from hands
will leave permanent marks on chrome finish.
Double D Slip-on Mufflers bolt to stock head pipes
and feature doublewall performance, 1¹⁄₂" baffles
and have the same diameter as stock. Sold in head
pipe for smooth look. Fits 1986-99 FLST.
VT No. 30-2024
30-0544
30-0543
SLIP-ONS
1³/₄"
30-0469
Wyatt Gatling Down Draft Drag Pipe Set available in black
or chrome finishes. These pipes have 18mm O² sensor bung
plugs for non-EFI applications. A cross bracket connects the
pipes together for added support. Order baffles, flange rings
and flange gaskets separately. Fits 1986-up FXST, FLST,
1991-10 FXD and 1986-13 with forward controls only.
Chrome Black O.D.
30-0460 30-0464 2"
30-0469
1³⁄₄"`
2"
30-0460
Chrome Wyatt Gatling Stack Pipe
Set fits left and right side drive, 1985-
2006, 2¹⁄₄".
VT No. 30-0543
Oxygen Sensor Sealing Washer
VT No. Year
Size
15-0081 2006-10 18 mm
15-0012 2011-up 12 mm
Important Note:
Some items on this page may be emission-related parts subject to California or other emission control laws. Please
see note for important information regarding emission control regulatory compliance and warranty information.
Chrome LAF Exhaust Header Set with a down style and
features a 2¹⁄₄" diameter. Sold in a quantity of 2. Set is for left
side and right side drive applications.
VT No. 30-0544
30-0464
30-0469