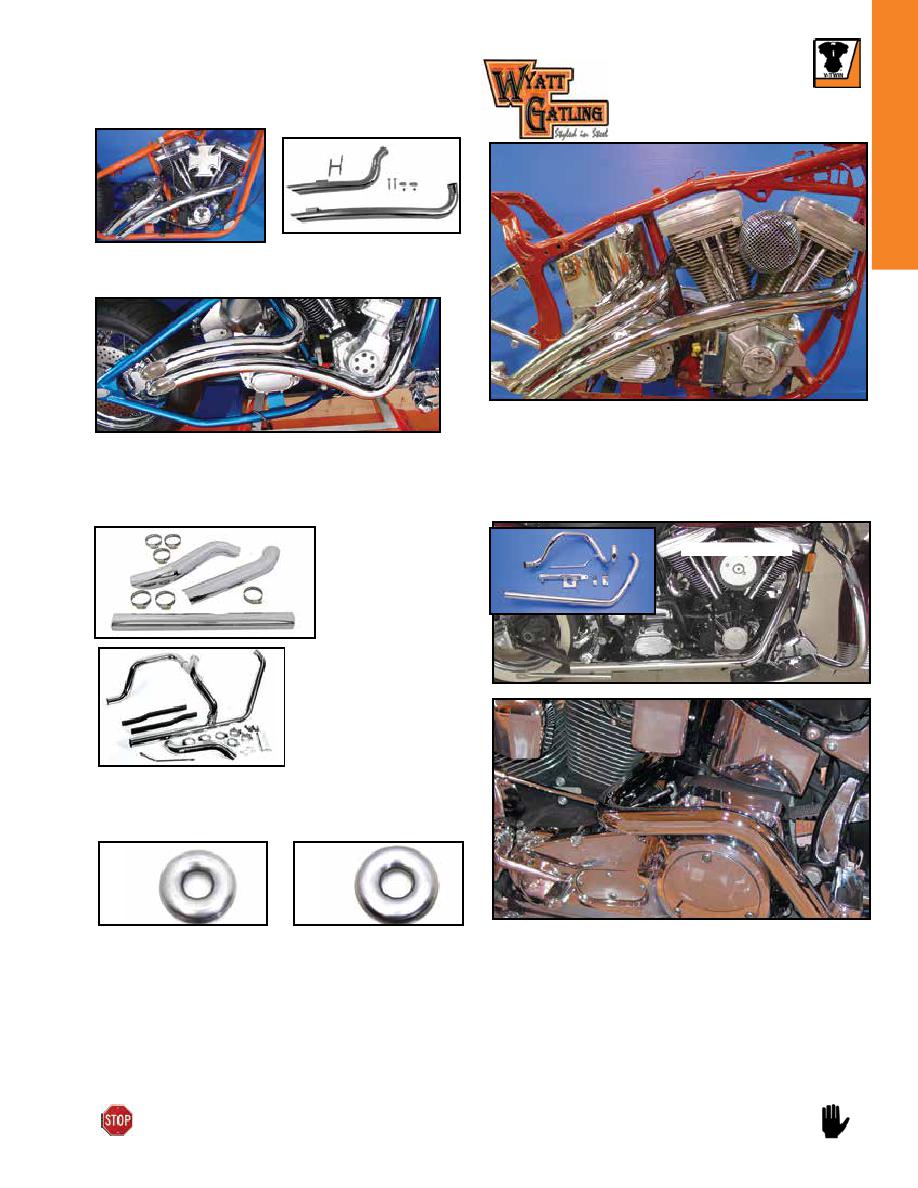 307
BIG TWIN
2" Exhaust
Pirate 2" Curve Pipe Set fits 1986-06 Softail/Evolution and
TC-88.
VT No. 30-0320
30-0295 Installed
Note: Wyatt Gatling Exhaust Set features "Quad Finishing"
which includes triple dura nickel and chrome as the final
finish. After chrome plating, pipes are normalized and dried
@572°F for the final finish process.
Chrome Wyatt Gatling Pipe Set features full curve with 2"
outside diameter for Softail models in Rigid or Softail frame.
Bracket included. Fits 1984-06.
VT No. 30-0295
Important Note:
Some items on this page may be emission-related parts subject to California or other emission control laws. Please
see note on for important information regarding emission control regulatory compliance and warranty information.
Chrome 2 into 1 Heat
Shield Set. Fits 1986-99
FLST when an early FL
look is desired.
VT No. 30-0334
2 into 1 Exhaust
VT No. Type
Year
29-1154 Pipe Set Only 1987-99
29-1154
True Dual Chrome Exhaust Systems feature a single pipe
for each side. Each pipe is independent and has 1³⁄₄" outside
diameter. The rear pipe is for the left, and the front pipe is for
the right without intersection.
VT No.
Fits
29-1169 1995-99 FXST-FLST
29-1190 2000-06 FXST-FLST
31-0815 Bracket, Each
29-1169 Installed
29-1169 Crossover Set (left)
ST True Dual's
Custom Exhaust Donut is used to create custom exhaust
systems. The full 360° bends allows for just the right angle cut.
Sold as each.
VT No. Size
ID
OD
30-0002 1³⁄₄"
30-0003 2"
30-0002
30-0003
FLST-FXST Fishtail Dual
Exhaust Kit by Paughco fits
all 1995-up models. Available
with Fishtail ends only with
or without mufflers. Complete
with clamps and mounting
hardware. Includes shift rod
where required. 1³⁄₄" outside
diameter use with 30-0293 heat
shield set.