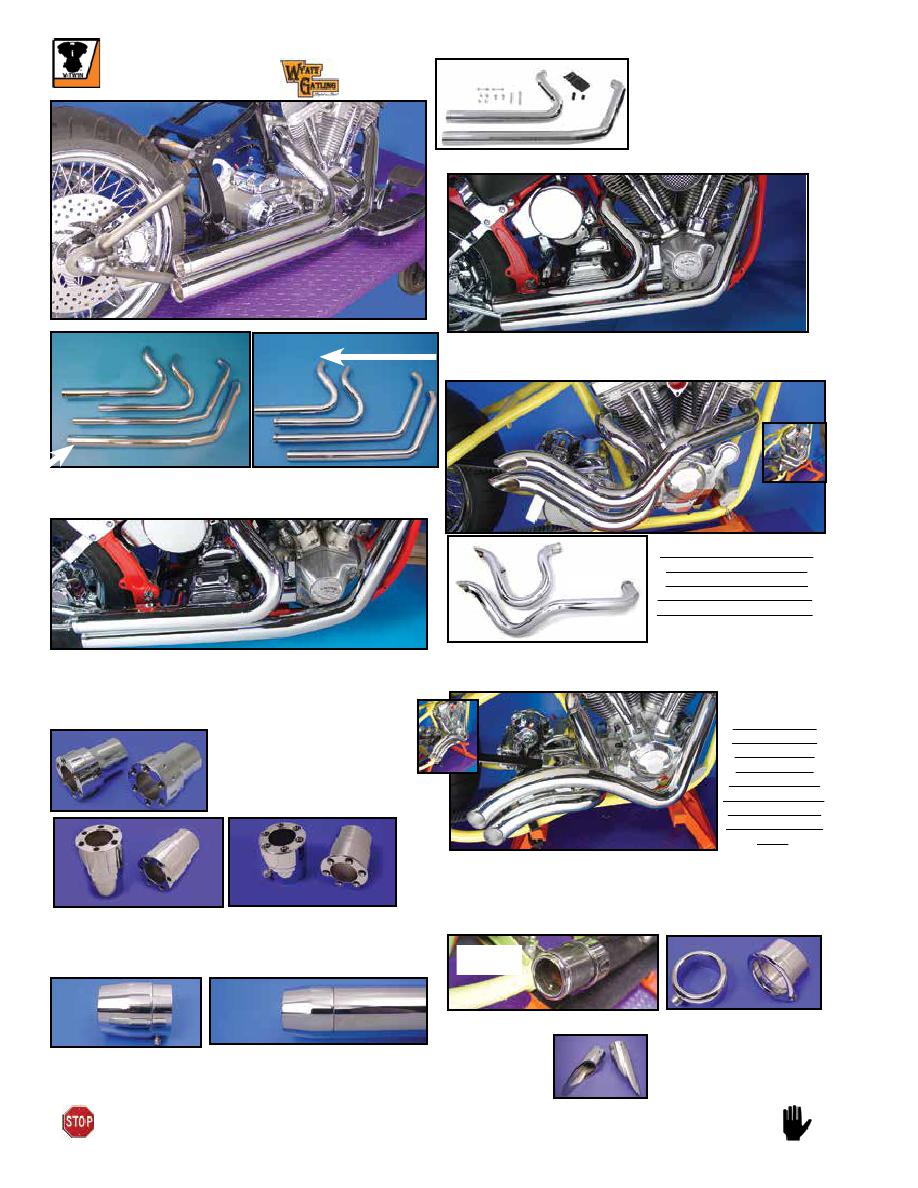 306
30-0318 Installed
with footboards.
Maxx-shot Softail Exhaust Set features 1³⁄₄" headers with
full coverage 2¹⁄₄" form fit chrome heat shields. Fits 1986-06
FXST and FLST with or without footboards. Includes mounting
bracket and removable baffles.
VT No. 30-0318
Exhaust
Six-Gun Pipe End Set. Wyatt
Gatling's end tips fit pipes with
2¹⁄₄" full coverage heat shields
over 1³⁄₄" pipes.
VT No. 30-0576
30-0318 shown with full cov-
erage heat shields.
30-0517 includes full coverage
heat shields and chrome end
caps
Includes full coverage heat
shields and chrome end caps
Exhaust Sets feature "Quad
Finishing" which includes triple
dura nickel and chrome as the final
finish. After chrome plating, pipes
are normalized and dried @572° F
for the final finish process.
Softail Short Stuff Pipe Set features 1
coverage 2¹⁄₄" heat shield set. Fits 1986-06.
VT No. 30-0517
Full Coverage Formed Heat Shields Included!
30-0318
Important Note:
Some items on this page may be emission-related parts subject to California or other emission control laws. Please
see note on for important information regarding emission control regulatory compliance and warranty information.
Six Gun Pipe Ends.
VT No.
Fits (Outer Diameter)
30-0789
30-0788
30-0789
30-0788
Chrome Billet Ends fit 2¹⁄₄" outer diameter straight pipes.
VT No. 30-0453
Chrome Billet Exhaust Ends.
VT No. Fits
30-0791 1³⁄₄"
30-0790 2¹⁄₄"
30-0791
30-0791
Installed
30-0453
30-0453
Installed
30-0541
30-0541
X Series Pipe Sets fit right or left side drive applications.
Chrome Black Style
Size Bracket
30-0541
31-1576
Before Starting Engine wipe
all fingerprints off exhaust
pipes after installation. Oil
from hands will leave perma-
nent marks on chrome finish.
Venom Style Drag Exhaust Pipe Set has straight cut ends
with a 2-1/8" diameter and features a "fog" black 500°F finish!
Fog Black
Chrome
500 °F
30-0602
30-0542
30-0542
Chrome Billet Scalloped Pipe
Ends fit 2¹⁄₄" outer diameter
straight pipes. Sold as a pair.
VT No. 30-0313