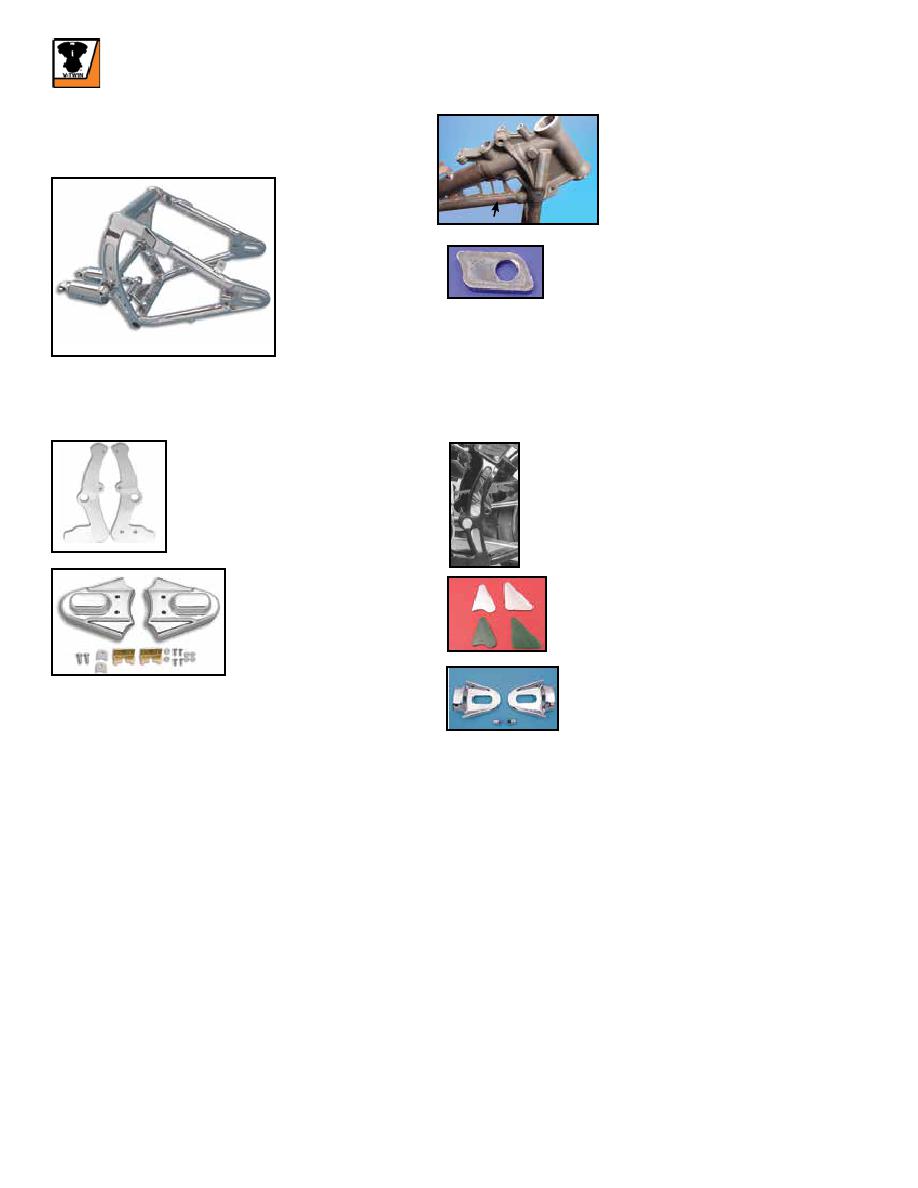 302
Neck Lock Tab welded on 1965-84 Big
Twin frames.
VT No. 51-0517
Softail Frame Brackets to be
welded on.
VT No.
Item
51-0583
A
B
The Construction of the V-Twin™
Frame
Chrome Softail Rear Frame
Covers bolt on to cover axle
adjuster area on all 1986-99 Softail
frames. Hardware and instructions
included.
VT No. 42-0034
Smooth Frame Trim Set fits FXST-FLST. Easy
to install chrome plated trim plates fit into recess-
es on rear of frame near swingarm pivot. Comes
with double-sided adhesive on back.
VT No. Year
42-0038 1987-06
42-1531 2007-17
42-1534 2000-06 FXST
Chrome Rear Frame Covers contoured to
fully cover rear castings on 1986-99 FXST-
FLST Softail frames. Covers are securely
fastened by bolting under rear strut arms,
foot peg bolts, swingarm pivot bolts and
fastens on lower right under muffler brack-
et.
VT No. 42-0001
Chrome Frame Insert Set covers area on
neck of Big Twin frames 1948-Early 88 with
key lock. Easily attached with adhesive pads
provided. Available in pairs.
VT No. 42-0056
Frame Covers for Softail
Chrome Tail Spurs dress up rear castings
on 1986-99 FXST-FLST models. Contour
steel covers fit behind adjusters to protect
paint when axle is removed. Adjuster nuts
supplied.
VT No.
Item
42-0676 Spurs
44-0545 Adjuster Kit
42-0676
VT No. Year
51-0651 1986-99
Chrome Rear Swingarm &
Shock Assembly
Chrome Rear
Swingarm and Shock
Assembly fits Softail
models. Includes
chrome tail section,
adjustable shocks with
1" lowering capability,
chrome axis tube with
tapered allen screws
and chrome shock
mount bolts.
1986-99 ST Swing Arm