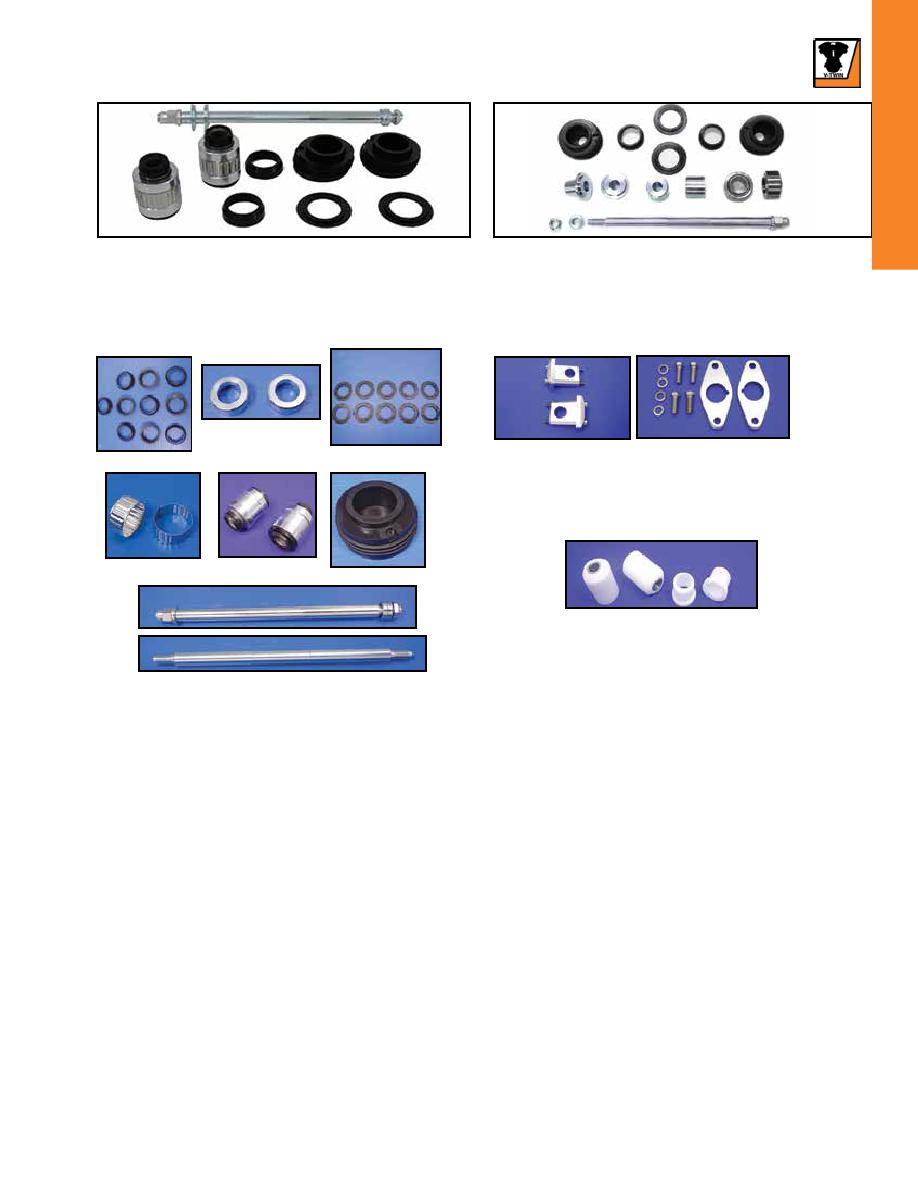 FXR Swingarm Rebuild Parts
VT No. OEM
Year
Item
44-2044 Kit
44-2039 47510-80 1987-97
44-2040 47511-80 1987-94
44-2041 47513-80 1987-94
31-0444 47538-79 1982-94
31-0452 47556-81 1982-94
31-0443 47564-86A 1987-94
44-2042 47491-89 1989-94
44-1991 47492-89A 1989-94
44-1984 47515-82A 1982-88
31-0444
31-0452
44-2041
Swingarm Mounting Kit includes two bushing assemblies,
two spacers, two plastic retainer rings, two rubber isolators
and pivot shaft with locknut and all parts required to mount
transmission and swingarm to pivot block. Will work with stock
or aftermarket rubber mount swingarm frames for 1982-94
FXR models.
VT No. 44-2044
44-2044
1982-94 FXR Kit. All are pieces included for ease of installation.
Updated Design. Rubbers are included. Controls lateral and tor-
sional movement at pivot point. Close tolerance updated spheri-
cal bearings included
VT No. Item
44-0941 Kit
44-0960 Spacer Set
44-2039
31-0443
44-1984
44-1991
44-2040
Nylatron Swingarm Bushing Kit is a four piece bushing set
replaces swingarm bearings and stabilizes swingarm rubber
mounts. Order pin separately. Order (31-3986 or 31-0443)
frame mount bushings separately.
VT No. 44-0671
301
BIG TWIN
Swingarm Components for FXR
FXR Rear Axle Adjusters include heavy axle pull blocks and
chrome end caps with allen screws, for 1982-94. Chrome
pivot covers also available.
VT No. Item
44-0583 Adjusters
42-0030 1982-89 Pivot Cover Set
44-0583
42-0030
Emissions and Noise Regulations
Important Information:
Disclaimer: The California Air Resources Board (CARB does not permit the use of aftermarket emission-related parts) that alter the performance
of OEM emission-related devices unless CARB has issued an executive order, other than on racing vehicles on closed course. Check your local
laws and manufacturer's information.
Disclaimer: Emission related parts for OEM Non-emission control system equipped motorcycles as well as slip on mufflers that mount down-
stream of and which do not alter the performance of OEM emission-related devices, are considered legal replacement parts by CARB. More
California exhaust information is available a www. arb.aa.gov.
Disclaimer: Aftermarket products, including but not limited to exhausts, fuel, air controllers, air filter kits, camshafts and carburetors and jet kits
which alter, modify, or replace emission control devices or systems of an originally compliant highway motorcycle, are not legal for sale or street
use in California unless they have been issued a CARB Executive Order. Aftermarket emissions related products which have not been issued an
Executive Order or which are not aftermarket Replacement Parts, as defined in Title 13, California Code of Regulations, Section 1900 (b)(2). are
authorized for closed circuit race use only. Products shown may be designed, manufactured, intended and sold for closed circuit race use only and
use of the same on public roads or lands may be a violation of local, state and/or federal laws. See manufacturer's information and state and local
laws to determine what is authorized for your use on your vehicle.
Disclaimer: Products shown may not conform to federal, state or local noise regulations.
Warranty
Disclaimer: There is no warranty on exhaust pipes and mufflers with regard to any discoloration. Discoloration (blueing) is caused by tuning char-
acteristics, i.e. cam timing, carburetor, etc. and is not caused by defective manufacturing.
Disclaimer: Check your applicable laws and manufacturer's publication(s) and/or website(s) for manufacturer's warranty, maintenance, safety,
mounting and any regulatory compliance/non-compliance information.