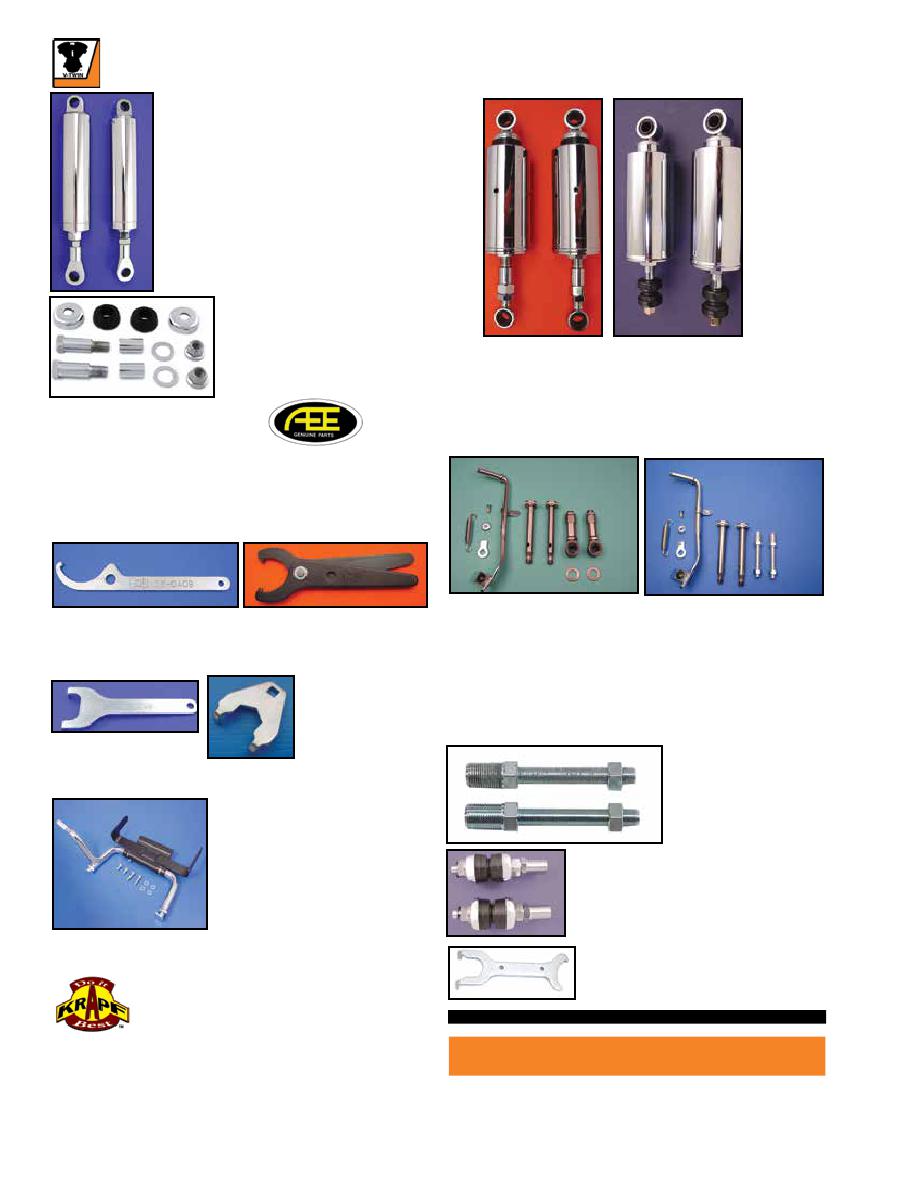 300
FXST Shocks
AEE Chrome Adjustable Shock Assemblies feature full
chrome finish with up to 1¹⁄₂" lowering capability.
VT No.
Years
54-0161 1989-99
54-0162* 2000-17
*Note: These do not lower the motorcycle, these are stan-
dard Softail shocks.
Chrome Billet Shock Sets fit 1989-99
Softail models. Smaller diameter allows
more clearance for custom installation.
VT No. 54-0131
1989-17 Softail
Shock Tool for use
with 3/8" ratchet
drive.
VT No. 16-0917
Softail Shock
Spanner replaces
94555-89.
VT No. 16-0748
37-0475
Shock Tool
54-0162
54-0161
FLST-FXST Shock Stud Kit
includes 4 bolts and 4 washers.
VT No. Finish
Year
37-9090 Zinc
37-0476 Chrome 1989-99
37-0475 Chrome 2000-17
Shock Tools.
VT No.
Model
16-0409 1979-96 FXR
16-0100 1990-17 FXD
16-0409
16-1522
Caution: Not intended for
Chrome Adjustable Display
Center Stand shows your bike
with single lever on left side and
allows bikes to be lifted up on
stand. Very little effort required.
Entire assembly fits neatly under
frame rails. Two bolt installation.
Fits 2008-17 Softail.
*Note: With
adjustable height.
VT No. 16-1522*
Bagger
Products
"Full" Lowering Kits include components to lower the front
and rear of Softail models. Each kit includes shorter damper
rods, 1" shorter kickstand and adjustable rear shock lowering
set. The front of the FXST is lowered 2.5" and 2" on FLST
models. Rear is adjustable up to 1.5" on 2000-06 models and
up to 2" lower on 1989-99 models, using stock shocks.
VT No. Year
54-0570 1989-99
54-0571 2000-06
54-0571
54-0570
Warning: Installing a lowering kit or shorter shocks will decrease initial ground clearance.
The motorcycle will be lower to the ground and care should be taken to avoid bottoming,
especially over bumps or in turns.
Mount Studs not included with shock sets.
54-0520
Lowering Kit allows 1.5"
lowering. Fits 2000-17
Softail.
VT No. Brand
54-0520 AEE
54-0538 ET
Adjustable Softail Shock Mount is for
all 2000-17 models. Installs on the stock
shock and offers easy adjustment from
stock ride height to two inches lower.
VT No. 54-0535
Dual Shock Tool fits 1989-17 FXST
and 1979-up FX-XL.
VT No. 16-0954
16-0100