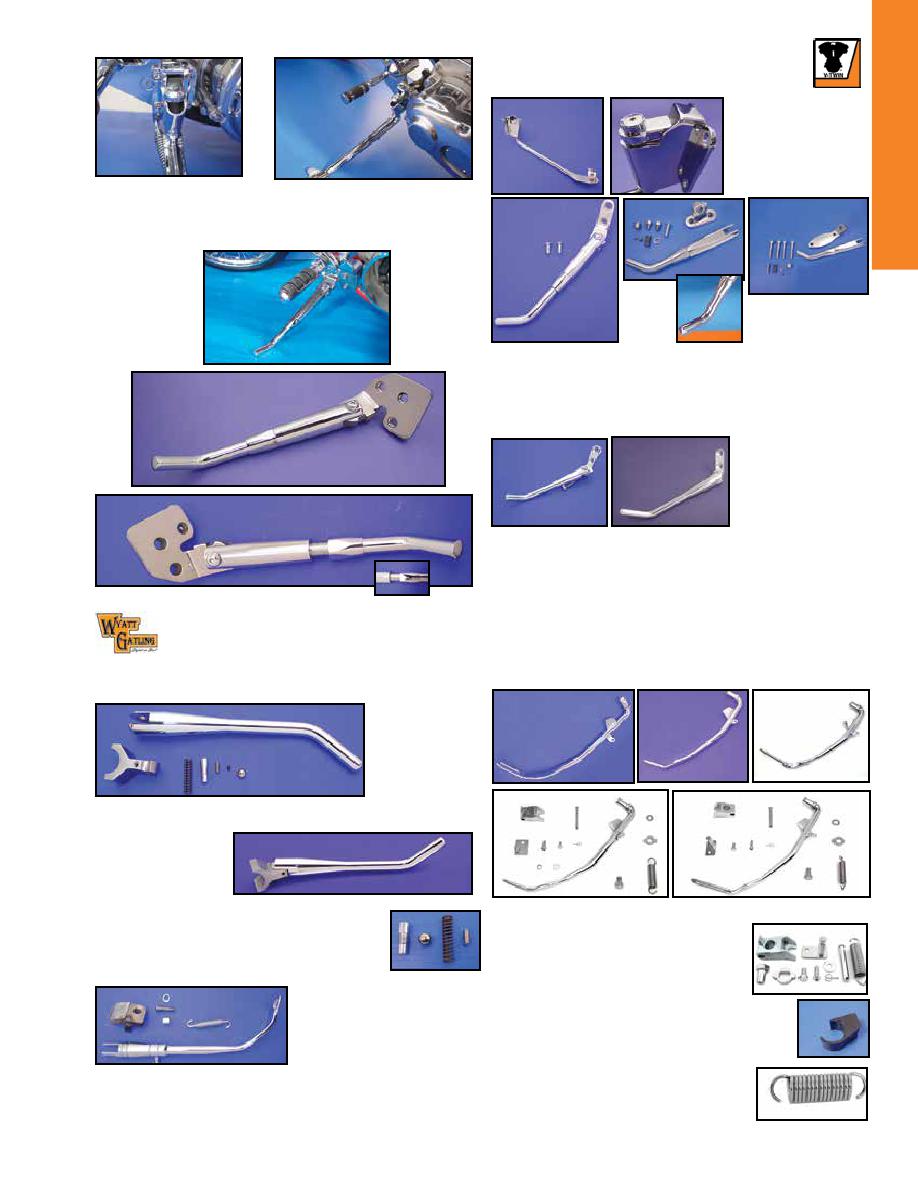 283
BIG TWIN
Wyatt Gatling Big Twin Kickstand Assembly
features adjustable leg and hidden spring.
Mounting is by 3 bolts on left front frame boss. Fits
1984-99 FXST.
VT No. 27-0670
Chrome Custom Kickstand Kit fits 2-bolt mounting. Unit
includes stand, spring, mount and countersunk bolts. 27-0552
features hidden spring.
VT No. Years
Model
27-0515 1986-99 FXST
27-0552 1986-99 FXST
Custom Kickstand
27-0515
27-0552
Weld On Kickstand Assemblies feature chrome stand with
hidden spring. Units fit tube size as noted.
VT No. Size
27-0133 1¹⁄₈"
27-0134 1¹⁄₄"
27-1785 1³⁄₈"
27-0135 1¹⁄₂"
27-0136 2"
27-0683 Spring Kit
27-0670
Installed
27-0133
27-0670 features adjustable leg
Chrome Adjustable Hidden Spring Kickstands mount to
years listed with twos bolts.
VT No. Years Model
27-0143 1988-99 Softail
27-0144 2000-up Softail
27-0145 1982-94 FXR
27-0135
Hidden
Spring!
Weld On Stands
Weld On Kickstand
Assembly includes weld
on type heavy duty mount,
chrome spring and chrome
kick stand with forged flat
end.
VT No. 27-0257
27-0683
27-0143
Hidden
Spring!
27-0144
27-0145
27-0144
installed
1980-99 WG-FXST
Kickstand Assembly
features chrome steel
construction with hid-
den spring mechanism.
VT No. 27-0254
Custom Kickstand Assembly features full forged construction
with chrome smooth contour design, including recessed mount
screws for 1936-99 Big Twin, 4-Speed, 1984-99 Softail models.
Stock length.
VT No. 27-0253
13-0186
27-0535
28-0435
For FXD
27-0593
27-0839
1990-17 Chrome Kickstand to fit FXD, FXDWG and FXDL.
VT No. Item
Type
Year
27-0535 Stand
27-0378 Kit
27-0593 Stand
27-1818 Stand
27-0008 Stand
27-1819 Stand
27-0404 Kit
13-0176 Spring
13-0186 Spring
28-0435 Bumper Stop
28-0438 Bumper
27-0836 Kit 1991-1997
27-0839 Kit
27-2102 Extension
27-0378
27-0404
27-1818