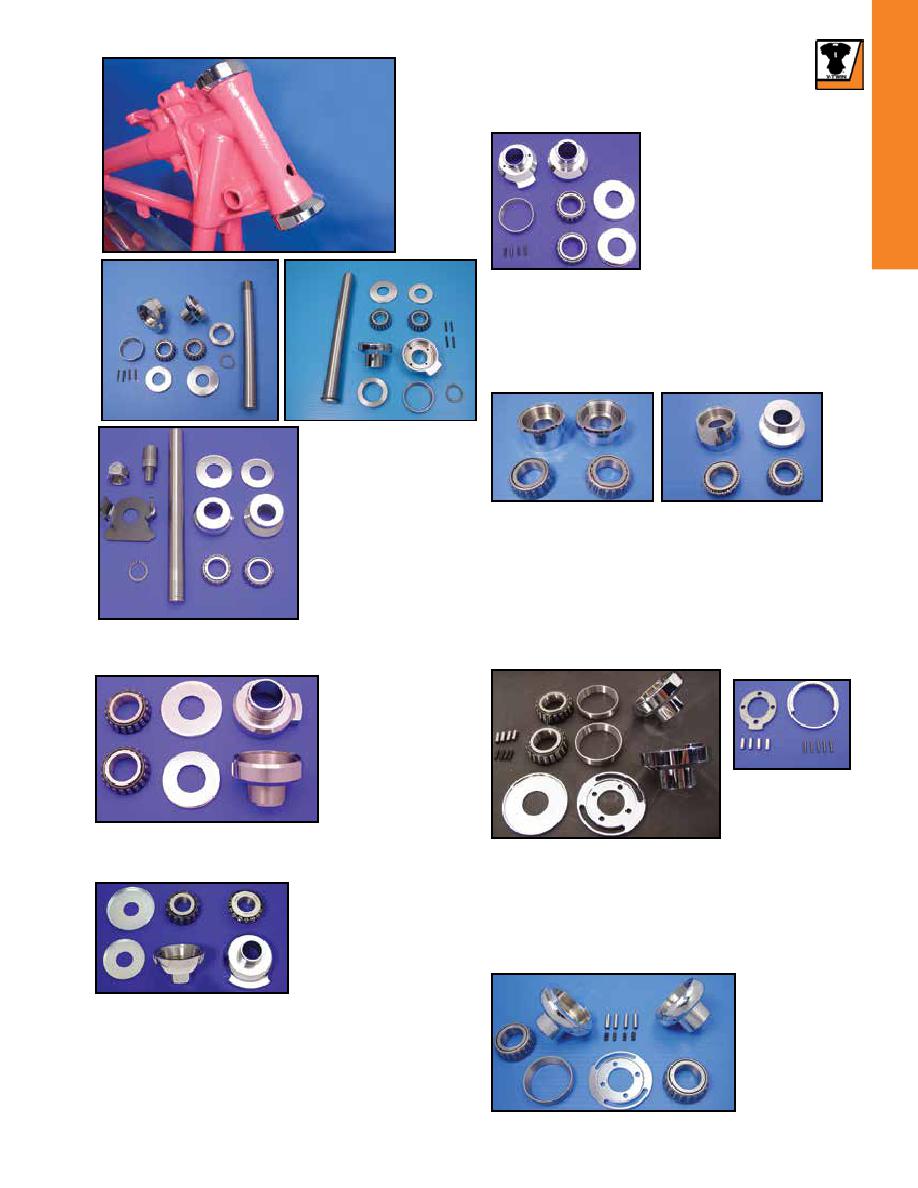 281
BIG TWIN
VT No. Year
Model
24-0283 1960-87 FXST-FXWG
24-0295 1960-87 FXST-FXWG
24-0292 1988-up
24-0294 1991-05
"Raked" Neck Kit
Note: Rake Neck Kits are for Show Applications only and
Require longer Fork Tubes to be installed.
24-0294
Raked Neck Kits include
chrome cups, bearings, dust
cover, stop tab and longer
stem. Longer fork tubes
required for installation. Fit
1991-05 FXD.
VT No. Rake
24-0378 3°
24-1286 5°
24-0378
24-0283
Installed
24-0292
Chrome Big Twin Neck
Cup Kit features built in
fork stop on lower cup
to accept 1988-99 FXST
lower fork stem with inte-
gral stop. Kit includes
chrome upper and lower
cups with races, bearings
and dust shields.
Chrome Internal Fork Stop Kit includes pieces for complete
installation on Big Twins, and custom frames which accept
press in neck cups. Kit allows choice of turning radius of 35 or
45 degrees.
VT No.
Year
Model
Degrees
24-0296
24-0671* 1988-up Softail-FXDWG
*Note: Does not include races, bearings, neck cups.
Chrome Mega-Neck Cup Set features 1" inner diameter
bearing set with large outer diameter on the outer race which
will provide 1.68 times the radial capacity and 1.57 times the
axial capacity of a conventional bearing. Kit includes chrome
cups, bearings and races and two dust covers.
VT No. 24-0300
24-0296
24-0671
Smooth Neck Cup
Set features built in
stop and includes
races and bearings.
VT No. 24-0874
Neck Cups with Stops
Chrome Raked Neck Cups Only include bearings and races.
A longer fork stem and longer fork tubes are required for
installation on 1987-up Big Twin frames.
VT No. Rake
24-0377 3°
24-1287 5°
24-1268 7°
24-0377
24-1268
Chrome "Raked" Fork Neck Cup
Set replaces existing removable cups
to provide 3° rake when installed. Kit
includes chrome cup set, bearing set
and dust covers. Kits 24-0292 and
24-0294 include longer fork stem and
adapter to fit neck, but will not accept
stock fork stem lock. 24-0292 and
24-0294 feature built in external fork
stop tab.
VT No.
Item
24-0231 Cup Kit
12-0384 Bearings