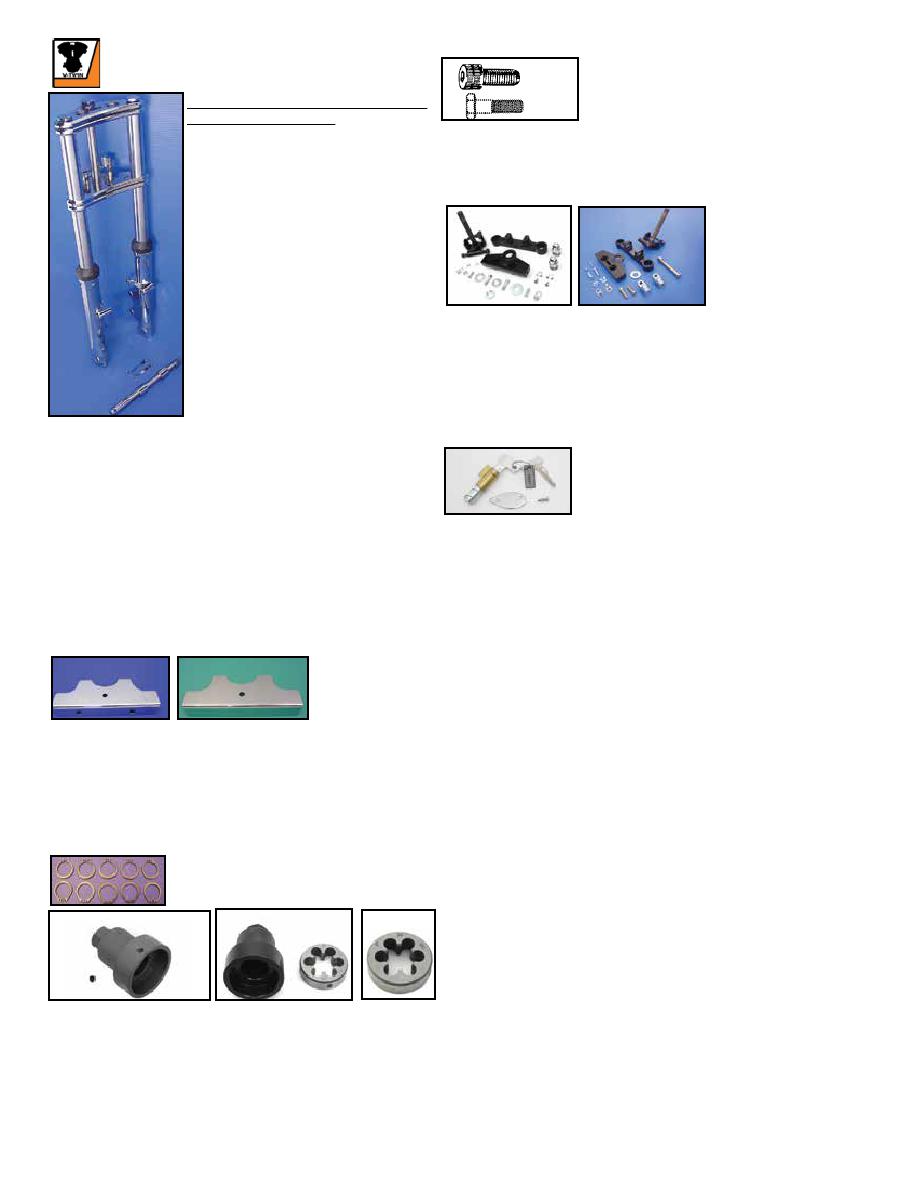 268
41mm
Chrome FXST Headlight Bracket mounts bottom style
mount head lamps on fork, also covers rough casting on lower
tree.
VT No.
OEM
Years
31-0140 67773-80
1980-85 FXST, 1980-86 FXWG
31-9991* 67773-80A
*Note: Does not have holes for front mounting. Mounts by
headlight eye bolt only and acts as tree cover.
31-0140
31-9991
Lower Fork Stem Retaining Ring for
1986-up all models. Replaces 45611-86.
VT No. 12-0979
Black Adjustable Fork Tree Kit is available for 1977-84 FLH,
FXWG 41mm fork legs. Showa type is 1977-up. Kits feature
swivel type plugs which are included. Lower tree has two
positions for changing rake and fork lock tab. Kits use VT No.
28-0221 rubber bushing kit and VT No. 24-9910 top tree cover.
VT No.
Fits
24-0797
1977-84 FLH 80-86 FXWG Complete, Black
24-0004
Lower Stem Pinch Bolts available in
zinc hex or chrome allen. Chrome allen
set for FXWG-FXST includes headlight
bracket screws.
VT
No.
Type
Fits
Finish
37-8835 Hexagon 1949-84 FL-FXWG-FXST
9803-4
Hexagon 1949-86 FX, 1984-up FXST
9782-4 Allen
Allen
Hex
24-0797
24-0004
Fork Stem Die Holder. Order die separately.
VT No. Item
16-0272 Holder Only
16-0051 Set
16-0836 Die Only 1" x 24 TPI
16-0272
16-0836
16-0051
Front Fork Steering Head Lock
includes lock, keys and cover. Fits
1986-1992 FXR, 1988-1999 FXST.
VT No. 24-1374
41mm Narrow Glide will replace 39mm
assembly on XL models. Use with orig-
inal wheel and brake assembly from
1984-03. Wheel not included.
VT No. Item
Type
24-1275 Fork Assembly Dual Disc
24-1276 Fork Assembly Single Disc
52-0170 19" Wheel
52-0171 21" Wheel
24-1275
Fork Tube and Slider Assembly available in right and left pairs,
completely assembled. Units have hard chrome fork tubes, and
either polished or chrome lower sliders, with springs and all inter-
nal components installed.
*Note: OE as noted.
VT No. Disc
Fits
Slider
49mm
24-1283 Single
24-0948 Single
24-0949 Single
24-0970 Single
24-1033 Single