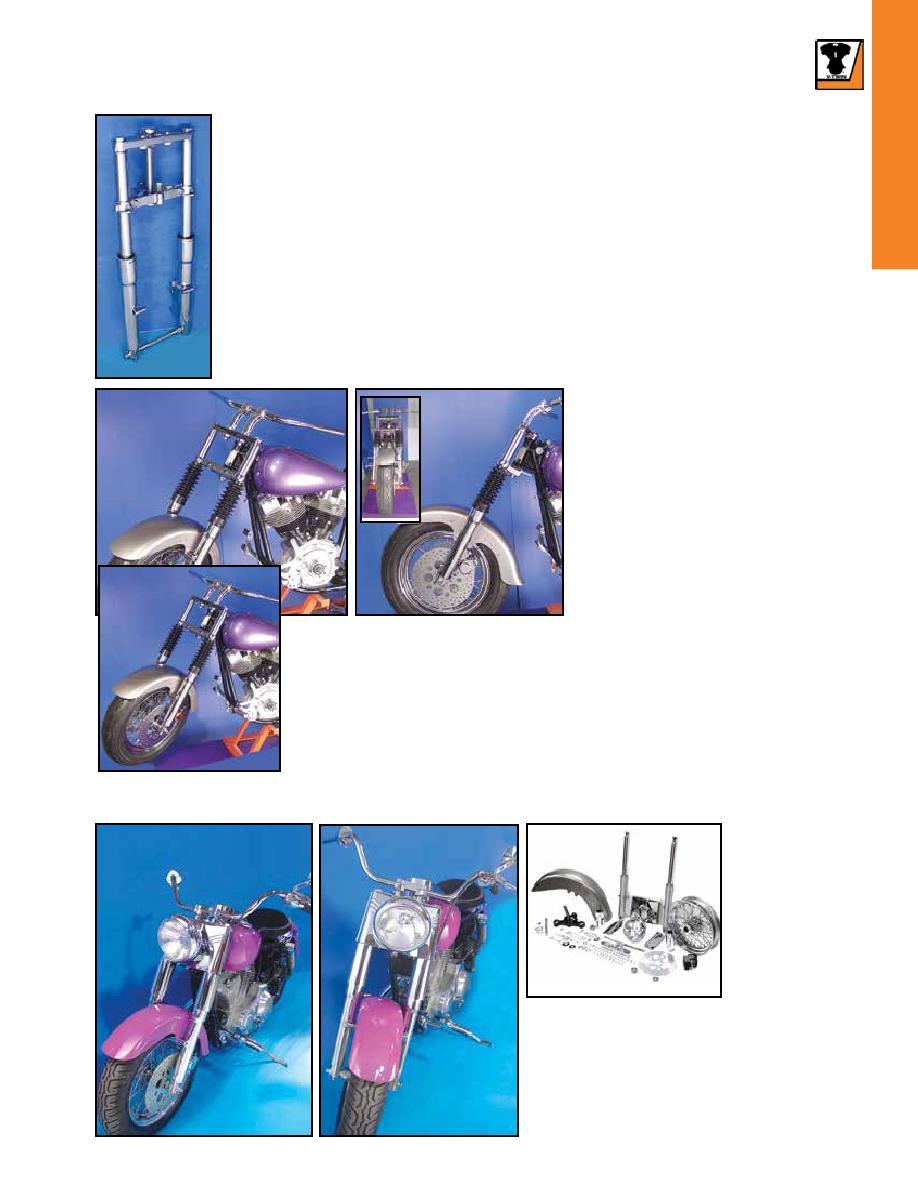 267
BIG TWIN
Fork for FLST 41mm
FLST Fork Assembly is 1986-99 Replica style featuring a chrome top tree, black lower stem with chrome
or polished lower sliders with hard chrome fork tubes and internals installed to accept 11.5" disc. Includes
neck bearings, top nut and axle kit. Unit accepts 5 piece chrome tin fork cover set 24-9959 for the authentic
look. Order fender, wheel, and tin set separately. Fits 1949-84 FLH, 1971-84 FXE and 1985-99 Softail mod-
els. Units are 31¹³⁄₁₆" long overall length from top tree to axle position.
VT
No.
Item
Sliders
Disc
24-9951
24-0515 Fork Assembly
24-2120
24-9959 Chrome Five Piece Cover Set
52-0696 16" Wheel with chrome spokes
50-1075 As Above without trim holes
50-0764 Fat Kid Fender, pictured
23-3061 Left side, black caliper
23-3082 Left side, chrome caliper
24-9995 Right and Left Slider Assembly
24-0511
Dual Disc Fork Assembly accepts right and left 1984-88 style calipers to fit 11.5" discs. This
combination gives the ultimate in stopping power for 1948-84 FX-FL, 1986-99 FXST-FLST.
Overall length is 31".The basic kit includes
• FXST or FLH Tree Set
• 24-0518 DD Leg Assembly
• 24-0776 Fork Install Kit
VT No. Tree Type
24-2136 FXST
24-0514* FLH
*Note: Use wheels 52-0848/52-0849
Note: All related parts are available separately.
Item
VT No.
52-0131
• Fender
50-0764
23-0300
8794-10
28-0439
23-2226
36-0547
46-0115
Choice of Triple Trees:
VT No.
Type
Fits
24-0000
24-0719
24-0800
24-0829
24-2136
24-2136
VT No. Type
Caliper
Slider
Fat Kid Style
24-2019 Kit
24-2020 Kit
FLST Style
24-2021 Kit
24-2022 Kit
24-2019 Installed
24-2019
Installed
Fork Assembly for FLST
Fork Assembly for 2000-06 FLSTF,
FLSTC models, with 32° frame rake. Kit
includes fork assembly, triple trees with
bearings, dust shields and hardware.
Available with chrome finish.
VT No. 24-0579
24-9951
FLST Style Complete
Front End Assembly
includes the complete
fork kit with the addition
of the five piece chrome
fork cover set, 7" head-
lamp and bracket, 16"
chrome wheel, speed-
ometer drive, chrome
caliper, 11.5
" drilled
disc and fat kid style or
FLST style fender.
24-2021