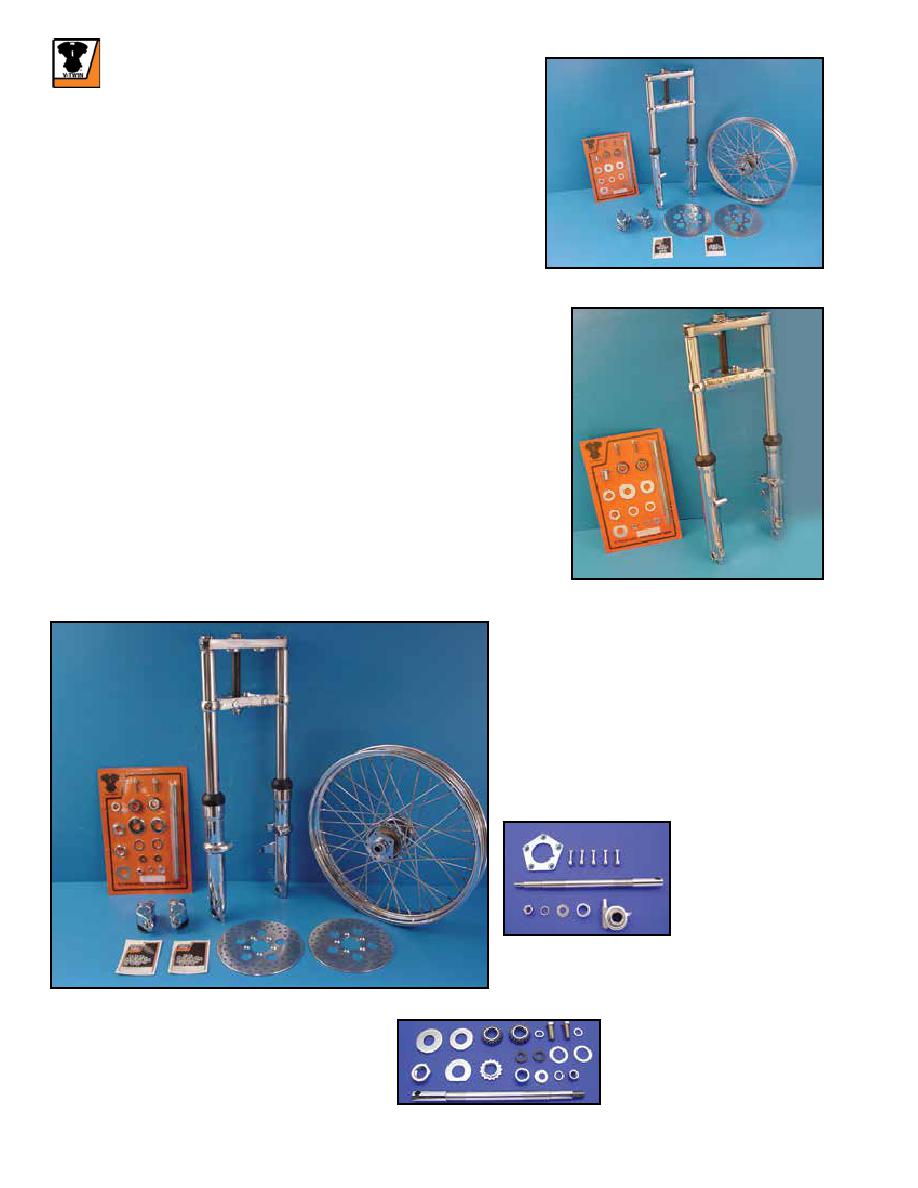 266
41mm 10" Dual Disc Fork Assembly
11.5" Dual Disc Fork Assembly features FXST style components. Assembly includes
chrome triple trees and hard chrome fork tubes installed in polished or chrome, lower
sliders with all internals installed, which accept dual 11.5" brake discs and calipers.
Overall length is 31". Kit includes axle, spacer, neck bearings, top cone. Order stem nut
and bearing dust covers separately. If a front wheel drive speedometer is not desired.
Order axle kit VT No. 44-0570 separately.
VT
No.
Fits
Sliders
24-9949
24-9972
52-0127
21" Wheel with Chrome Spokes
52-0181
21" Wheel with Stainless Steel Spokes
24-9948
Right and Left Slider Assembly
24-0517
Right and Left Slider Assembly
36-0547
Speedometer Drive Adapter Kit
23-2226
FXWG Style Dual Disc Fork/Wheel and Caliper
Assemblies to fit 1948-99 Big Twin FL-FX-FXWG
features polished or chromed lower sliders without
reflector boss. Hard chrome fork tubes and internals
installed. Includes chrome trees with 1" diameter stem,
neck bearings, axle spacer and top nut. Stock length
is 31" overall. Kit also includes 21" all chrome assem-
bled wheel with bearings, drilled 10" steel with chrome
screws, and choice of black or chrome dual disc cal-
ipers complete with pads. 24-9947 has smooth lower
legs.
VT No. Item
Caliper
Sliders
24-2000 Kit
24-2011 Kit
Fork Assembly Only
24-0779 Fork Assembly
24-1525 Fork Assembly
24-9947 Fork Assembly
24-1525
Fork Only
Accepts
10" discs
24-2011
FXWG Dual Disc Fork
Assembly Front Wheel
Speedo Drive Kit will
allow use of 2:1 ratio
speedo. Kit includes
axle, speedo drive and
adapter flange.
VT No. 36-0547
Fork Assembly Kit fits 1973-84
FL, 1980-83 FXWG.
VT No. 24-0776
11.5" Dual Disc Fork Assembly
11.5" Dual Disc Fork/Wheel Assembly includes complete fork assembly. Kit
also includes a 21" all chrome assembled wheel with bearings, 2 drilled steel 11.5"
brake rotor with corn screws, chrome style disc caliper set, speedometer drive and
adapter, complete with mount hardware and pads. Fits 1948-99 FX-FL.
VT No.
Sliders
24-2038
24-2039 Chrome
41mm Fork Assembly
11.5" Dual Rotor