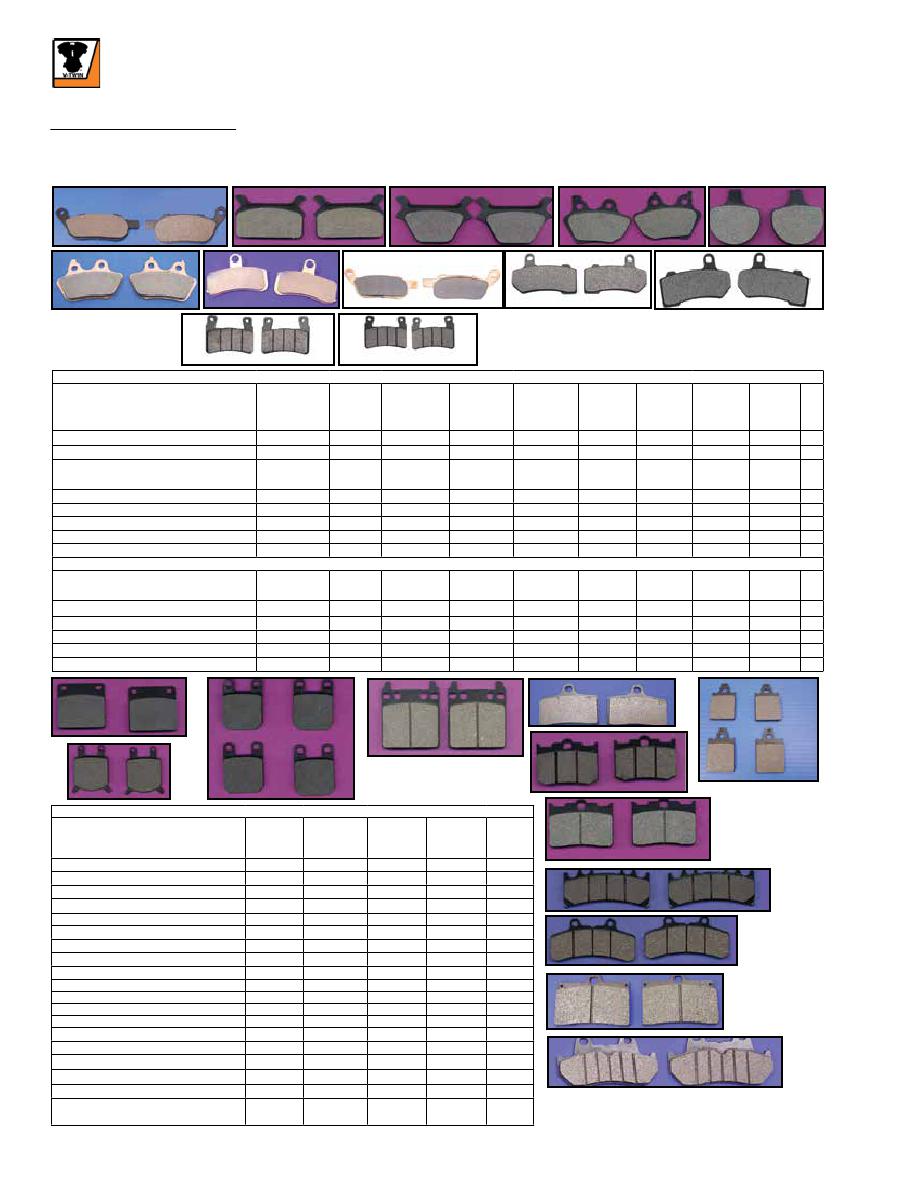 252
S
T
U
D
F
J
L
M
R
W
V
X
Disc Brake Pads available in Dura or SBS brand. Dura Brake Disc, Dura Brake Disc Veloprene for excellent stopping on all types of disc brake
Dura Brake Disc replacement pads are a soft compound designed to be compatible to all types of brake discs. SBS brand is available in
Sintered, Ceramic or Carbon Tech compounds. Sintered Metal Pads provides maximum stopping power but can never be used in calipers that were
originally equipped with non-sintered pads. Works best with stainless steel disc brake discs.
Ceramic Pads are for general purpose use on carbon
steel brake discs and can be used on calipers originally equipped with sintered metal brake pads.
Carbon Tech Pads for use in all stock or aftermarket
calipers. Works well with stainless steel or cast iron brake discs. Order anti rattle clips separately.
Veloprene is relatively soft compound compared to
ceramic or metallic but heat resistant and less abrasive to rotors, including polished stainless types.
Disc Pad Sets for Aftermarket Custom Calipers
Fits:
Dura
Soft
SBS
Ceramic
SBS
Carbon
Tech
Dura
Ceramic
Photo
23-0879
—
—
—
23-0788
—
—
—
23-0591
23-4550
23-4512
—
23-0592
23-4554
23-4514
—
23-9174* 23-4553*
23-9169* 23-9878
—
—
—
23-9874* Q
—
—
—
23-0941
23-9174* 23-4553
23-9169* —
Jaybrake 2 piston ADC/ADCS
23-0592
23-4554
23-4514
—
—
23-4557
—
—
Performance Machine 162 x 2
23-9036
23-4552
—
—
Performance Machine 125 x 2
23-9174* 23-4553
—
—
Performance Machine 125 x4S
23-9174* 23-4553
—
23-9945
Performance Machine 125 x 4SL
23-9174* 23-4553
—
23-9945
Performance Machine 125 x 6
—
23-4558
—
23-9945
Performance Machine 137 x 6
—
23-4558
—
—
Performance Machine 124 x 4HR
—
23-4555
—
—
Performance Machine 137 x 4
—
23-4555
—
—
Performance Machine 125 x 4R
*Note: Set of Four
23-9037
23-4556
—
23-9946
Disc Brake Pad Set
Y
23-1001
H
G
23-0889
23-0894
A
Q
N
P
Z
23-0941
E
Rear Disc Pad Sets for Stock Type Calipers
Fits
OEM
Dura
Soft
Dura
Ceramic
Dura
Semi
Dura
Veloprene
Dura
Sintered
Metallic
SBS
Sintered
Tech
SBS
Ceramic
SBS
Tech
#
23-2282 23-0991
—
23-0627
23-0956 23-1778 —
23-1777 D
1987-99 FXR, FXST, FLST, FXD
23-9163 23-0992
23-0642
23-0620
23-0957 23-1780 —
23-1779 E
2000-05 FXST, FLST
2000-07 FLT, FXD
23-0526 23-0993
23-0643
23-0546
23-0958 23-4559 23-1781 23-1782 F
23-1794 23-0917
—
—
23-0959 23-4562 —
—
—
23-0994
23-0893
23-0886
23-1001 23-4563 —
—
—
—
—
23-1061
23-1062 —
—
—
23-1015 23-0995
23-0894
23-0889
—
—
—
—
—
—
—
23-0973
23-0980 —
—
—
Front Disc Pad Sets for Stock Type Calipers
1984-99 FLT, FXST, FLST, FXR,
FXD
23-0512 23-0996
23-0647
23-0625
23-0960 23-1784 23-1762 23-1785 J
2000-07 FLT, FXST, FLST, FXD
23-0526 23-0993
23-0643
23-0546
23-0961 23-4561 23-4560 23-1782 F
2008-10 FXST, FLST, 2008-11 FXD 44082-08
23-0887 23-0997
—
23-0888
23-0862 23-4564 —
—
—
23-0998
23-0894
23-0890
23-0909 —
—
—
2011-14 FXST-FLST, 2012-up FXD 46363-11
—
23-1056
23-1057
23-1058
—
—
—
—
—
23-1059
—
23-1060
—
—
—
—
23-1059
23-1060