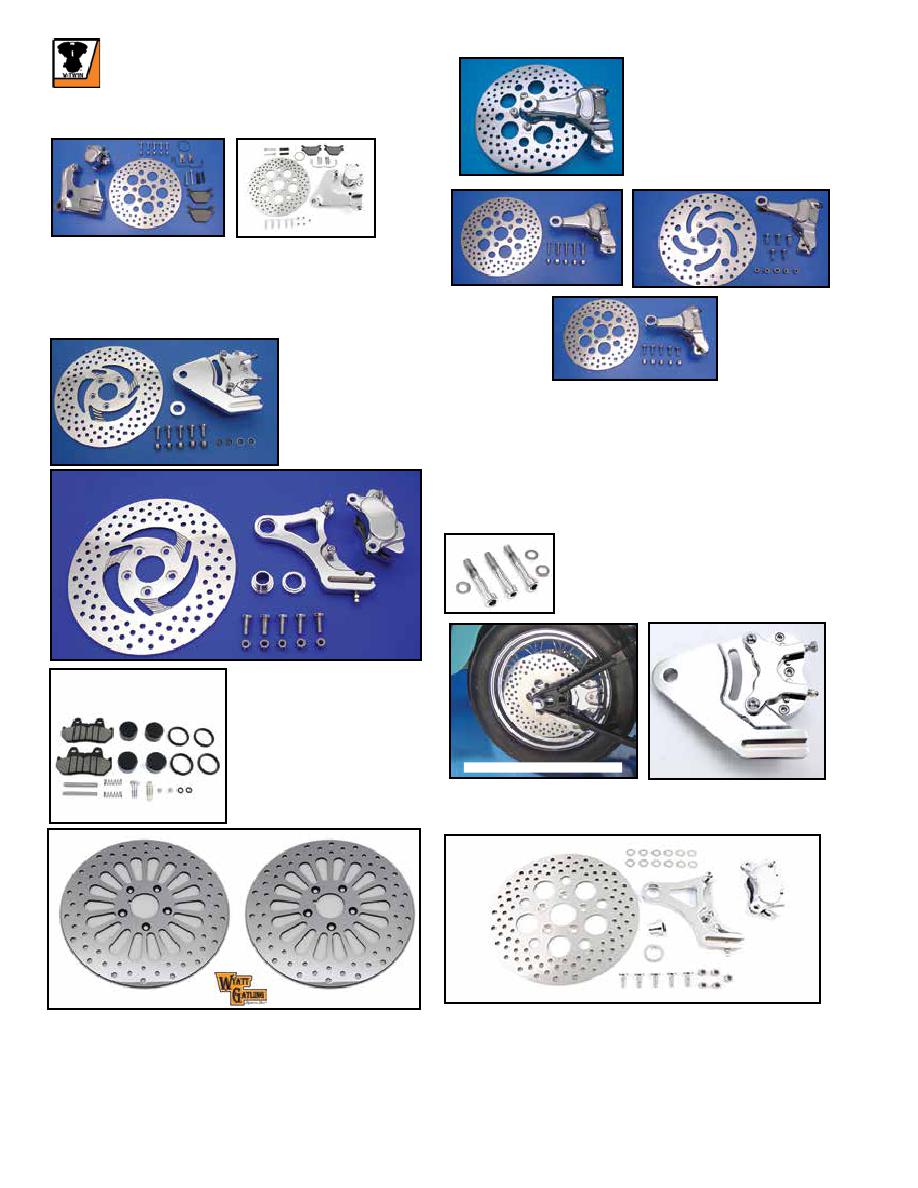 246
Chrome Rear
Caliper Kit
Chrome Rear Caliper Kit fits 1987-up Softail models and
includes complete chrome replica 4-piston caliper assembly
with one piece integral bracket, pads and polished stainless
steel drilled rotor with chrome mount bolts.
VT No.
Year
Model
23-1091
23-1093
23-1102 2000-05 FXD-WG
23-1103 2006-07 FXD-WG
Colony Chrome Rear Caliper Bolts for
2000-up.
VT No. Year
2081-3 2000-07 FLST, FXST, FXD
2755-4 2008-up FLST, FXST, 08-17 FXD
23-1103
23-1091
2000-06 Caliper Kits include
integral bracket.
23-1093
23-1102
1986-99 Dura Rear
Caliper Kit features
chrome billet caliper
and bracket. 11.5"
razor rotor included.
VT No. 23-0655
Billet Caliper Kit features 4 piston design for 1987-99 Softail
models. Order rotor separately.
VT No. 23-0853
Rear Caliper Kit includes complete chrome caliper, chrome
caliper bracket, 11¹⁄₂" stainless drilled polished brake rotor and
chrome disc mount bolts.
VT No.
Year
Model
23-1089
23-1090 1987-94 FXR
23-1089
23-1090
Chrome Caliper Kit includes caliper, bracket and polished
stainless steel 11.5" rotor with bolts. Fits 2000-05 FXST,
FLST.
VT No. 23-0282
Chrome Billet Caliper Kit
for 1986-99 Softail includes
chrome caliper and polished
rear rotor.
VT No.
Style
23-0281
23-0884
23-0281
Wyatt Gatling Polished Stainless Steel Rotor Set features a
18-spoke style. Fits 1984-1999 FXST, 1986-1999 FLST, 1984-
1999 XL, 1991-1994 FXD, 1984-1994 FXR
VT No. 23-0049
23-0884
Installed 23-0853 Caliper