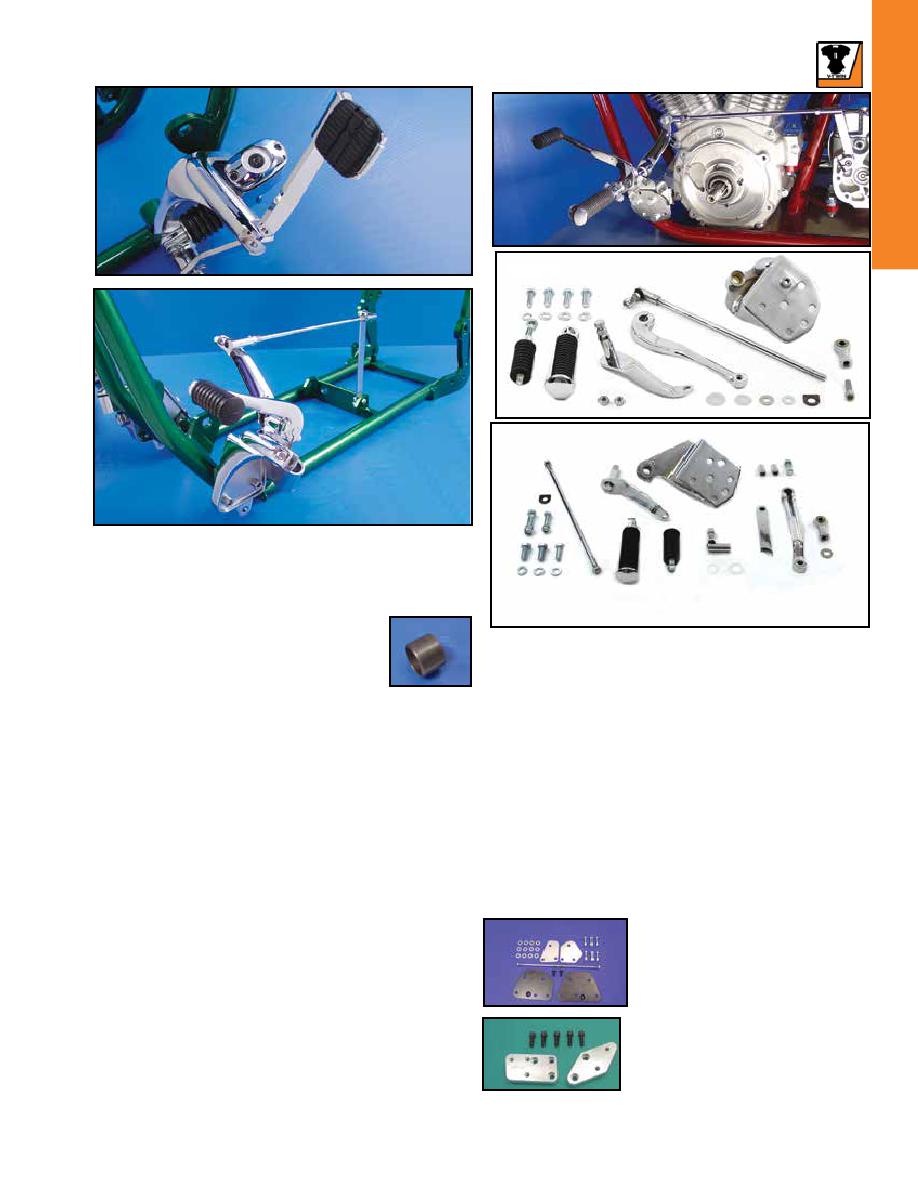 241
BIG TWIN
22-0523
Chrome Kit
2000-06
22-0522
Chrome Brake and Shifter Kits. Order footpeg, left and right
side separately.
VT No. Type
22-0523 Shift
22-0522 Brake
Shift Hardware.
VT No.
OEM
Item
22-0523 Kit
17-9300
14-0913 11191
21-2074
21-0111
10-2561
21-2039
21-2063
21-0317
10-2561
22-1006
22-1009
5-Speed FXST Replica Forward Shifter Kit is complete with
all hardware necessary for installation on 1981-up 5-speed Big
Twins. Use in conjunction with our FXST Replica Controls listed
on the opposite page, as all kits place pegs in a forward posi-
tion. Foot rests on peg while shifting for added comfort. This is
an exact stock replacement in chrome for 1984-up FXST. Kit
includes chrome heavy duty shifter bracket, inner lever,
shifter lever, rod, rubber shift peg and foot
peg.
VT No.
Fits
22-1004
22-1006
22-1009
V-TWIN KITS
Since 1978
THEY'RE STILL
THE BEST WAY...
2000-06 3" Extension Kit moves
controls 3" forward for FXST-FXSTD-
FXSTC-FXSTB.
VT No. 27-0566
2" Forward Control Extension
Bracket will relocate the stock or
custom forward controls 2" forward on
1936-99 Big Twin models. Note that
hoses and linkage will also have to be
extended.
VT No. 27-0594
Extension Bracket Sets
Shifter Kit
Miscellaneous Brake.
23-0053
23-0718
23-1797
Chrome Rear Brake Pedal Mount
23-1824
23-1343
Black Replica Rear Brake Backing Plate