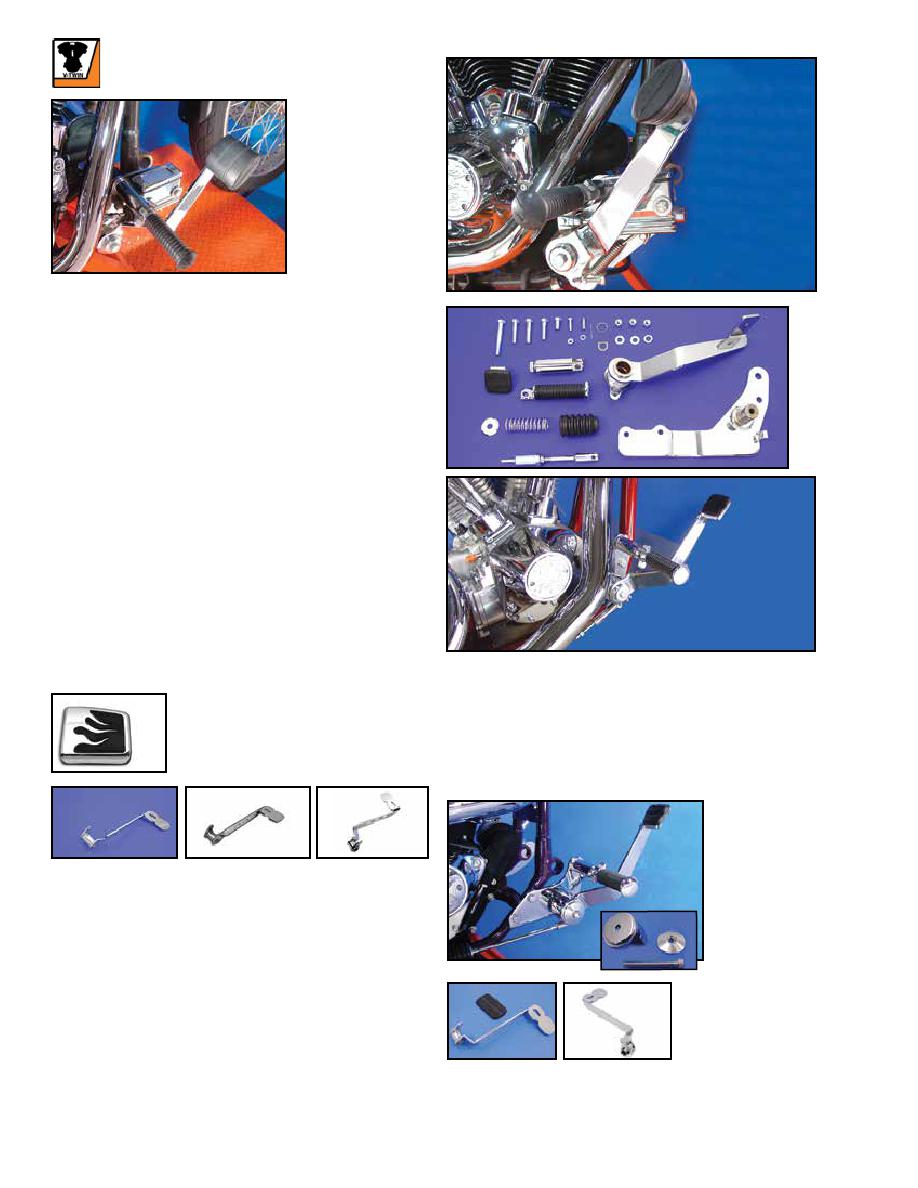 240
FXST Replica Forward Brake Control for use on all 1970-
99 Big Twin with Shovelhead or Evolution engines equipped
with hydraulic disc or drum brakes. Designed after the 1984-99
FXST which places the driver peg in back of the brake pedal,
so the brake is easier to operate from this comfortable position.
Redesigned to accept a Wagner or Kelsey-Hayes style master
cylinder or GMA masters, also available with chrome KH or
Wagner style masters. Hardware includes linkage pedal mount
plate, rubber covered footpeg. This kit is the exact compliment to
our shifter kits listed on opposite page and when used with one
of these kits, places the pegs in forward and raised position.
VT No.
Item
22-1066 Dual-use kit without Master Cylinder
22-1001* Complete kit with Kelsey type Master Cylinder
22-1018* Complete kit with Wagner type Master Cylinder
23-1743 Brake Pedal for Above
13-0181 Brake Pedal Spring
Note: Kits VT No. 22-1001 and 22-1018 use Russell stainless
Lines VT No. 23-8809 front and 23-8802 from junction to rear
caliper. Use tee VT No. 23-0707.
Brake Control Kit
22-1001
Installed
22-1001
Installed
FXST Chrome Stock Style Brake Control Kits includes
mounting bracket, lever and linkage. The 1982-86 type uses
two bolt master cylinder. 1987-89 type has tab with square
hole that uses spark plug. The 1990-up type fits models with
frame mounted master cylinder. Master cylinder not included.
VT No. Fits
22-1054 1984-Early 87 FXWG-FXST
22-1064 1987-89 FXST
22-1082 1990-99 FXST
22-1054
22-1082
Installed
Chrome Brake
Lever Pivot Cover
Kit fits 1984-99
FXST-FXWG.
Includes cover,
retainer washer
and allen screw.
Details this drab
area.
VT No. 37-8895
37-8895
Installed
37-8895
Everything You Need To Convert
Hydraulic Brakes To Forward Control
Brake Pedal Pad with flame design. Fits
1984-up FXST. Bolt on.
VT No. 23-0466
Pedal Rubber
Extended Foot Brake Pedal.
VT No. Style
Fits
23-0241 Smooth, 2¹⁄₄"
23-0243 3-Slot, 2¹⁄₄"
23-0245 3-Slot
23-0243
23-0245
Chrome Pedal will allow full use of the foot board as the pedal
pad is moved to the edge of the board. Fits 2000-01 FLST.
VT No. Item
23-0360 With Pedal Pad
23-1030 Without Pedal Pad
23-1030
23-0360
23-0241
23-0466