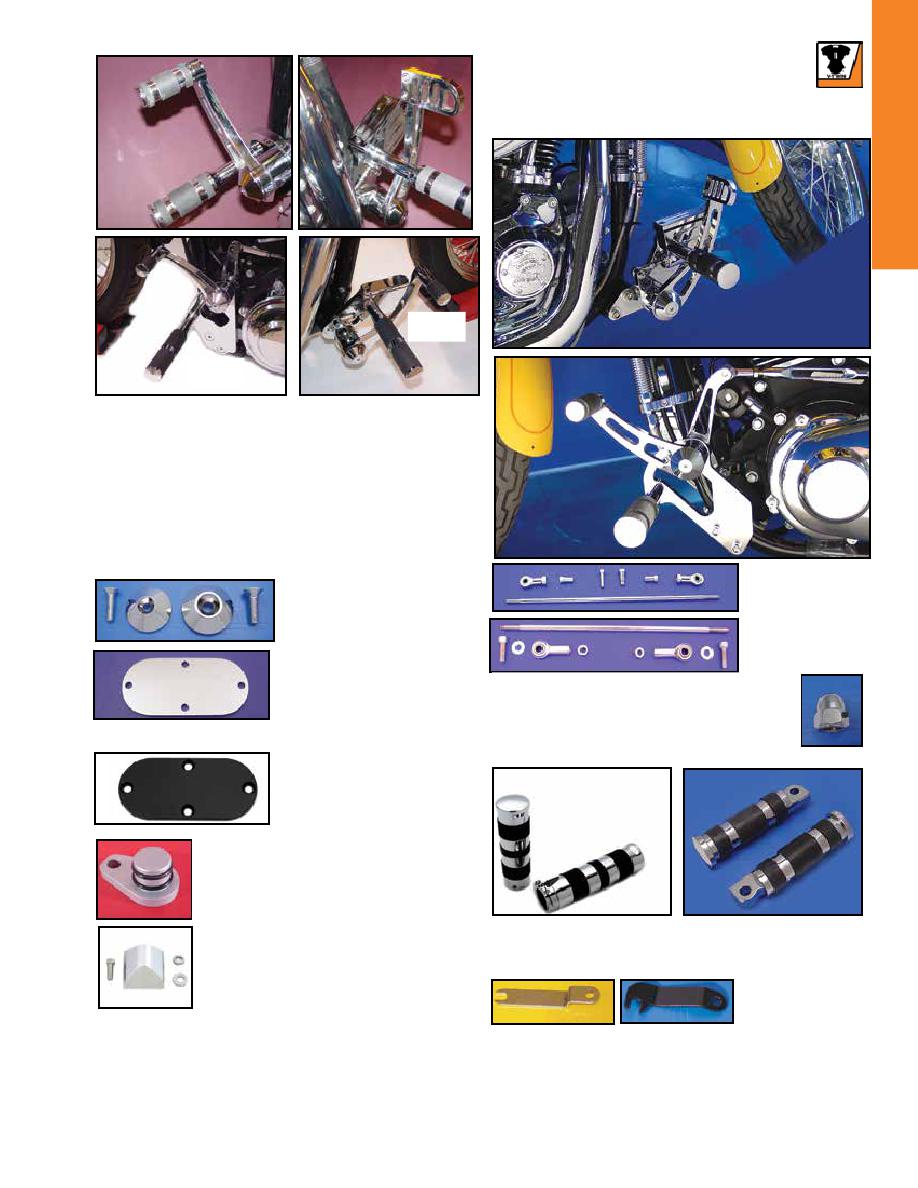 239
BIG TWIN
Billet Kit for FXD-
FXDWG
21-0222
21-0220
22-0768 Right
28-0607
Matching
Grip Set
Order matching grip and passenger set separately.
VT No.
Item
28-0607 Grips
27-0615
27-0615
Mid Shift Lever Retainers will secure inner primary shift
lever when installing forward controls.
VT No. Year
21-0766 1991-05
21-0768 2006-up
21-0766
21-0768
22-0756
Right
22-0756 Left
Chrome Billet Forward Control Set fits 1991-05 FXD includes
rubber belted pegs as shown. Includes left and right sides com-
plete with master cylinder. Order shift rod separately.
VT No.
Item
Style
22-0756
22-0768
22-0527
21-0222
21-0220
23-3005
23-0859
Rebuild Kit for 22-0756 and 22-0768
22-0527
Right
22-0527
Left
22-0768 Left
Shift Shaft Primary Plug for use when for-
ward controls are installed on FXR-FXD mod-
els to seal the inner primary when eliminating
the mid shift. Includes O-Rings and hardware.
VT No. 17-0650
Oval Inspection Cover fits
FXD-FXST outer primary when
forward controls are used.
Does not have a hole for shift
shaft for 1991-05. Chrome.
VT No. 42-9927
Replacement Chrome End
Cap Set fits brake and shift
pivot ends.
VT No. 21-0543
Smooth Oval Inspection
Cover for primary covers fea-
tures black satin finish. 1986-
2006 FXDWG.
VT No. 42-1274
Chrome Shift Shaft Cover has ½" inner diameter
to fit over unused shifter shaft in primary cover
when installing forward controls, sold each.
VT No.
Type
37-8872
44-0047 Dome
37-8872
Chrome Brake Pedal Extended. Extender
allows the use of any style peg to be used as
a brake pedal pad. Brake pedal pad extender
can also be used to move the foot position out
for more comfort. Extender attaches through
the existing ⁵⁄₁₆" bolt hole in the brake pedal.
Fits 1984-up FXST.
VT No. 31-0053