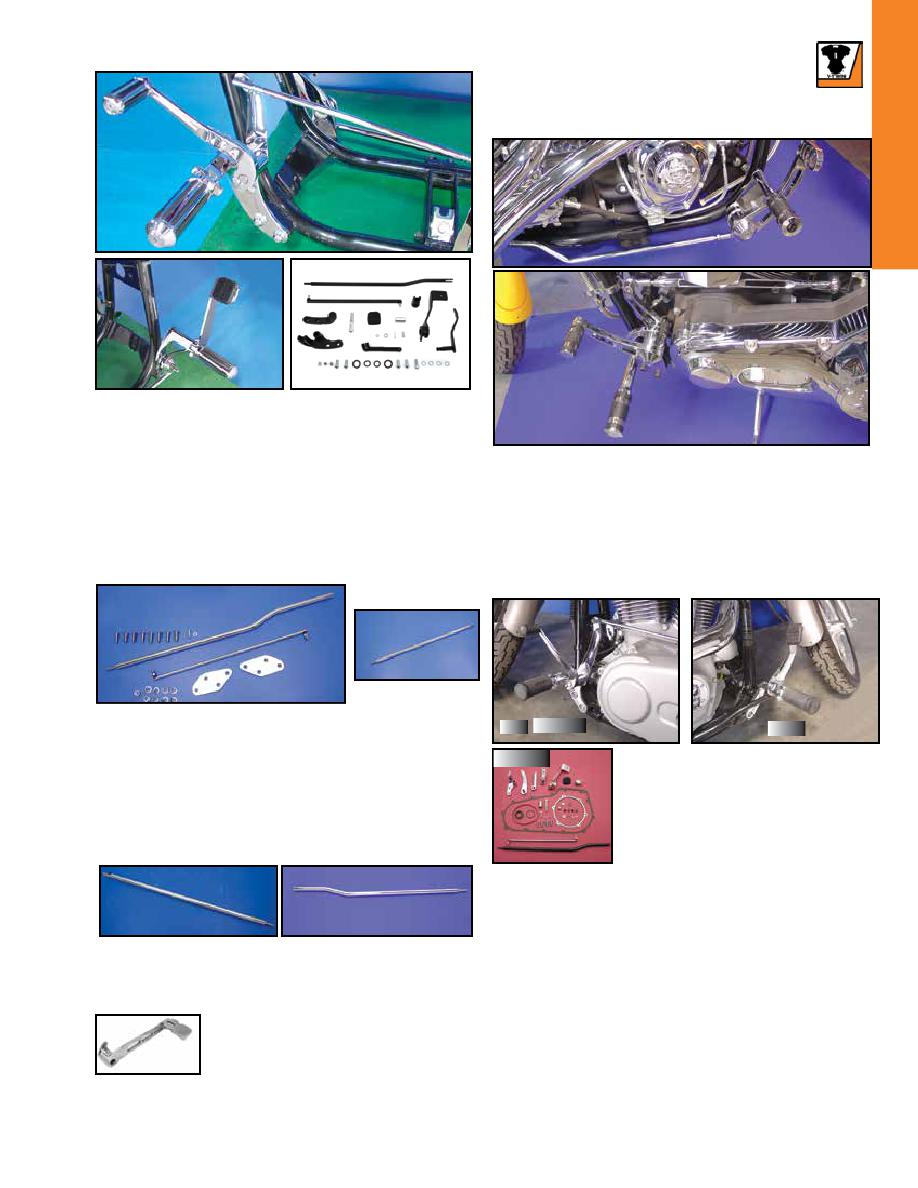 237
BIG TWIN
Forward Control Kit for 2006-17 FXD models with mid-
controls. Kit includes all components necessary to convert
a mid-control equipped Dyna® model to forward controls.
Moves controls 11" forward from mid-control foot position.
uses existing master cylinder linkage and footpegs. Chrome
finish. Available with or with soft pegs. Both kits will require
the removal of both the inner and outer primaries for instal-
lation of kit. VT No. 22-0788 includes primary cover gaskets
and seals for installation. VT No. 22-0794 will require sepa-
rate purchase of primary cover gaskets and seals for installa-
tion.
VT No. Type
22-0788 Without soft pegs
22-0794 With soft pegs
22-1679* Short Reach Adapter Kit
*Note: Move controls 1" closer to rider on FXD models when
22-0788 or 22-0794 are installed.
22-0788
22-0788
Right
Left 22-0788
22-0770
Left
Note: Shifter Rod Position for Installation
Chrome Billet Forward Control Set fits 1991-05 FXD. Includes
rubber belted pegs as shown, and includes left and right sides.
Order shift rod separately. This kit will utilize stock master cyl-
inder in the original position. Rod included fits directly to master
cylinder.
VT No.
Item
22-0770 Set
21-0222
22-0770
Right
27-0759
23-0475
Dyna Wide Glide Chrome Forward Control Extension Kit
allows stock forward control pedals to be moved 2" forward
for extra leg room. Kit includes two chrome extension plates,
chrome extended shift rod and chrome extended brake rod.
Installation requires utilization of stock brake and shifter pedal
components.
VT No.
Year
Item
27-0759 2006-17 Kit
23-0475
*Note: 2003/2004/2005 OE Style Replacement
Forward Control
for FXD-FXDWG
Dynaglide Chrome Forward Control Kit. The stock control kit
(22-0509) will move mid mount controls on 1991-05 Dynaglide
models to the forward position and can be used as stock replace-
ment on 1993-02 FXDWG. The 2" extended control kit (22-0510)
will move mid mount controls on Dynaglide models to the forward
position and can also be used on FXDWG for increased leg room.
Order foot rest and shifter pegs separately.
2006-up
1991-05
Item
—
22-0509
22-0561
—
Control Kit, Stock, Black
—
22-0510
17-1009
—
Forward Controls on this page use existing master cylinder.
22-0561
Chrome Brake Rods fit FXDWG models.
VT No. OEM
Year
23-9191 41955-93 1993-02
23-0850 41955-03 2003-17
23-9191
23-0850
Chrome Billet Forward Brake Pedal
features forged aluminum construction with
milled slots. Fits 2003-17 FXDWG.
VT No. 23-0478
22-0509 Left