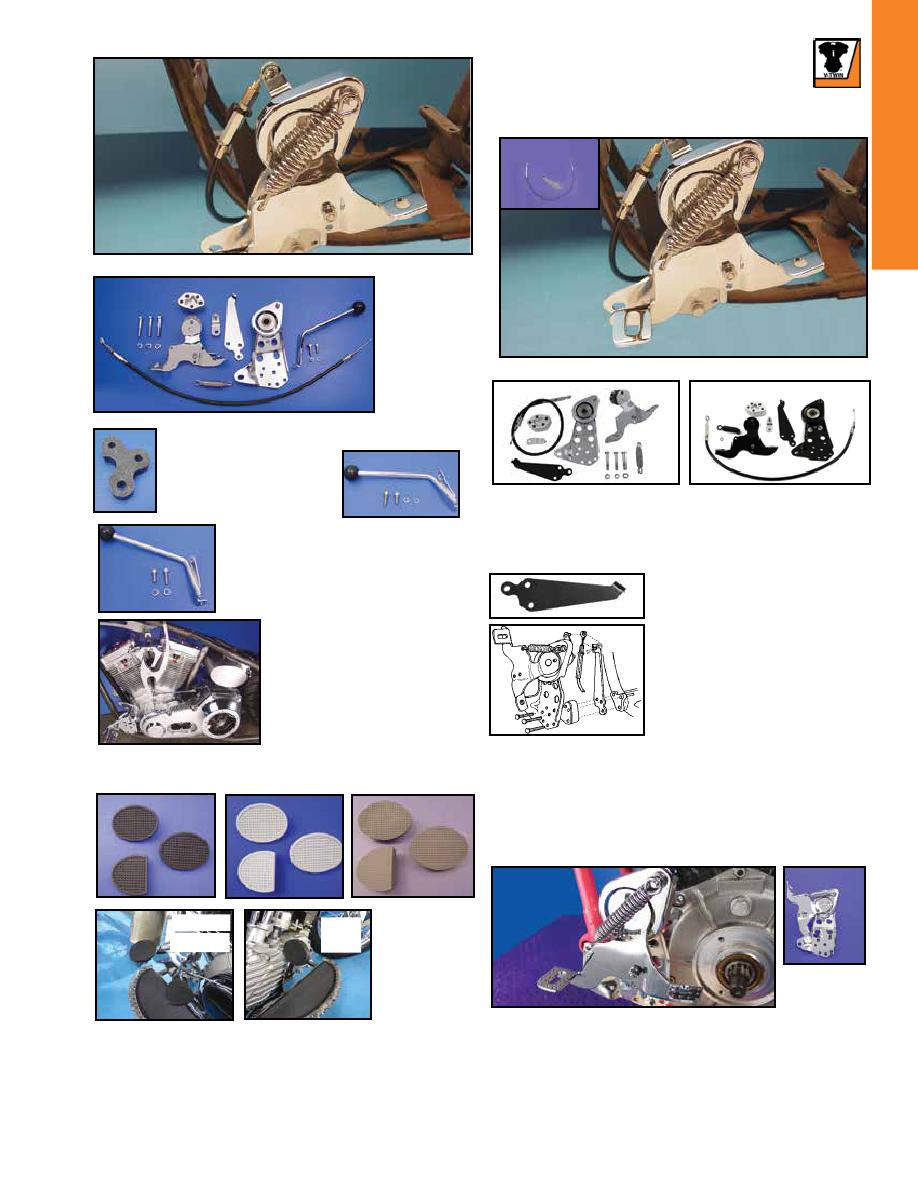 231
BIG TWIN
5-Speed Foot
Clutch Control Kit
Left Side Frame Spacers will position forward
pedals for primary clearance.
VT No. Height
21-0175 .50"
21-0313 1.25"
21-0178 1.75"
Jockey Handle includes knob.
VT No. Model
Speed
21-0567 1986-05 FXST-FLST 5
21-0570 1986-05 FXST-FLST 5 & 6
21-0589 1980-up FLT
21-0567
21-0570
Rubber Pad Sets
Clutch and Brake Pads in a three piece sets.
VT No. Color Item
28-0301 Black Three piece
28-0302 White Three piece
28-0551* Black One piece *Note: Oval Pad only
28-0312 Black Three piece, Replica
Billet Jockey Shifter Kit includes
top mount and rod for 1986-99
Softail models. Order knob sepa-
rately.
VT No. Item
21-0180 Kit
21-0129 Lever Assembly
28-0301
Left Side
Right
Side
Rocker Type Clutch Pedal Assembly. Replaces 36810-65A
for 1936-78 Big Twins. When installed on any 1965-78 FL,
18-3606, clutch release arm must be used. Order appropriate
rod separately. For 1965-up primary applications order VT No.
21-0313 alloy spacer block separately.
VT No.
Item
22-0720
22-1016
Black, with Chrome Spring Friction Cover
22-0997
22-0720
Note: Clutch is disengaged in heel down position.
22-0727
1986-99
Softail Kit
22-0499
VT No. Item
22-0499 Kit (Bracket and Cable)
22-0497 Chrome
22-0720 Rocker Only
36-0516 Cable Only
21-0313 Spacer Block (1.25")
21-0178 Spacer Block (1.75")
28-0301
28-0312
28-0302
Slap Stick
Jockey Kit
includes assem-
bly with jockey
handle for 5
Speed 1989-99
Big Twins mod-
els.
VT No. 22-0735
22-0735
Note: Clutch is disengaged in heel down position.
22-0735
Installed
1986-99 Softail Foot Clutch Kit includes rocker assembly,
cable bracket and spacer block.
VT No. Finish
22-0727 Chrome
22-0732 Black Note: Must order hardware separately.
22-0727
22-0732
Black Clutch Cable Bracket for
5 speed foot clutch. Fits 1989-99
FXST.
VT No. 22-0498
22-0720
Installed
Foot Clutch Conversion Kit allows
use of Police Rocker Clutch VT
No. 22-0720 or 22-1016 on 1987-
99 FXST-FLST where the clutch
cable goes directly into transmission
side cover. Kit includes bracket and
cable. May not be used with front
engine bar.