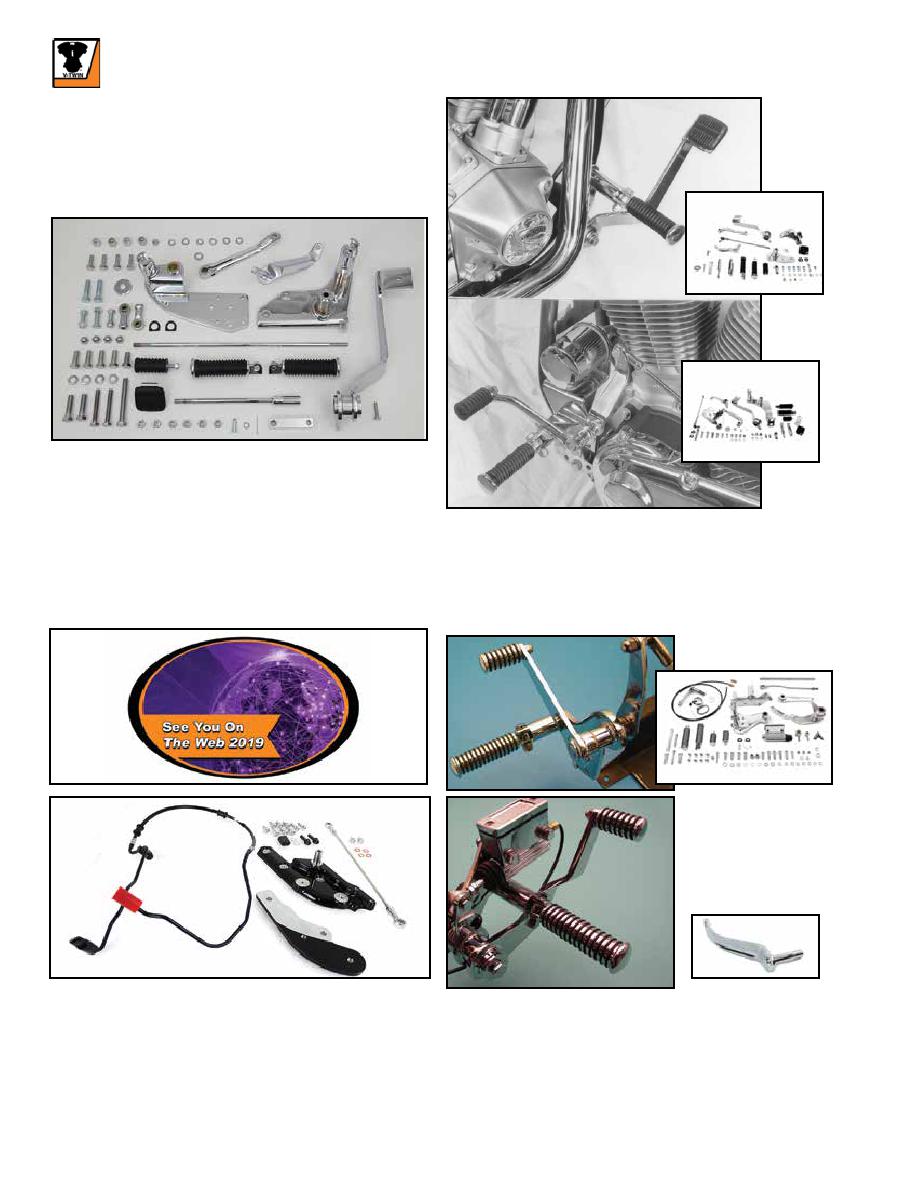 230
V-TWIN KITS
Since 1978
THEY'RE STILL
THE BEST WAY...
Chrome Forward Control Kit fits 1958-86 Big Twins, 1986-99
FXST. Includes shift and brake sides including ³⁄₄" bore chrome
Kelsey Hayes style master cylinder. Kit is supplied with O-ring
pegs, but can be replaced with other style of clevis mount pegs. A
universal nylon brake line kit, chrome mount hardware and 4 and
5 speed styles shift rods are also included.
VT No.
Item
22-0716
21-0109
FXST Chrome Replacement Style Forward Control Kits
include mounting brackets, levers and correct linkage for 1982-
99 FXWG and FXST models. Master cylinder not included.
VT No.
Fits
22-1062 1982-Early87
22-1063 1987-89
22-1085 1990-99
Extended Forward Controls for FXST. Designed for riders
over 6 ft. tall. This chrome kit extends the footpegs 4" forward
and keep the right and left peg parallel while retaining stock
peg to pedal distance. Brake and shifter plate supplied in heavy
5/16" steel along with longer brake and shift rods. Fits FXST,
FXSTC and FXSTS.
VT No.
Year/Type
22-0492* 1986-Early87 Complete assembly
*Note: Above models fit 1986 models when oil filter on shift
side is relocated. Can fit 1984-85 models if master cylinder
bracket is fabricated and welded in place.
Forward Control Kits for 1982-99 FXST
22-0716
Left
22-0716
Right
22-0716
21-0109
22-1085
22-1063
Extended Reach Forward Control Kit extends the rider foot
controls a full 3" forward of the stock location, providing the tall
rider a comfortable riding position.
VT No. Finish Fits
22-0133 Chrome 2018-up FXFB, FXFBS
22-0130 Black
22-0133
22-0130