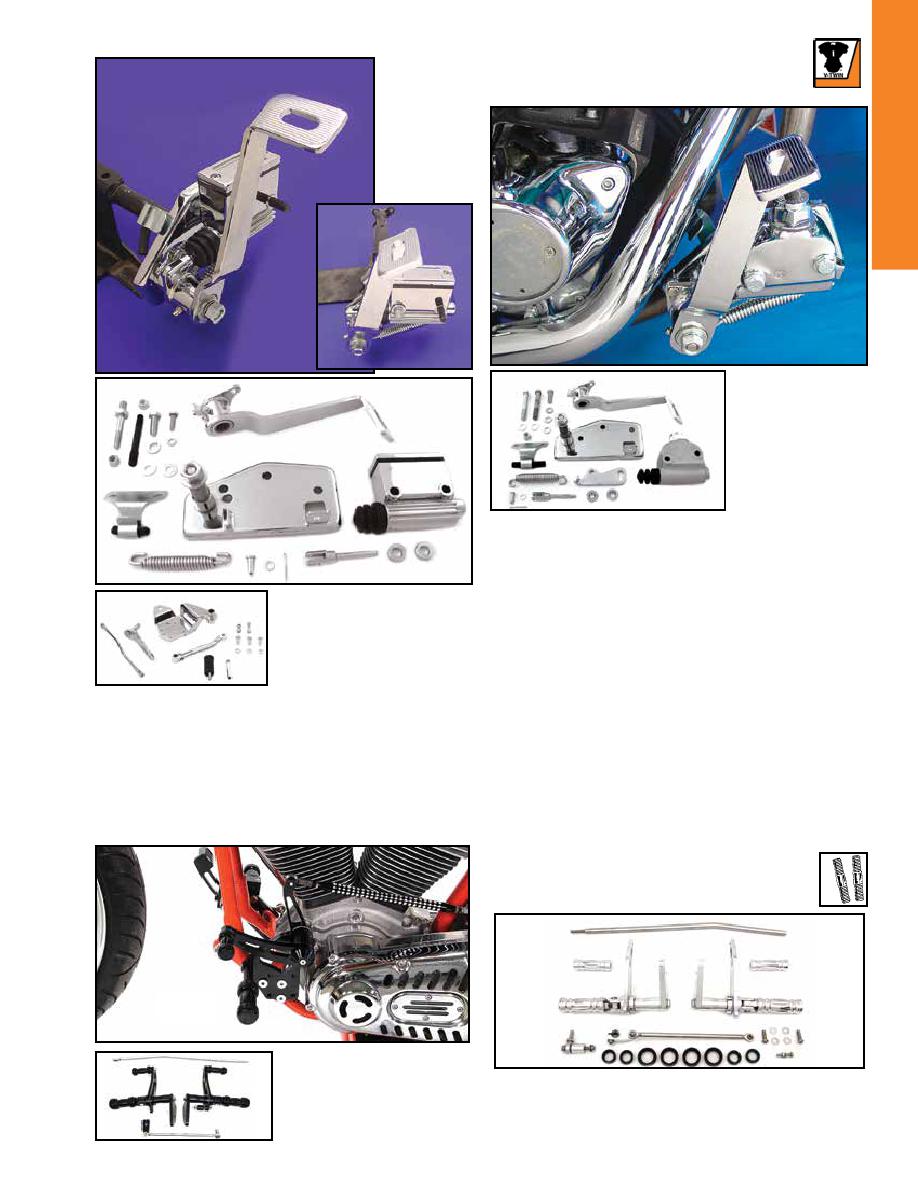 229
BIG TWIN
Forward Brake Kit
Original Forward Brake Control Assemblies will equip all
Big Twins with hydraulic brakes and powered by either 1970-
83 Shovel or 1984-99 Evolution engines. Available in either
Wagner or Kelsey Hayes styles, with or without master cylin-
ders. Footboards can be fitted to our Wagner style kits VT No.
22-0500, 22-0505 or 22-0506. Wagner styles use 41761-73
master cylinder, or Kelsey Hayes type 41576-79A, for those
wishing to utilize their existing master cylinder. Complete assem-
blies include detailed instructions and diagram for installation.
Display packaged.
VT No. Type
Master Cylinder
22-0500 Wagner
22-0505 Wagner
22-0506 Wagner
22-0501 Kelsey Hayes Without
22-1017 Kelsey Hayes With Chrome
*Note: For kits 22-0500, 22-0505, 22-0506, 22-0501, and
22-1017, use Russell front line 23-8809 and rear line 23-8915
for disc brake models and tee 23-0707.
Footpeg Mounting Studs fit through Wagner or Kelsey Hayes
master cylinders to mount foot pegs to these forward assem-
blies. Stud side shown accepts that size footpeg yoke.
VT No.
Type
37-8986 Kelsey Hayes Type ³⁄₈ - 24
37-8987 Wagner Type ¹⁄₂ - 20
22-0506 Installed
22-0505
Original Forward Shifter Control Kit. Order complimenting
forward brake control separately. All kits attach to existing com-
ponents on shifter mechanism. Instructions and diagram includ-
ed with each kit. Display packaged! 5-Speed
VT No.
Fits
22-1015
22-1008
No Mix-Ups No Searching One Kit Does It All For Less!
Shifter kit on this page is compatible with VT No. 22-0500,
22-0501, 22-0505, 22-0506, 22-0510, 22-0511 and 22-0512.
VT No.
22-1017
Shown
22-1017
22-1015
22-0772
Installed
22-0778
Billet Forward Control.
Black Polish Fits
22-0772 22-0777 1984-99 FXST, FLST
22-0778 22-0779 2003-13 FXD
22-0779