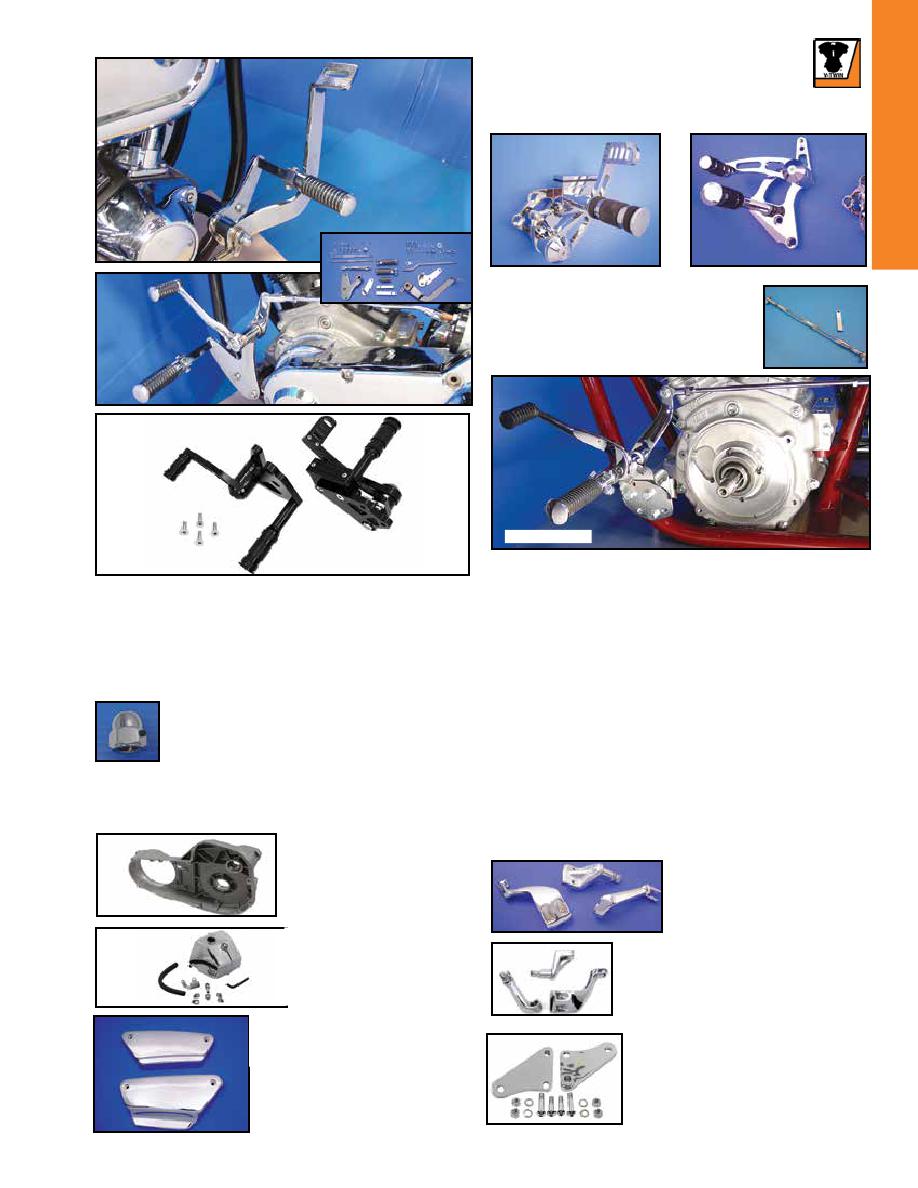 227
BIG TWIN
VT No.
Year
Type
22-1004
FXR-FXRS Forward Control Set fits all 5-Speed FXR-FXRS
series Shovelhead or Evolution powered 1982-up. Installation
does not require the primary cover to be removed. All parts are
chromed and the footpegs provided are "O" ring style, does not
VT No.
Year/Model
22-1035
22-0782
Forward Control
for FXR-FXRS
Shift Shaft Cover. Chrome acorn style has ½"
inner diameter to fit over unused shifter shaft in
primary cover when installing forward controls. Sold
each.
VT No. 37-8872
22-1035 Left
22-1035
Right
Chrome FXR Forward Control Set. Complete chrome set
brake and shifter units are a replica of the comfortable FXST
style which has pegs in full forward position. Features one piece
brake rod which adapts directly to stock master cylinder, No
need to relocate master cylinder on all 1982 and later FXR-
FXRS-FXRT also 1985 FXS-FXE. Chrome cover included to
cap shifter shaft after installation.
22-1004 Shift
1982-94 FXR Billet Forward Control
includes master cylinder.
VT No. Item
22-0761 Kit
21-0223 Rod
23-0859 Master Cylinder Rebuild
Right
22-0761
22-0761
Left
22-1035
22-0782
Covers for FXR
1982-94 FXR
Chrome FXR Driver Footpeg
Mount Brackets fit 1982-94 all
FXR. Use with male style pegs.
VT No. # OEM
Type
27-0640 A 50531-81 Right Mt
27-0639 B 50636-81A Right Ext
27-0638 C 50639-81 Left Ext
27-0641 Set
27-0767 As Above Black
21-0982 Shifter Lever
A
B
C
FXR Passenger Footpeg Kit includes
chrome brackets and bolts, which moves
passenger footpeg higher and more for-
ward. Stock or custom ¹⁄₂" stud footpegs
can be used.
VT No. 27-1531
Cast Inner Primary
Cover fits 1990-93 FXR.
VT No. Finish
43-0233 Inner
43-0204 Outer Chrome
Chrome Oil Tank fits 1982-
94 FXR models. Includes
mounting hardware and hose.
Replaces 62406-81.
VT No. 40-0094
27-0641
43-0233
21-0223
Chrome Side Cover Set, steel for
FXR.
VT No. 42-0100