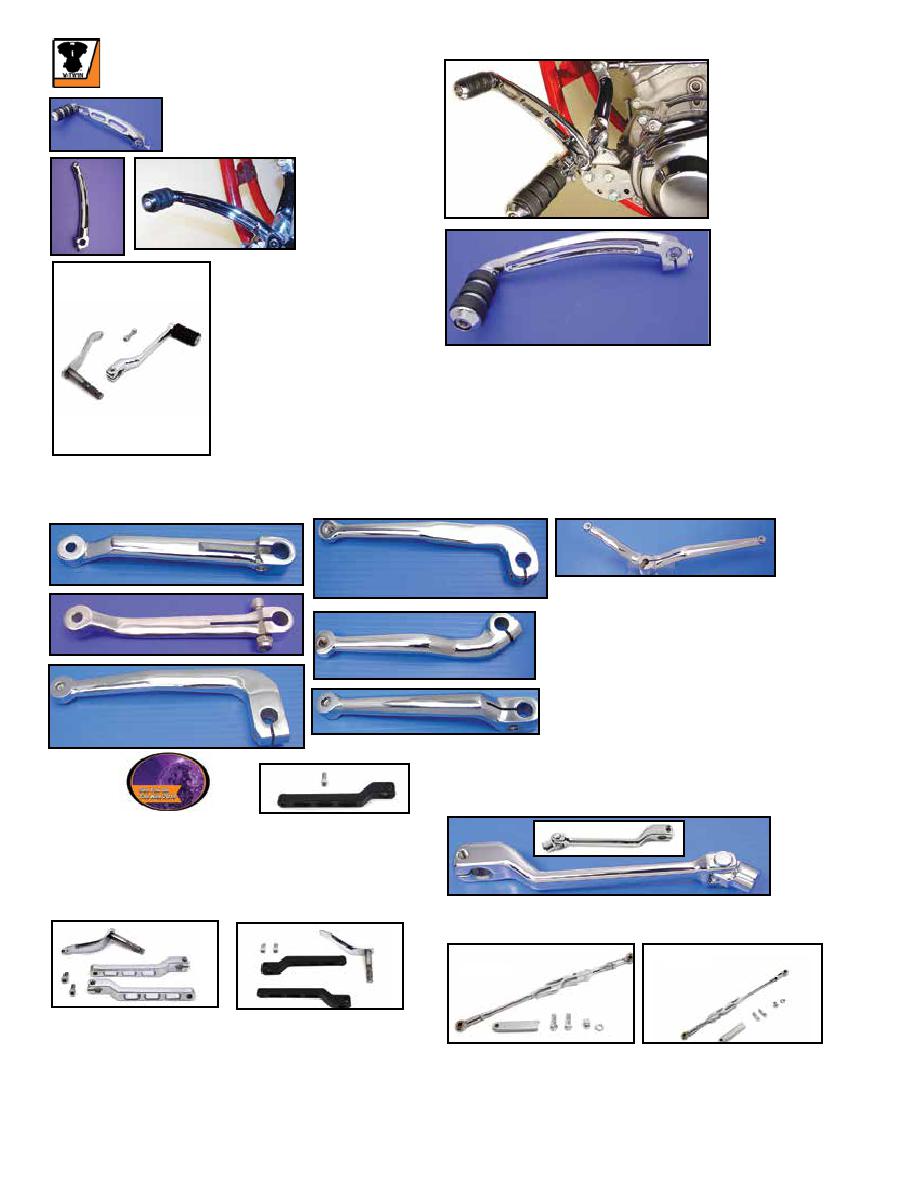 222
Chrome Billet
Shifter Lever
features slotted
design. Fits 1990-
17 FXST and
1991-17 FXDWG.
VT No. 21-0670
Billet Lever
with Cats
Paw Footpeg
for 1990-17
FXST, 1991-17
FXDWG.
VT No. 21-0690
Chrome Billet Shift
Lever fits 1990-17
FXST and 1991-17
FXDWG models.
VT No. 21-0221
Slotted Billet Lever with cats paw foot-
peg. Fits 1990-17 FXST and 1991-17
FXDWG.
VT No. 21-0691
Billet Shifter Lever
Chrome Shifter Levers for Big Twin models.
VT No. Zinc
Fits/Type
21-0311 21-0359 1984-85 FXST,
21-2068
As Above, Stainless Steel
21-0302 21-0457 1986-89 FXST
21-2063
21-0307
21-0982
21-2056
21-0793
1990-05 FXD Heel Toe fits
Stock Shifter Lever
21-0311
21-2063
21-0307
21-2056
21-0302
21-2068
21-0793
Heel Shifter Lever features swivel peg location to fold out of the
way. Fits 1986-17 FLST, 1988-up FLT, FLHT.
VT No. 21-0471
Shifter Rod Kit Flame Style.
VT
No.
Fits
Length
21-0684 1993-2005 FXDWG
21-0686 2002-up V-Rod
21-0687 2000-up FXST, FLST
21-0688 2000-up FXST, FLST
21-0684
21-0687
Billet Style Shifter Lever is machined and polished for a beauti-
ful custom look. Available in mirror chrome or black powder coat.
Includes chrome hardware.
*Note: Must order shifter pegs sep-
arately. Fits 2018-up FXFB, FXFBS, FXRB and FXRBR models
equipped with forward controls.
Chrome Black
21-0751 21-0752
Billet Style Heel Toe Shifter Lever Kit adds a heel-toe shift
action. Available in chrome or black. Kit includes front & rear lever
and hardware. Must order shifter pegs separately. Fits 2018-up
FLDE, FLFB, FLFBC, FLHC, FLHCS and FLSL equipped with
Chrome Black
21-0753 21-0754
Chrome Heel Shifter Lever adds
the convenience of a heel shifter
to your footboard equipped ST
model. This traditional lever permits
you to upshift with a downward tap
of your boot heel eliminating the
need to wedge your toe under the
forward lever. Styled to match the
OE toe shifter this kit include shifter
lever, extended shaft, shifter peg
and mounting hardware. Fits 2018-
up FLDE, FLFB, FLFBC, FLHC,
FLHCS,FLSL equipped with foot-
boards.
VT No. 21-1342
21-0753
21-0754
21-0752
21-0751