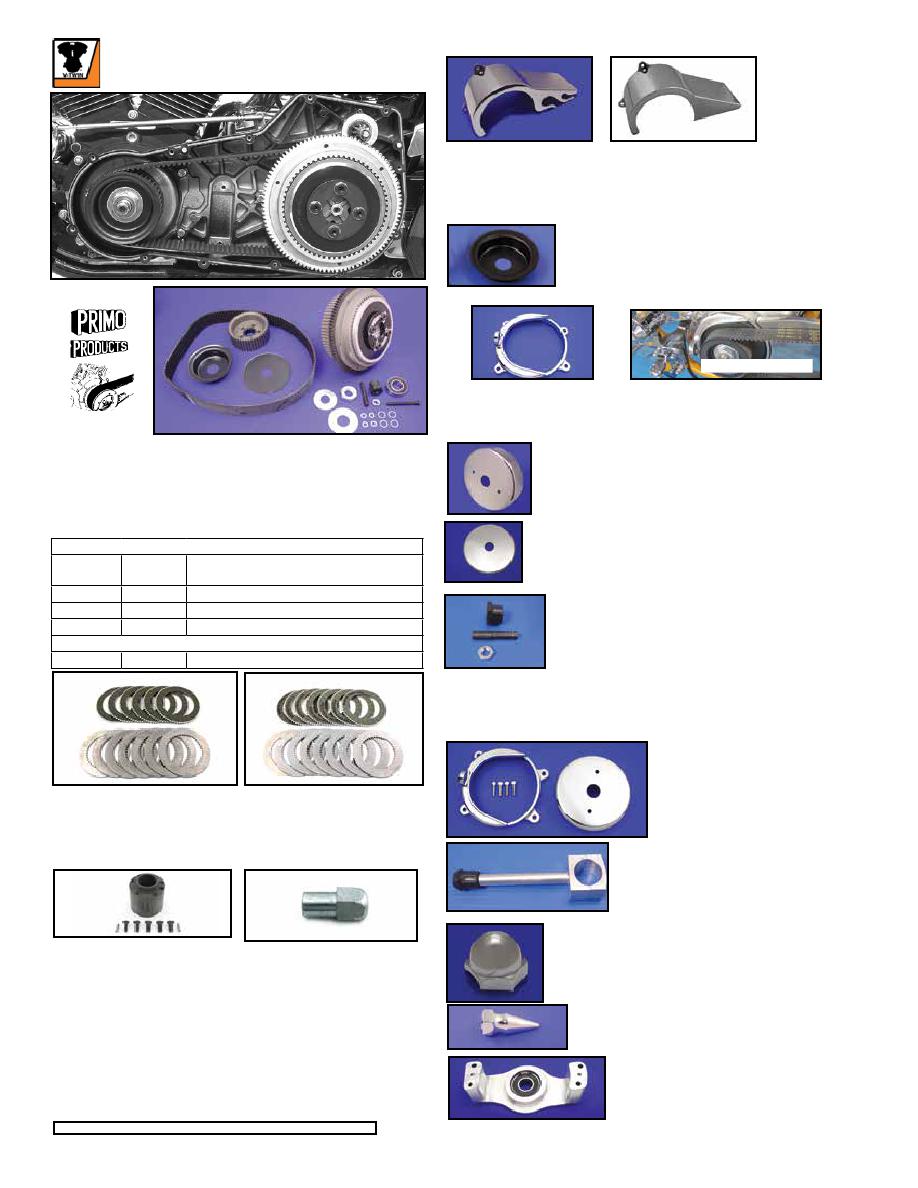 216
Belt Guard Mounts to Brute IV and V units.
VT No.
Style
Width
20-0680 Flame 3.5"
20-0682 Smooth 3.5"
20-0683 Flame 3"
20-0680
Outside Belt Guide Plate is for all Primo 8,
11, and 14 front pulleys except taper shaft.
VT No. 20-0230
Polished Alternator Cover for Big Twins. Use on all Cone
motors. Designed to protect your alternator, also helps cooling
by acting as a heat sink. Has a mounting lug for belt shroud
built in.
VT No. 20-0330
20-0331
20-0331 Installed
Chrome Alternator Rotor Cover fits major brand
belt drive and open primary set ups. Installs to com-
pletely cover the steel alternator rotor.
VT No. 20-0238
Chrome Big Twin Alternator Rotor Cover
presses over 1981-up rotors for tight fit.
VT No. 20-0216
1990-up Primo Belt Drive Clutch Hub Nut
and Adjuster Kit will prevent oil leakage
through the mainshaft when using a belt drive
system. Kit includes clutch hub nut, seal and
adjuster screw with nut. Note: For Belt drive
primary system only.
VT No. 18-0201 Splined (O-Ring Type)
18-0201
Chrome Alternator Cover
Set includes polished outer
housing and chrome rotor
cover.
VT No. 20-0337
Frame Mount Kickstand Stop
for use on all open belt drive
Big Twin by clamping to frame
tube. Fits 1³⁄₈" and must be cut to
desired length.
VT No. 27-1729
Chrome Pike Motor Nut fits Big Twin
1955-up sprocket shaft.
VT No. 37-0890
Acorn Motor Nuts for Big Twins with
splined sprocket shaft.
VT No. 7816-1
27-1729
Brute
20-0012
Note: There is no warranty on belts sold when as part of kit or individual replacements.
8 mm Drive Kits
Kit
Repl.
Belt
Fits
20-0016
20-0554
20-0017
20-0554
20-0015
20-0554 1994-06 FXR-FLT
11 mm Drive Kits
20-0012
20-0553
1994-99 FXST, 1994-99 FXD
Brute III from Primo Products includes dry clutch pack pulley
assembly which retains diaphragm spring function, while increas-
ing the clutch friction surface area 70% for smooth light fingered
action. Kit includes pulleys, 1³⁄₄" Kevlar reinforced rubber belt,
complete clutch pack/pressure plate assembly and necessary
hardware, bolt in kit. Available in 8 mm or 11 mm drive kits.
Replacement Clutch Set for all Brute III belt drives. Includes
6 fiber plate and 7 steel plates.
VT No. Fits
18-0555 Early Style with Flange
18-0556 Late Style without Flange
Primo Offset Front Pulley Inserts for 2.5" diameter Brute III
and 3.0" inserts for Brute IV Pulleys. Special nuts and flanges
(outside guide plates) are required.

Insert for Insert for Special
Brute III
Brute IV
Motor
Offset Pulley Pulley Nut
1¹⁄₂"
20-0947
20-0948
20-0955
20-0962
20-0949
18-0555
18-0556
20-0948
20-0962
5 and 6 Speed Bearing Support
Plate for 1984-2000 Big Twins with
kick start. Billet aluminum support
plate includes bearing.
VT No. 20-0250
20-0962
20-0682