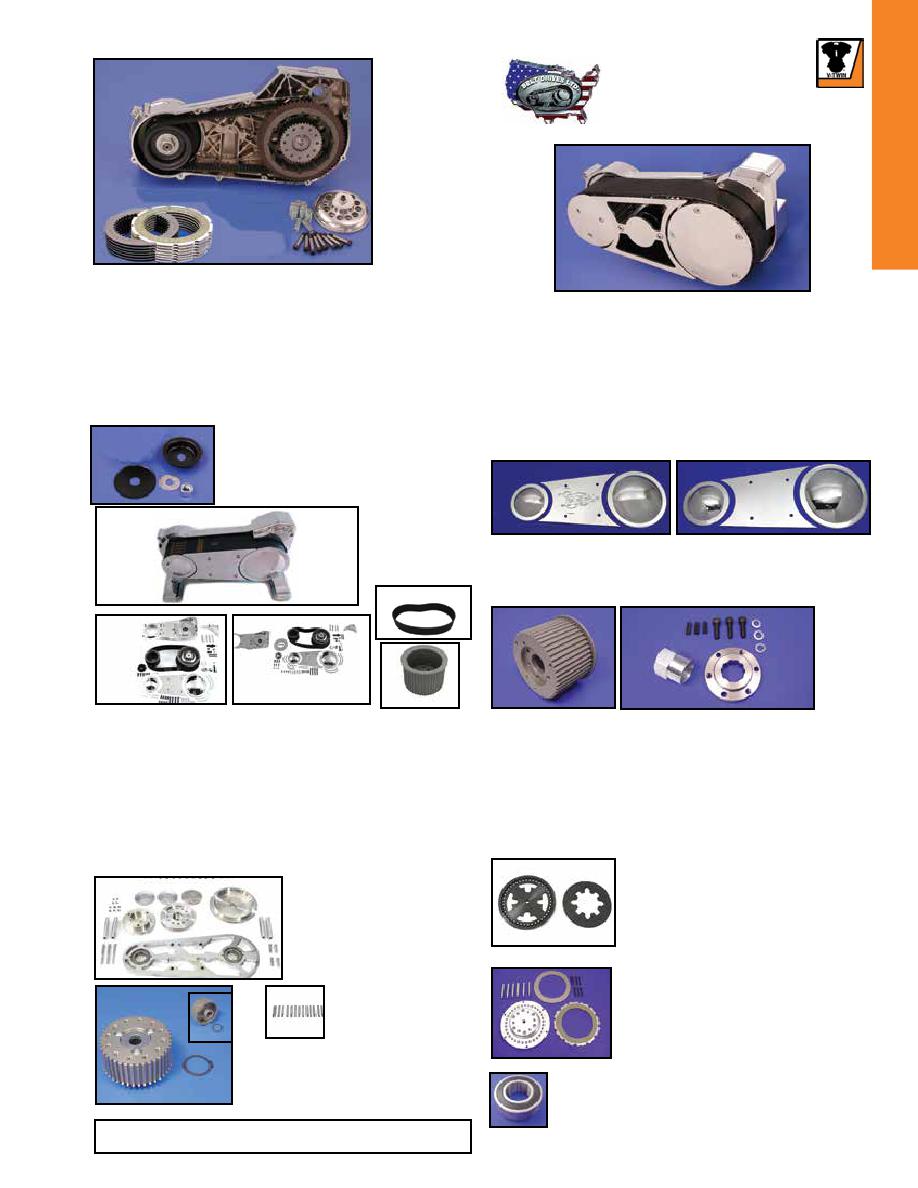 215
BIG TWIN
BDL TF-1000 and TF-2000 "Top Fuel" Street Belt Drives
for 1991-up FXST. Features 14mm by 3³⁄₈" wide belt, Kevlar
Nine (9) Plate Clutch with eleven (11) steels, special pressure
plate that uses nine (9) springs for varying spring pressure.
Drive includes pulleys, belt, clutch pack, starter jack shaft,
inner motor plate with oil filter mount pulley domes and side
guard. Polished finish. The TF-2000 features out board bear-
ing support and polished finish.
VT No.
#
Replacement Belt
20-0632 TF-1000
20-0127
20-0632
14mm x 3³⁄₈ Wide Drives
BDL Belt
Drives
Chrome Belt Drive Cover Set as shown,
VT No. Style
20-0005 Smooth
20-0755 Flame
20-0755
20-0005
Note: There is no warranty on belts when sold as part of kit or
individual replacements.
BDL Front Belt Drive Parts
VT No. # Item
20-0925 A Inside Belt Guard
20-0926 B Outside Belt Guard
20-0927 C Motor Nut 55-up w/washer
A
B
C
BDL Ball Bearing Lock-Up Clutch.
This ball bearing ramp style clutch set
reduces clutch slip for a more positive
clutch engagement. Available for all BDL
belt drives with coil spring clutch except
top fuel drives. All Primo belt drive and
pro-clutches with diaphragm spring and all
Big Twins 1998-07 with stock clutch pack.
Fits Primo Drives
VT No. 20-0037
A
20-0930
BDL Belt Drive Parts
20-0928 A Round Dogs 5-Speed
20-0929 A Round Dogs 4-Speed
20-0930 B Splined Hub 1990-up 3" only
BDL 3" Wide Offset Front Primary Drive Pulley. Use with
correct insert and nut for offset desired.
VT No. Item
20-0900 Pulley Only, 47T
20-0935 ¹⁄₄" Insert and Nut
20-0937 ³⁄₄" Insert and Nut
20-0938 1" Insert and Nut
20-0940 1¹⁄₂" Insert and Nut
20-0941 1³⁄₄" Insert and Nut
20-0900
20-0935
VT No. Fits
Belt
Front
Pulley
20-0605 1986-89 All FXST 20-0630 20-0902
20-0629 1990-06 All FXST 20-0630 20-0902
18-0554 Replacement Clutch Pack for Above Units
BDL 8mm x 42mm Electric Start Belt Drives. Includes a
polished pressure plate, Kevlar clutch, sealed inner primary
bearing and features a shorter length clutch hub that elimi-
nates unnecessary weight past the end of the mainshaft and
can be installed without any modifications to inner primary.
8mm x 42mm
BDL Belt Drive
Kits
BDL 3" Electric Start Belt Drives with billet motor plate.
Includes 8mm belt, polished motor plate, double row sealed
mainshaft support bearing, polished side guard, polished
dome pulley covers and Kevlar clutch.
*Note: Can only be
used with 1991-up starter motor and some modifications will
be necessary to install these kits.
VT No.
Year
Belt
Front
Pulley
20-0600* 1985-89
20-0603
20-0900
20-0601 1990-06
20-0603
20-0900
Sealed Inner Primary Bearing fits York and BDL
models.
VT No. 12-0993
Auto Slip Clutch Kit fits all BDL belt and
York 3" drive units.
VT No. 20-2023
Chrome Out Board Support
Kit fits 3" BDL and York Unit.
Includes hardware. For 3"
drive units.
VT No. 20-2052
20-0601
20-0603
20-0900
20-0600