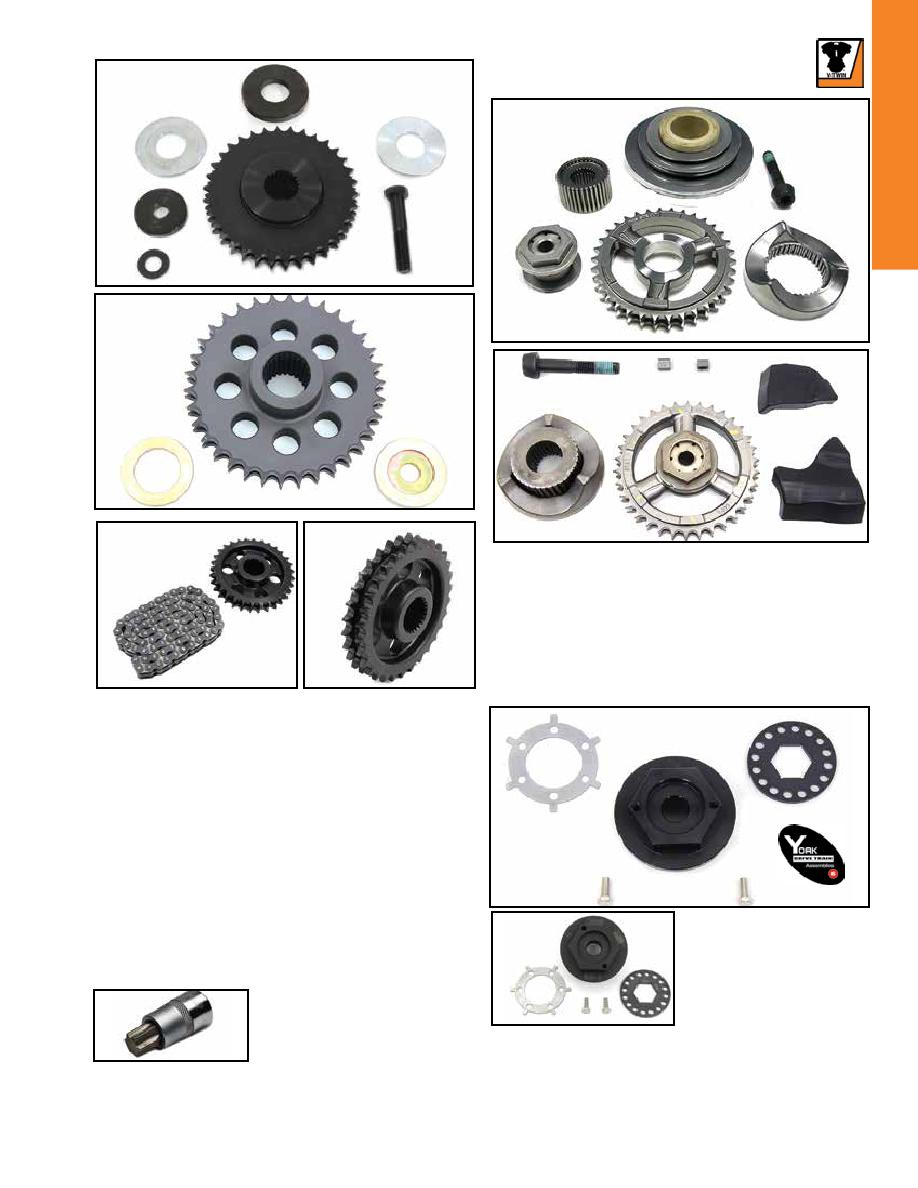 213
BIG TWIN
19-0299
VT No. Item
Fits
19-0299 Heavy Duty
19-0587* W/34T Sprocket Same as Above
*Note: Does not include spring pack. Requires separate pur-
chase of
VT No. 13-0871 spring pack.
19-0587
Compensator Bolt Torx socket
is for 2014-up Big Twins. Used to
remove or install compensator bolt.
VT No. 16-1669
Compensator Sprocket Kit. Engineered with heavier springs
and increased travel. Heavy Duty Kit is should be used for
higher than stock horse power engines.
Compensator Sprocket Eliminator Kit fits 2007-16 FLT and
2007-17 FXST, FLST and FXD models. Solid steel one piece
design sprocket kit is spring less and much quieter than stock
style compensator. Eliminates the need for a complete compen-
sator assembly. Kit includes washer, spacer, bolt and sprocket.
VT No.
Type
19-0167
Kit with 34T Sprocket Only
19-0175
19-0586* 30 Tooth Sprocket Only
19-0923** Kit with 30T Sprocket and Link Chain
12-1102
19-0935
19-0937
*Note: Requires shorter primary chain. FLT applications require
VT No. 19-0933 primary chain and FXST, FLST, FXD applica-
tions require
VT No. 19-0380 primary chain.
**Note: Includes VT No. 19-0933 84 link primary chain for FLT
applications only.
19-0167
19-0175
19-0586
19-0923
Motor Sprocket
Compensator Sprocket Lock Nut Kit includes a lock plate
and lock tabs which secure the nut to the sprocket retainers
that the compensator nut and lock plate bolts do not come
loose. Similar to the transmission pulley mega nut. Use on all
Big Twins with
VT No. 19-3299 or VT No. 19-0587 compensa-
tor sprocket kit only.
York Jims
19-0487 19-0475
19-0487
19-0475