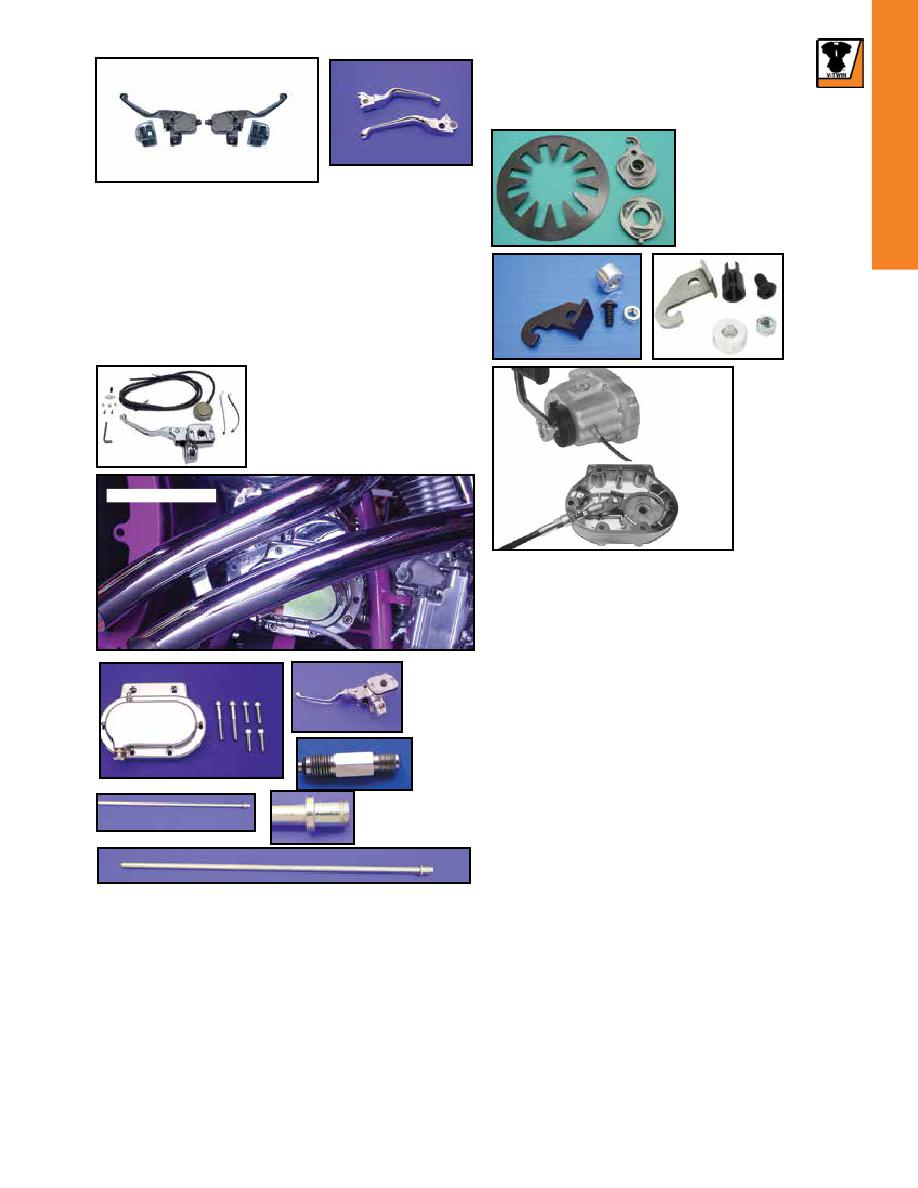 207
BIG TWIN
E-Z Pull Clutch
Assist reduces man-
ual effort required to
pull the clutch lever
by 40%. Mechanism
fits inside transmis-
sion side cover and
extends clutch oper-
ating mechanism for
improved leverage.
Soft Pull Clutch Ramp Kit
includes spring plate for 1998-
up Big Twins.
VT No. 18-0559
E-Z
Clutch Control
Chrome Smooth Contour Control Kit features a hidden
underside mounting on the switch housings for an unobstructed
smooth, rounded surface on the top housing. Switch housings
use stock or chrome rounded switches (introduced on 1996
models). Complete kits include clutch and brake levers, master
cylinder, hydraulic clutch, switch housings, brackets and hard-
ware. Master cylinder is ¹¹⁄₁₆" bore, hydraulic dual disc. Clutch
handle is ¹¹⁄₁₆" bore.
VT No.
Style
22-0378
26-0590
26-0590
Chrome Hydraulic Clutch Actuator Cover for use on 1987-
18 models. Both types include hardware, banjo bolt and
bleeder screw. Both require an 11/16" master cylinder (VT No.
18-0672), hydraulic line not included and clutch rod to be pur-
chased separately for installation of cover.
VT No. Fits
18-0675 1987-06 FXST, FLST, FLT, 1987-05 FXD
18-0676 2007-17 FXST, FLST, FLT, 2006-17 FXD
18-0672 11/16" Master Cylinder, Chrome
18-0572 1987-06 Clutch Rod (15 1/2" Long)
18-0570 2003-17 Clutch Rod (15 1/4" Long)
18-0571 Fitting to Replace Banjo
23-1715 Rebuild Kit for 18-0672
18-0571
18-0570, 18-0574
18-0675
18-0570
Hydraulic Clutch Handle Kit. Fits
1987-2006
VT No. 26-0996
18-3269
18-3232
22-0378
18-0675 Installed
18-0672
VT No. Year
18-3232 1987-99 FXST, FLST, FLT

18-3269 2000-13 FLT, 2000-17 FXST, FLST, FXD