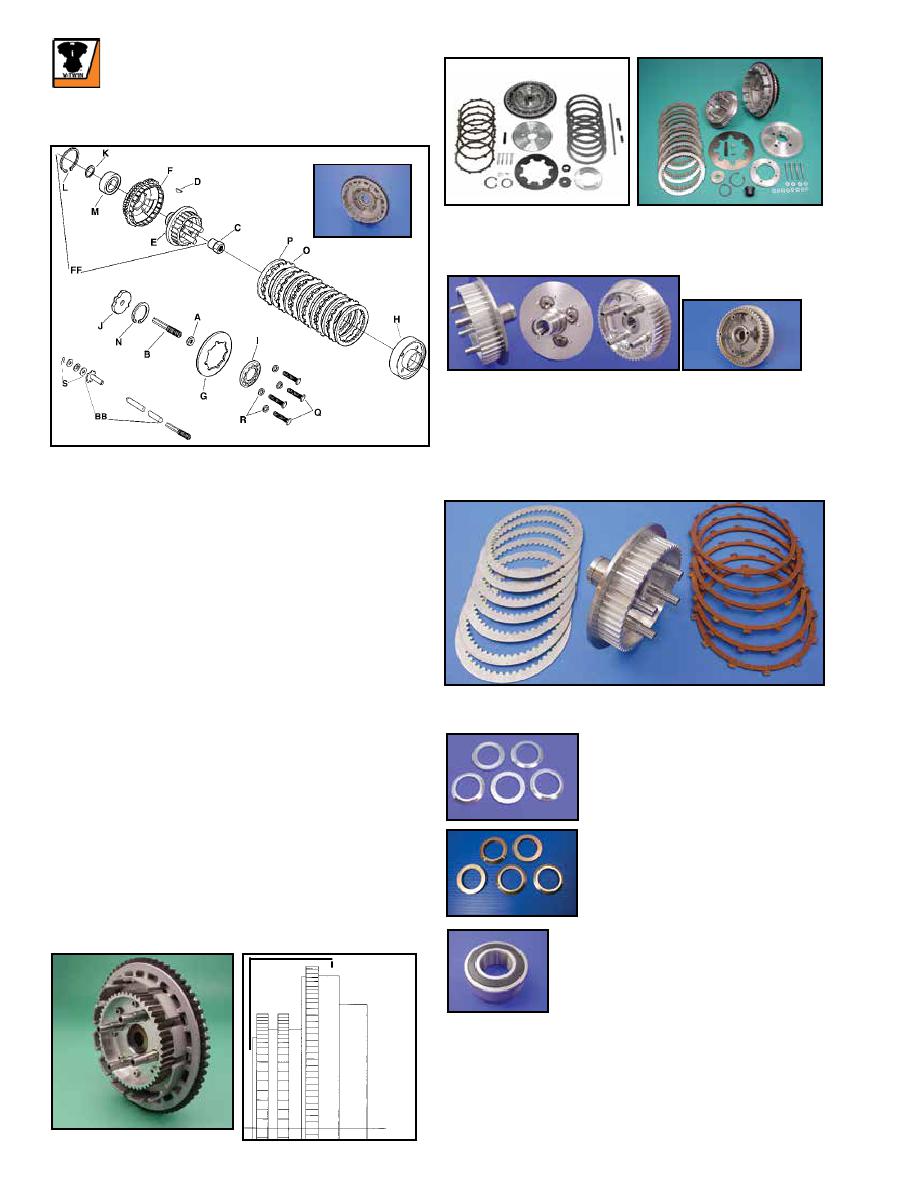 202
1985-90 1340 Big Twin Clutch Pack Hardware.
VT No. #
OEM
Item
12-0563 A 7848W
18-3259 B 37357-84 Adjusting Screw for Stock
18-3253 B 37090-84A Adjusting Screw for 18-3680
17-9246 BB Kit
17-9248 BB Kit
17-9249 BB Kit
12-0564 C 37496-84 Nut, Mainshaft
12-0212 D 37523-85 Key, 10 pack
18-8153 E 37550-84A Clutch Hub, V-Twin
18-3641 F&M 37702-84A 84-Early85 Clutch Drum with Ring Gear
18-2156 F&M 37707-84A Late85-90 Clutch Drum with Ring Gear
18-8290 G 37875-86A Diaphragm Spring
18-0186 FF Kit
1984-Early85 Drum/Hub Assembly
18-0187 FF Kit
Early1985-90 Drum/Hub Assembly
18-3680 H 37901-84A Pressure Plate
18-3255 I
37902-86B V-Twin Adjuster Plate
18-3215 J
12-0953 K 37904-84 Retaining Ring External
12-0954 L
37905-84 1984-97 Retaining Ring Internal
12-1375 L
37905-84 1984-97 Retaining Ring Internal, 5 pack
12-0308 M 37906-84 Bearing
12-0955 N 37907-84 Retaining Ring, 10 pack
18-1147 O 37931-84 Friction Disc, 6 pack
18-1148 P 37975-84 Drive Disc, 7 pack
37-8944 Q 2881W
37-9272 R 6242W
18-3623 S Kit
12-0923 T
1985-90 Clutch Hub Sleeve is a rein-
forcement ring for hubs at the tapered
end. Sleeve is pressed on with beveled
side out toward inner primary, after
clutch drum with bearing is set over
hub, so that clutch drum and hub will be
installed as one unit.
VT No. Type
18-8240 Aluminum one piece type hub
18-8241 Steel two piece type hub
1984-90 Big Twin
Clutch Parts
18-0130
18-8240
1984-89 Big Twin Clutch Hub Kit includes updated reinforced
steel center clutch hub, steel drive plate set and friction plate set.
VT No. 18-0541
Clutch Drum and Hub Assembly. Bearing and
snap ring are installed in drum. Starter ring gear
offset dimension shown (D).
VT No.
Year
Starter Ring Offset
18-0186 1984-Early85 1.670
18-0187 Late1985-90
18-0186,
18-0187
(D)
1984-90 Big Twin Clutch Hubs feature the updated factory
construction which has a machined steel center with aluminum
outer splined ring, secured by allen screws, with steel studs
welded in place. Order related hardware separately.
VT No. OEM
Year
Type
18-8153 37550-84A 1984-90 V-Twin
18-8170* 37550-84 1984-90 V-Twin
*Note: Early style hub with aluminum studs
18-8170
Complete Clutch Pack Assembly.
VT No. Fits
18-0130 L1985-90
18-0134 1984-Early 85
18-2156
18-8241
18-0134
Sealed Clutch Drum Bearing for belt drive
applications on Big Twins.
VT No.
Years
12-0587 1985-90
12-0588
12-0588