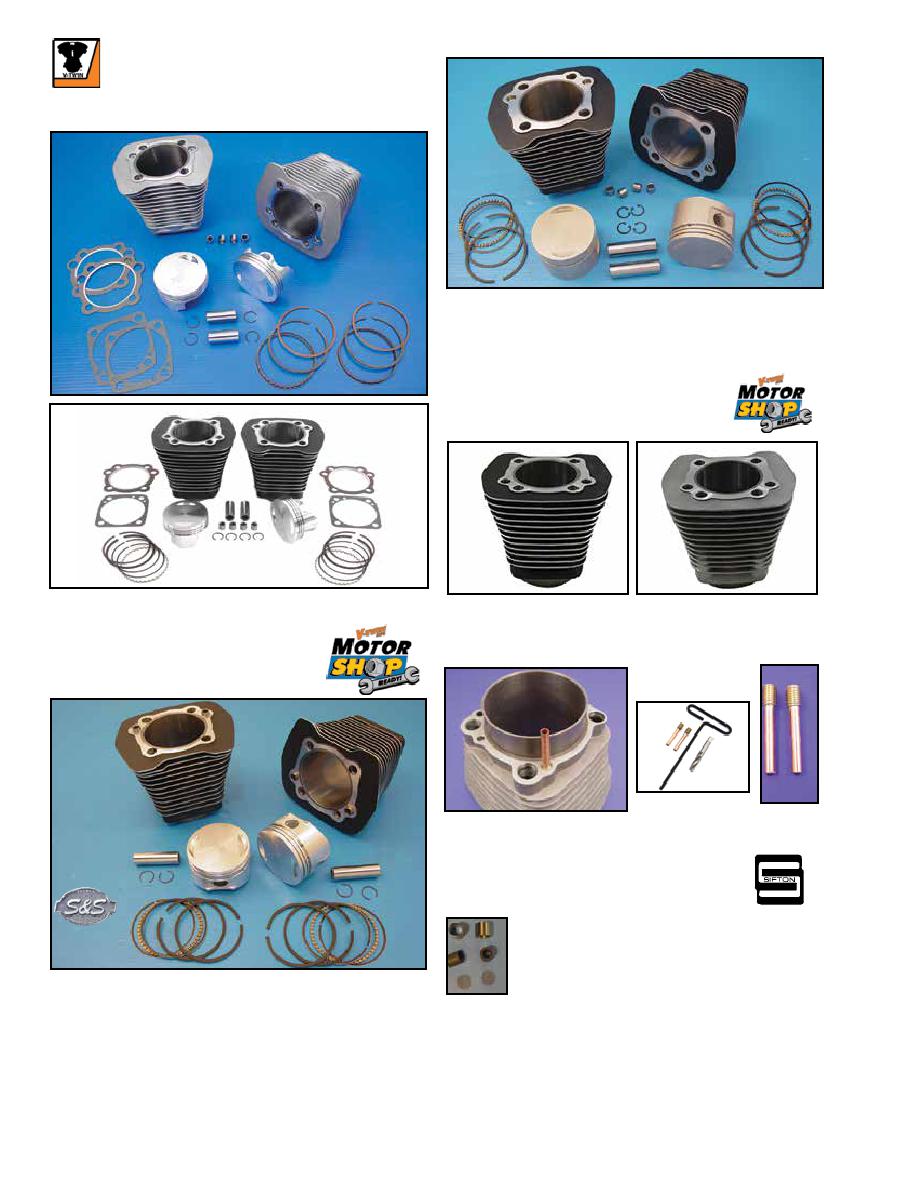 186
Big Twin 3⁵⁄₈" Big Bore Cylinder Kits by S&S are supplied
with fitted forged flat top pistons, ring, wrist pins, head and
base gaskets. Stock crankcases must be machined to
accommodate the larger spigot diameter. Available with natural
finish cylinders. Fit 1984-99 Evo.
VT No. Finish Stroke Compression
Displacement
11-0064 Silver 4⁵⁄₈"
VT Piston Kit
11-1694 Kit
Cylinder for
1984-99 Evo
1340cc Cylinders to fit Evo are sold each.
VT No.
OEM
Finish
11-0345
11-0340
Sifton Cylinder Drain Inner Filter for returning
top end oil. Features a stainless steel screen and a
ceramic magnet that will stop all ferrous debris from
common valve train wear and is most effective in
stopping broken valve spring material from entering
engines oiling system through cylinder drain. The thin wall
steel dowel protects the magnet and provides proper head to
cylinder alignment. Fit Evo.
VT No. 40-0250
Cylinder and Piston Kits for Evo Late 1985-99 1340 cc are
honed and pre-fitted with stock compression cast pistons and
Hastings Rings. They are ready to run and will require break-in
as suggested in the appropriate shop manual. Sold in pairs for
stock stroke only. Order gasket set separately.
VT No.
Finish
Compression
11-2618
11-2610 Silver 8.5:1
11-0594 Silver 11:1
93.4" Cylinder Kit includes Wiseco 9.5:1 compression piston
set with rings pre-fit to new 3.75" cylinders. Cases must be
bored to accept this kit.
VT No.
Finish
11-2627
11-2628 Black
11-1699
11-2618
Stock
Cylinder
Kit
1340cc
bore
11-2627
Oil Passage Drain Tubes for stock bore size cylinders only.
Each kit is supplied with tap, hex wrench, two drain tubes and
instructions. Fit Evolution Cylinder.
VT No.
Item
16-0911 Kit
16-0912
Pair Replacement Tubes only
Tube
Installed
16-0912
16-0911
16-0911
11-0345
11-0340
11-2628