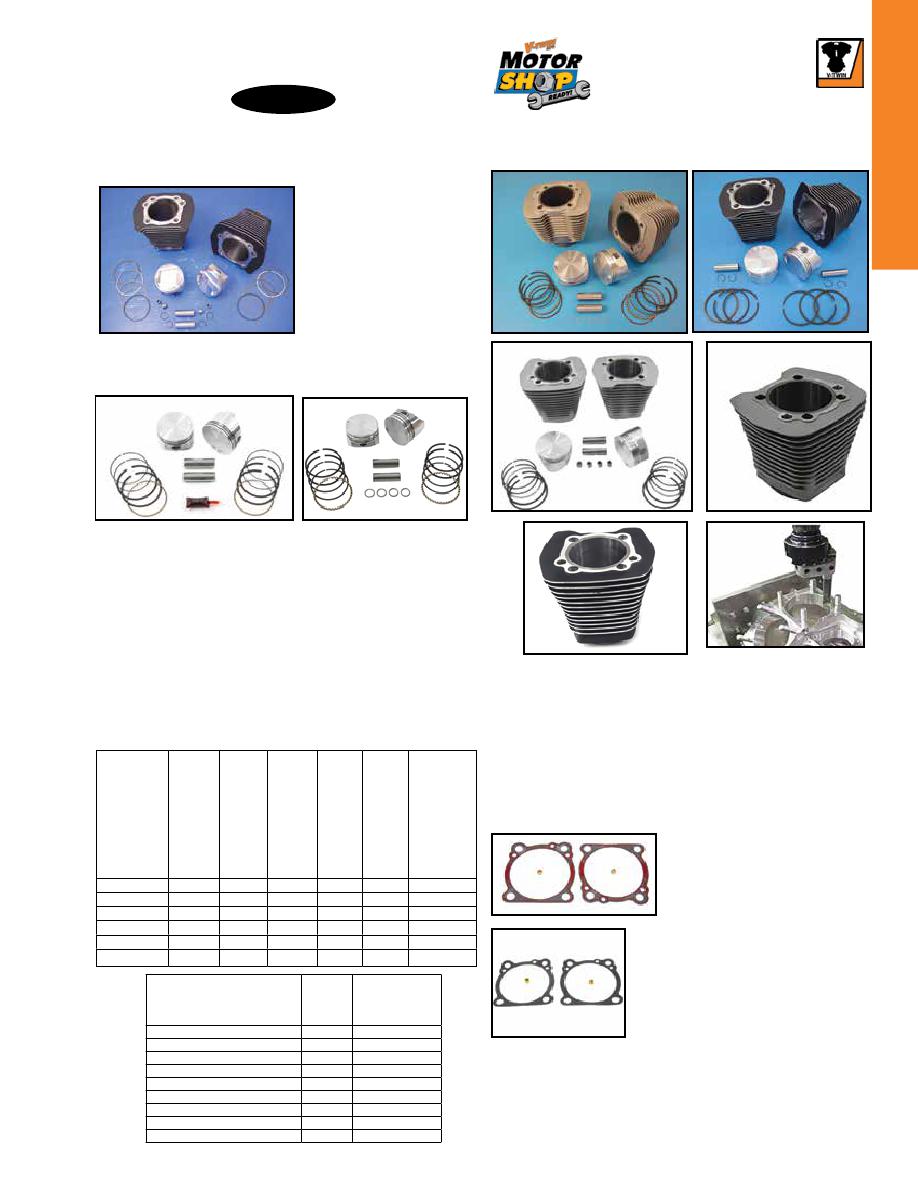 185
BIG TWIN
3⁵⁄₈" Big Bore Cylinder for Evolution motors with 4¹⁄₄" stroke
forged pistons are with Hastings Rings pre-fit in the heavy wall
cylinders. Cylinder Sets 3⁵⁄₈" and larger require case boring.
VT No. Ratio
Piston
Finish
11-0094 9.25:1 Wiseco Silver
11-0095 9.25:1 Wiseco Black
11-1513 9.25:1
60-0165 Machine Crankcase for above cylinder
11-0532 Silver Cylinder, each
11-0533 Black Cylinder, each
11-9948 Sifton Piston
11-0094
11-0095
Bolt-On Cylinder Kit
includes 10:1 compression
Wiseco forged piston kit fitted.
No case boring required. Fits
Evo 83".
VT No. Finish
11-1253 Black
11-1258 Silver
11-0156 Piston Set
11-0157 Ring for 1 Piston
11-1253
88"
Oil Fix Kit for Big Twin Evolution on
models includes two cylinder base
gaskets and two oil jet controls which
control the oil coming from the head
through the barrel and into the case, so
the oil does not touch the base gasket
thereby not leaking through the base
gasket.
VT No. 15-0597
The Sifton cylinders have a very thick, large outside diameter,
"cast in" liner which has been proven to be an important factor
to maintain thermal stability which is the ability to retain the
important cylinder bore dimension through repeated heat cycles.
Bolt-On Cylinder Kit
Big Bore
Cylinder for
Evolution
83"
Cylinder Base Sealing Kit
includes two double beaded
gaskets and two cylinder inserts to
insure oil return.
VT No. 15-1288
11-1513
11-1513
11-0533
60-0165
KB PERFORMANCE PISTONS
The Keith Black 390 Hypereutectic alloy is cast in a permanent steel mold
which makes it possible to build a light weight piston that makes more power
and uses less fuel and lasts longer than any other type of piston being made
today. We can now forget about running loose, noisy, oil-burning pistons.
The low heat transfer of the alloy keeps the skirts cool so piston expansion is
minimal. Test engines have run with as little as .0005" (¹⁄₂ thousandth) piston-
to-wall clearance. The combination of a low heat transfer piston alloy and high
compression ring placement increases power and economy. The high ring
placement alone reduces detonation and increases the top ring temperature.
It is important to see our ring end gap instructions to avoid ring butting.
The KB piston will make maximum power at 2 to 4 degrees less total timing
than conventional pistons. All KB piston sets are supplied with Hastings Moly
Ring sets. Safe top ring end gaps can be found by multiplying the bore
diameter by the appropriate ring end gap factor from the adjoining chart.
Example: 3.5" bore "Street Normally Aspirated" = 3.5" bore x .0065" =
Note: Second ring end gaps do not need extra clearance
11-2216
11-2264
Engine
Model
Years
C.I.D.
Bore
Stroke
Cylinder
Height
Comp. Ratio
4.250"
5.550"
4.250"
5.550"
4.250"
5.550"
10.5:1
TC-88
FL-FX
TC-88
FL-FX
4.938"
10.6:1
4.00"
9.3:1
11-2216 11-2257
11-2264 11-2269
11-2274
11-2217 11-2258 11-2223 11-2265 11-2270
11-2275
11-2218 11-2259 11-2224 11-2266 11-2271
11-2276
11-2219 11-2260 11-2225
11-2272
11-2220 11-2261 11-2226 11-2268 11-2273
11-2278
11-2221 11-2262 11-2227
APPLICATION
RING
END
GAP
FACTOR
PISTON TO WALL
CLEARANCE
Street Normally Aspirated
Street Nitrous or Supercharged
Drag Supercharged or Nitrous Gas
Drag Supercharged Alcohol