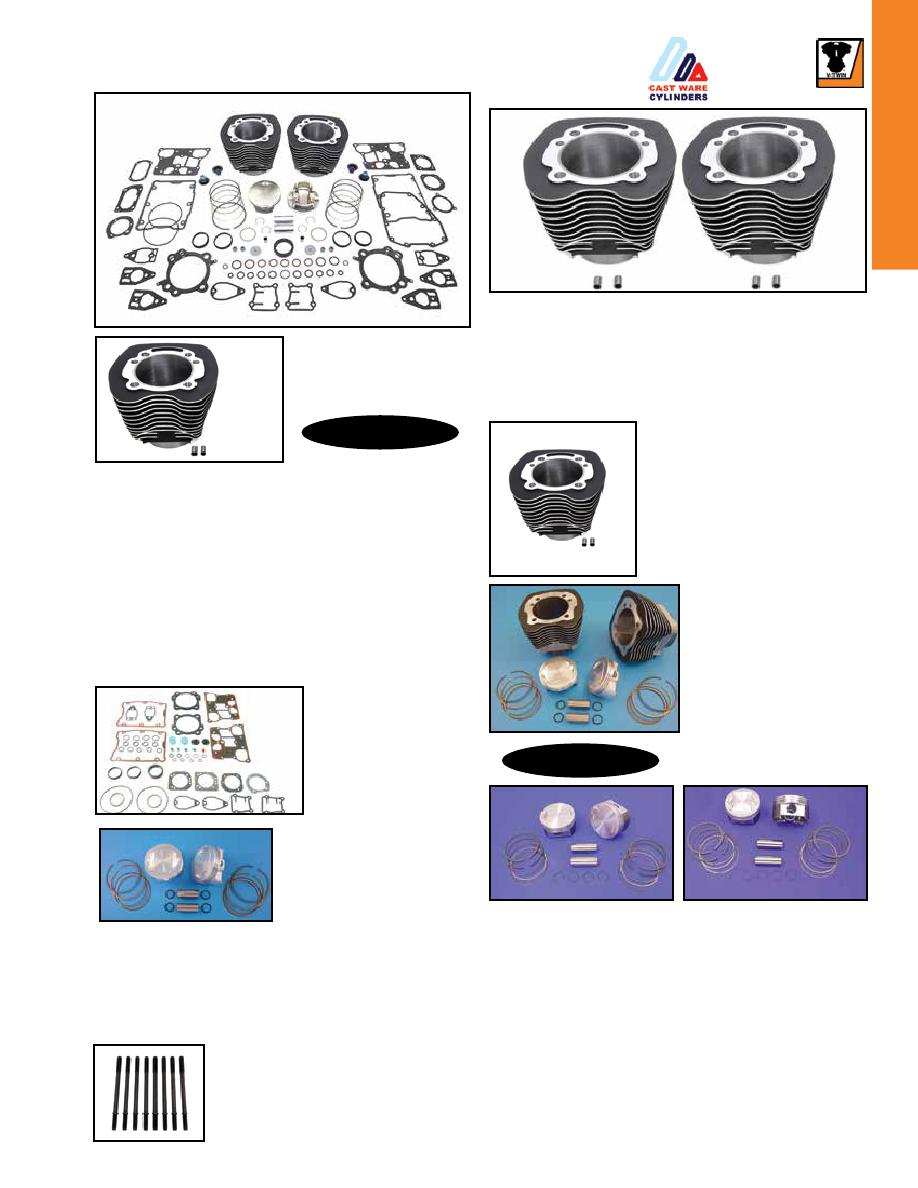 183
BIG TWIN
MC Forged Piston Sets for Big
Bore cylinders on Twin Cam.
Rings are included.
VT No.
Size
Ring Set
(Standard)
— 98" 11-0290
11-0287 107" 11-0291
11-0287
Twin Cam Big Bore Kit
TC-88 Big Bore 95" Piston Kits sold in pairs, include rings,
clips and pins, available in flat top 9.3:1 compression ratio or
high compression 10.25:1. Order gasket set separately.
Size
9.3:1 10.25:1 Type
11-0338 —
—
11-0331 Cast
11-0263 —
Cast, V-Twin, Moly Coated
—
11-0332 Cast
15-0376 15-0376
15-0377 15-0377
11-1354 11-1354
11-0856 11-0856
Cylinder Base Stud Set fits Twin Cam.
VT No. 2083-8
11-0329
110" Motorshop 4" Big Bore Bolt-On Cylinder and Piston
Kit takes your 96" or 103 cubic inch motor to a full 110 cubic
inches without removing the engine from chassis. 4" Big Bore
Cylinder and Piston package increases the internal bore
from 3⁷⁄₈" to 4", without increasing the outside diameter of the
cylinder spigot. The cylinder slips into the existing case bore
without modification. Kit will add a whooping 7 cubic inches of
displacement for more torque throughout the RPM range. This
kit includes front and rear cylinder, system-matched pistons
with rings. Fits 2007-17 FXST, FLST, FXD, 2007-16 FLT.
VT No. Item
11-1523 Complete Kit
11-1421 Cylinder Only, each
110"
107" TC-88 Big Bore
Cylinder Kit requires case
machining and includes forged
10.5:1 piston kit and either
silver or black highlighted
cylinders. Fits 1999-06 TC-88
models.
VT No. Item
11-1257 Kit, Black
11-1259 Kit, Silver
11-0287 Piston Kit
15-1375 Top End Gasket Kit
107"
11-0331
11-1523
11-1257
11-1421
Gary Bang Top End
Gasket Kit for TC-95 and
TC-103 application. Fits
1999-2004 FLT, FXD,
2000-2004 FXST, FLST.
VT No. 15-1471
M-8 Big Bore Black Cylinder Set with machined edge fins
increase the bore size from 124" to 128". These cylinders have
4.250 bore and require the use of Wiseco piston set 11-9983.
For use with stock 4.375" flywheels but require case boring.
Black cylinder set with machined edge fins also feature a
slightly larger fin area for better heat dissipation and increased
cooling.
VT No. 11-1196
Twin Cam Stock Replacement
Cylinder available in black finish with
machined finish fins. Available for 96"
with 3.750" bore and 103" with 3.875"
bore. Sold each. For use with stock
stroke flywheels.
VT No. OEM
Engine Type
11-1194 17458-07A 96"
11-1195 17460-07A 103"
11-1195