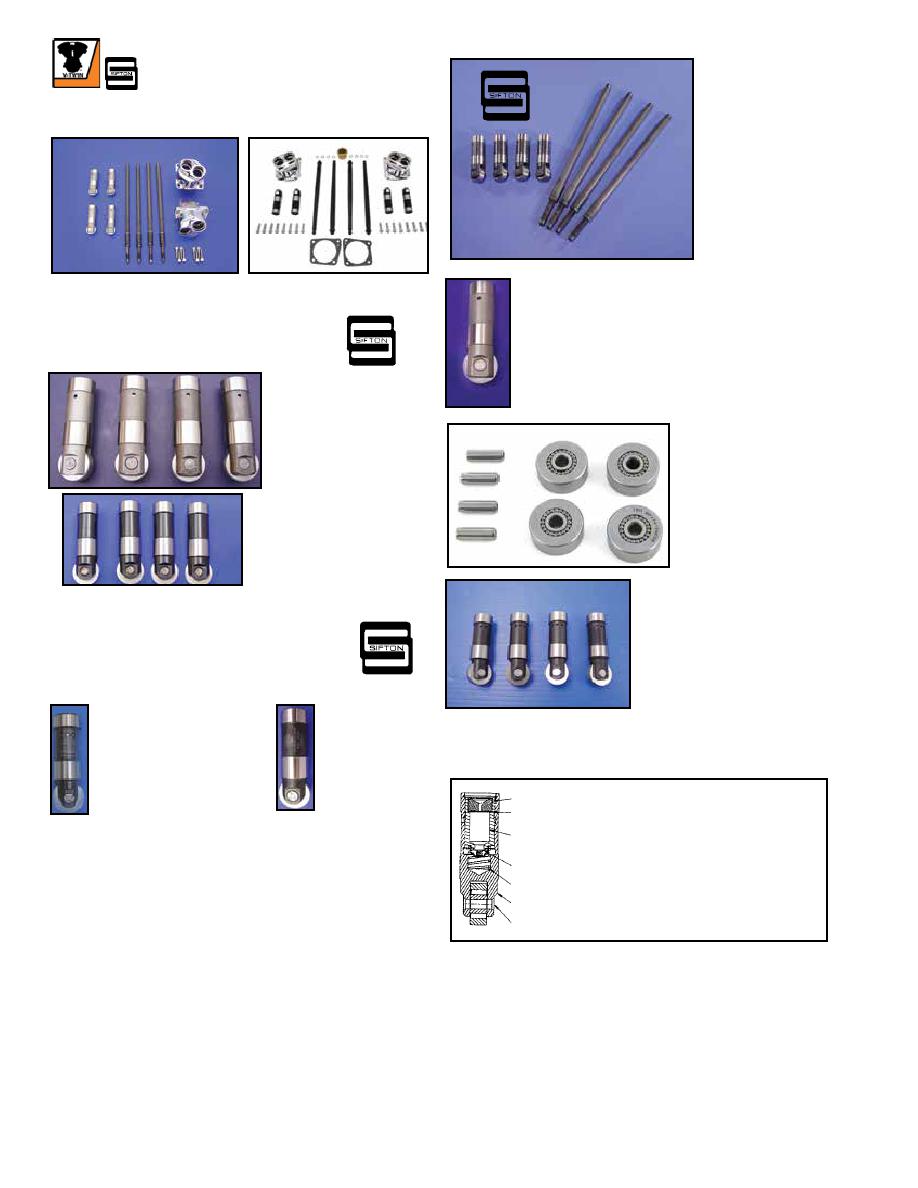 172
Sifton Hydraulic Tappet Unit
Sets feature maxi-axle roller
and pin design and unique
"no-bleed" integral pump unit.
Unique pump design features
full hydraulic action up to 5000
RPM, then act as solid. Set of
four.
VT No. Size
10-0583 Standard
10-0584 .002
Evo 1340 Solid Tappets can only be used with adjustable
pushrods. Jims brand sold each. Sifton
four.
Jims Big Axle Sifton
TM
Size
10-0636
10-8256 Standard
10-0637
10-8257 .005
10-8258 .010
Sifton Hydraulic Tappet
Assembly Sets of 4, fea-
ture centrifugal surface fine
grinding and precision fit
rollers and pins.
VT No.
Size
10-0779 Standard
10-0780 .002
10-0781 .005
1984-99 Evo
Tappets
Hydrosolid Internals
Hardened Pushrod Seat
Oil Control Disk
Hydraulic Cylinder Steel ground to 10 finish. Hand fit to .0002
using air gauge, the most accurate means of measurement.
The valve, super flat fit to hydraulic body
Spring to help control hydraulic body
Tappet body is heat treated and ground
The roller axle, crimped to 3000 PSI to stop inner race from turn-
ing. The axle hole is held perpendicular to the outside diameter
of the tappet within .002
Evo Big Twin Replacement Hydraulic Tappets.
Replaces OEM# 18523-86A. Sold each.
VT No. Size
10-8373 Standard
10-8374 .002
10-8375 .005
Tappet Roller Repair
Kit includes four pins and
four roller assemblies.
VT No.
Brand
10-2534 V-Twin
10-0529 Crane
Jims Hydrosolid Big Axle
Tappet Assemblies have a
built in anti-pump device, per-
form like a hydraulic from start
up to about 5500 RPM and
turns into a solid at 5600 RPM.
Size
VT No.
10-0657
10-0658
Power Glide Evo
Hydraulic Tappets
available as individ-
ual units replacing
18523-86 in stan-
dard and .005.
Big Axle Size
10-0645 Standard
10-0645
10-2534
10-0583
Sifton
10-8373
Jims Powerglide Steady Roll Tappet feature a special bronze
alloy roller bushing in place of stock type loose needle roller
bearing.
Size
1984-98 FXST, FLT 1999-up FXST, FLST
10-1824
10-1827
10-1825
10-1828
10-1826
10-1829
Sifton Solid Tappet
Kit for Evo 1340
includes four (4)
solid tappets, stan-
dard size, with roll-
ers installed and
four (4) adjustable
pushrods.
VT No. 11-9630
11-0350
Sifton Chrome 1986-99 Tappet and Pushrod Assembly
includes four tappet units, four pushrods and a tappet base set
with screws and gaskets.
VT No. Type
11-0350 Hydraulic
11-0356 Solid
11-0356