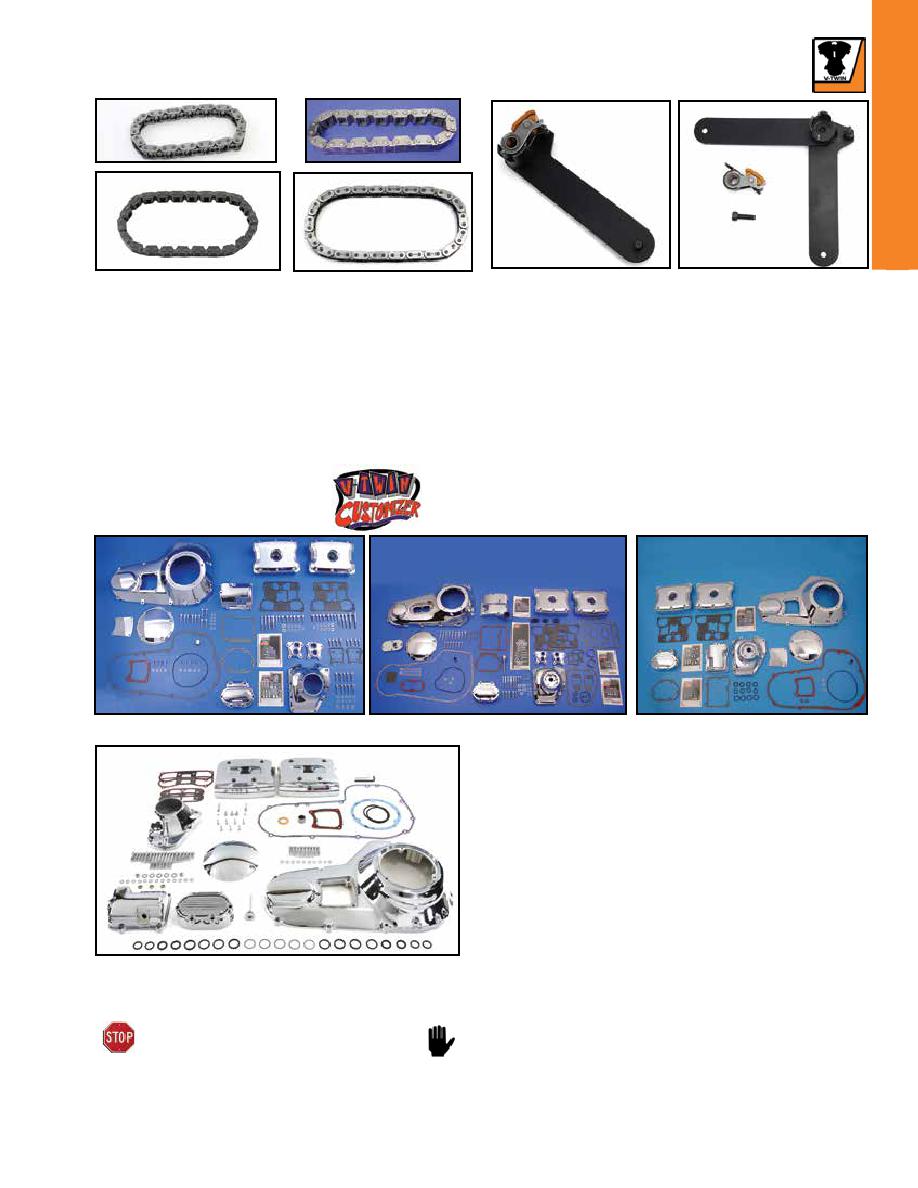 157
BIG TWIN
Twin Cam Components
Chains
VT No. Item
Fits
10-0915 25683-06 23 Secondary Cam Drive Chain

FLST, 2007-16 FLT, 2006-17 FXD
10-0481 25607-99
Secondary Cam Drive Chain,
10-0483 25610-99 25 Primary Cam Drive Chain,

10-0917 25675-06 25 As Above 2007-17 FXST, FLST,

10-0481
10-0483
10-0917
10-0915
Important Note: Some items on this page may be emission-related parts
subject to California or other emission control laws. Please see note on for
important information regarding emission control regulatory compliance
and warranty information.
Twin Cam Chain Shoe Tool is used to remove and replace the
spring loaded cam chain tensioners. Saves hours of the me-
chanics time! Fits 1999-2006 FLT, 2000-2006 FLST, 2000-2006
FXST, 1999-2005 FXD.
Note: Must order chain tensioners and
related components as required.
VT No. 16-0188
43-0534
Evo Models FXST-FLST, 5-Speed
43-0520 1987-88
43-0521 1989-91
43-0522 1993
Evo Models FLT-FXR, 5-Speed
43-0514 1985-86
43-0515 1987-88
43-0528 1994-98
Twin Cam FLT 5-Speed
42-0692 1999-2000
43-0534 2001-06 includes cam dress cover trim and

Twin Cam FXST 5-Speed
43-0536 2001-06
Dress Up Kit
43-0515
42-0692
42-0691
V-Twin
TM
Chrome Dress Up Kits
• Include parts and hardware for installation as pictured.
• Kits require removal of engine to install rocker box covers.
• All kits for electric start models unless noted as kickstart
and electric. Smooth derby and inspection covers are
included on FXST kits. Inspection cover on FXR, FXE, FLT
and FLH applications must be purchased separately.
*Note:
Does not include gasket. 1980-84 kits do not include trans-
mission top cover.