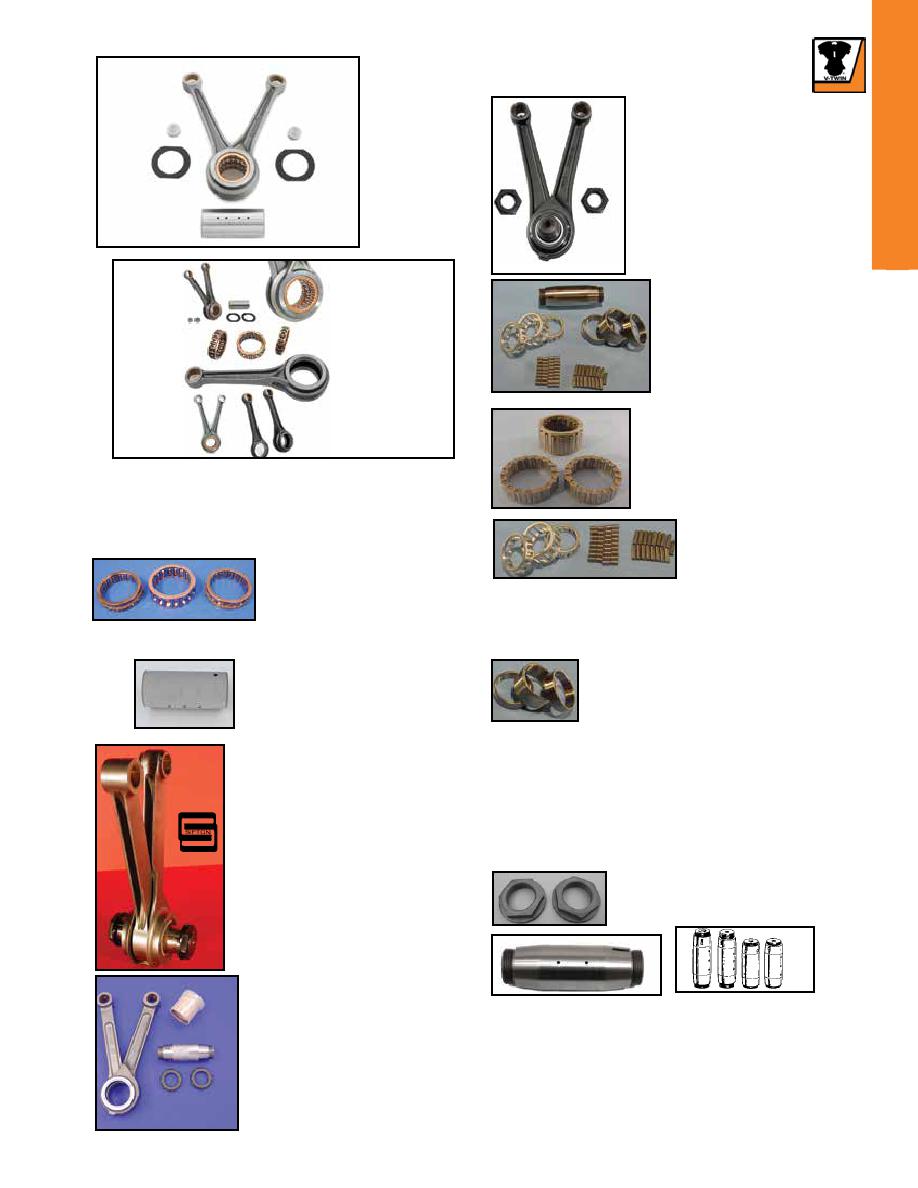 153
BIG TWIN
Sifton Steel Rod Cage Set
includes 4 cages, 24366-51 and
standard Torrington Roller Set
for 1936-98 Big Twin. Replaces
42385-40.
VT No. 10-2522
L1981-86 Big Twin 2-Hole
Crank Pin Kit includes 2-hole
crank pin, rod races, standard rod
rollers, and retainers.
VT No. 10-2571
VT No.
OEM
Cage Year
Brand
12-2556 24366-51 Steel 1936-86 S&S
10-2556 24346-87A Steel 1987-99 Sifton
V-Twin
TM
Replica Stock
Replacement Rod Sets include
new rods, crank pin, nuts, cages and
standard rollers fitted and assembled.
Piston pin bushings are installed.
Replaces 24281-83. Fits 1984-99
Evolution 1340cc.
VT No. 10-0188
Sifton
TM
Big Twin Rod Complete
Assembly features forged and
machined H-Beam design of certified
4340 steel with multi staged heat treat-
ment and are fitted with Torrington
rollers with extruded alloy cages and
a Sifton
Unfinished type requires honing of upper
and lower bushings. Rods are 7.440"
center to center and will accommodate
up to 5" stroke.
VT No. Year
Item
10-0272 1981-99 Assembly
10-0274 Unfinished Rods Only
Rod Assembly
"H-Beam"
80" Crank Pins available from Jims, Eastern, and V-Twin. Pins
are made of 8620 steel with .062 heat treated penetration. O.S.
Pins are oversize on bearing diameter. 180° oil location pins
have more complete bearing lubrication.
Years
OEM
Jims
Eastern V-Twin
3 Hole
3-Hole 2-Hole
10-8357 10-0130 10-1211
10-0353 —
—
10-8358 —
—
10-0354 —
—
Big Twin Crank Pin Nut Sets.
Eastern Jims
OEM
Year
12-0559 12-0606 23969-83 L1983-99
Crank Pin
S&S Genuine Rods are heavy
duty replacement rod sets which
include wrist pin bushings, rod races,
matched rods, pins, rollers, cages
and nuts for stock or stroker use. Fits
1984-99 Big Twin Evolution. Rod set
is heavy duty type for stock or stoker
models with 16 bearing steel cages.
VT No. 10-0268
Connecting Rod Race Sets made from 52100
steel use and hardened. Fits 1936-99 Big Twin.
VT No. Brand Size
10-0138 Replica STD
10-0828 Replica .001 O/S
10-0826 Replica .002 O/S
10-0830 Replica .005 O/S
10-0829 Replica .010 O/S
10-0823 Replica .002 O/S
10-0809 Jims
10-0268
10-2571
Rod Set and Crank Pin Kit for
replacements in 1999-up models.
Rods include wrist pin bushings.
VT No. Item
10-1205 Bearing Set
10-1607 Rod Set
10-8755 Crank Pin, STD
10-8756 Crank Pin, .001
10-8757 Crank Pin, .002
10-0921 Pin Plugs
10-2586 Bronze Shim Set
*Note: Press required for installation
10-8755
10-1205
Connecting Rod Set includes crank pin, two solid caps, and
bearings. The upper bushing is installed. Wrist pin bushings
installed fits for twin cam Big Twin models. Set is crafted with
high precision. Fits 1999-17.
VT No. 10-1607
10-1607
10-1607
Rod Bearing Sets With Set
of 3 Cages for Big Twins fitted
with standard size Torrington
rollers for connecting rods. The
cage material is noted.