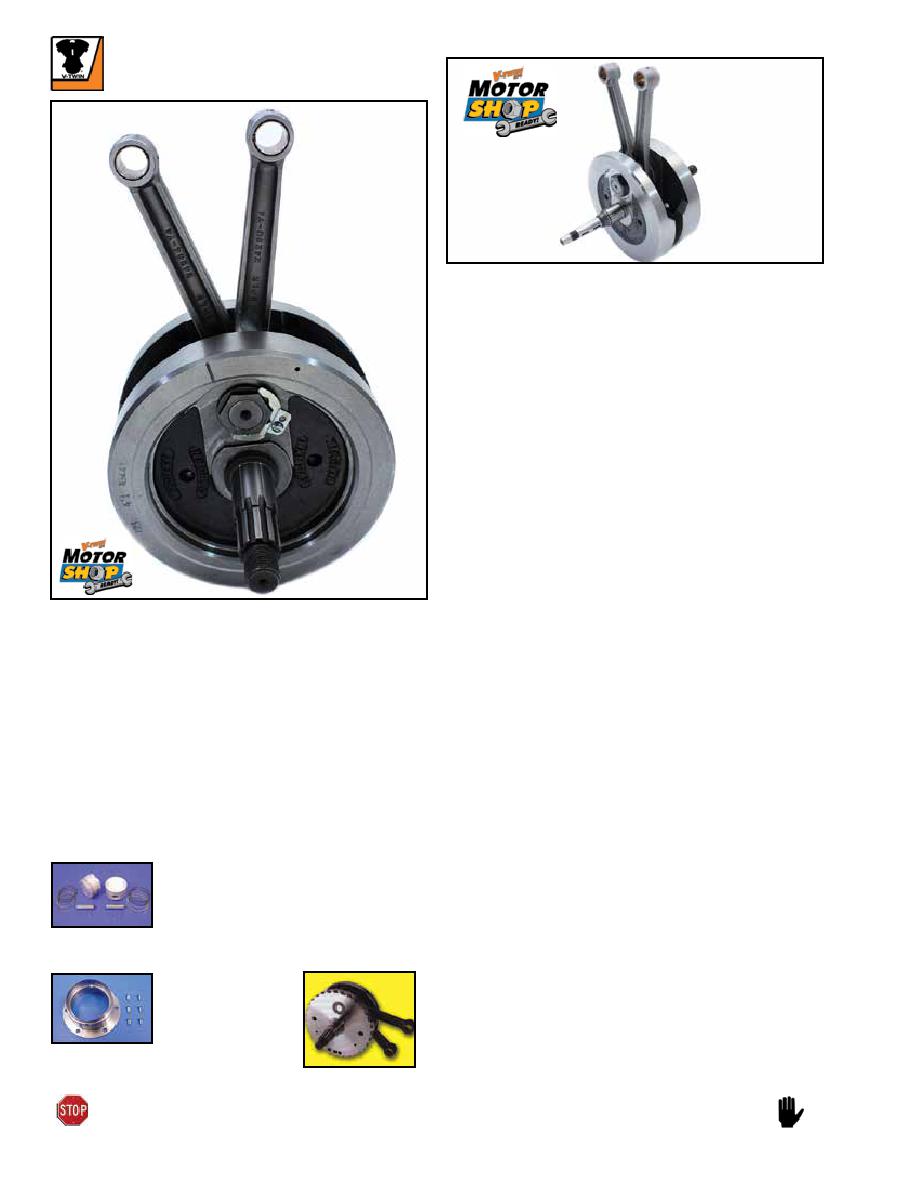 152
S&S 89" Evolution Stroker Replacement
Piston Sets for 4⁵⁄₈" flywheels. 9.25:1 compres-
sion with rings. .030 size.
VT No. 11-0479
Flywheel
VT No.
OEM
Fits
Note
Brand
For Big Twin 80"
10-1091 23906-78G 1984-90 80"
10-1042** 23906-93B 1993-99 FXST, FLST

10-0374 —
Notes:
1-Features replaceable pinion and sprocket shafts and narrow sprocket
side flywheel
2 Require use of 1987-up type pinon shaft bearing and retaining ring.
3-One piece type flywheel with non-removable shafts.
Complete Stock Stroke Flywheel Assembly is shipped
assembled and trued with shafts. VT No. 10-1091 requires the
use of 1987-up type Pinion Shaft Bearing assembly and VT No.
12-0967 late bearing retainer.
10-1091
10-1042
S&S Twin Cam 4¹⁄₂" Stroker Flywheel Assembly for all 1999-02
Twin Cam models. Feature 1.500 crank pin and replaceable race
bearing. Fits all models with non-balancer Twin Cam engines.
Pistons not included.
VT No.
Item
10-1094 Flywheel Assembly
10-1871 Brass Plug
Timken Bearing Sleeve
will convert 2003-17
Twin Cam models from
a roller bearing to a
Timken tapered bearing.
Bearing sold separately.
VT No. 10-0856
Stroker Flywheel for Twin Cam
Important Note: Some items on this page may be emission-related parts subject to California or other emission control laws. Please see
note on for important information regarding emission control regulatory compliance and warranty information.
V-Twin Motor Shop Twin Cam Flywheel Remanufacturing Services
Flywheel that are out of round or scissored can be repaired. The new fly-
wheels on the 1999-up Big Twin are pressed together, but no match for our
V-Twin Motor Shop. We will press apart and disassemble this style wheel
assembly, inspect shafts, and crank pin components. V-Twin Motor Shop
will rebuild your Twin Cam flywheel assembly to OEM specification using
new bearings, crank pin and solid plugs, then balance and true. We can
also weld the pin and plugs, if requested, at the flywheel and crank pin inter-
face, for rigid power. We stock the bearings, cages and oversize crank pins
to provide you with the components at hand when your flywheel arrives. We
will hone the rods to allow the oversize pin to be fitted as required. Flywheel
set will be trued and balanced. The final assembly and press is complete in
our dedicated TC-88 flywheel fixture assembly.
We install new hardened crank pin and bearing set into the rebuildable rods.
If required, new connecting rods can be installed with customer's authoriza-
tion. We balance the wheels for the new parts and stock piston weight. We
press the flywheel halved back together and true the bearing journals to
.001" or less. Truing the bearing journal eliminates engine vibration at cruise
speeds.
V-Twin Motor Shop can also install solid crank pin expansion plugs and
then tig weld the pin and plugs so flywheels won't flex or scissor. This extra
step can help prevent future problems. The rebuilt flywheel is stronger than
stock OEM.
For a smoother running engine, high speed balancing is done on a Sunnen
Dynamic Balancer. This service will require customer's piston or purchase
of new piston kits from V-Twin.
We also offer several other machine shop services. V-Twin Motor Shop can
also weld and repair all types of metal and aluminum parts like crank cases,
cylinders and heads.
Our newly developed TC-88 Flywheel program allow Twin Cam model fly-
wheels professionally rebuilt in V-Twin Motor Shop.
To Request a work order RA number, or for any questions call:
1-800-833-8946
VT No. Service
60-0249 Twin Cam Remanufacturing Service
60-0248 TC Remanufacturing with New Connecting Rod Set
60-0247 Crank Pin/Plug Welding Service
60-0123 High Speed Balancing with a flywheel remanufacturing service