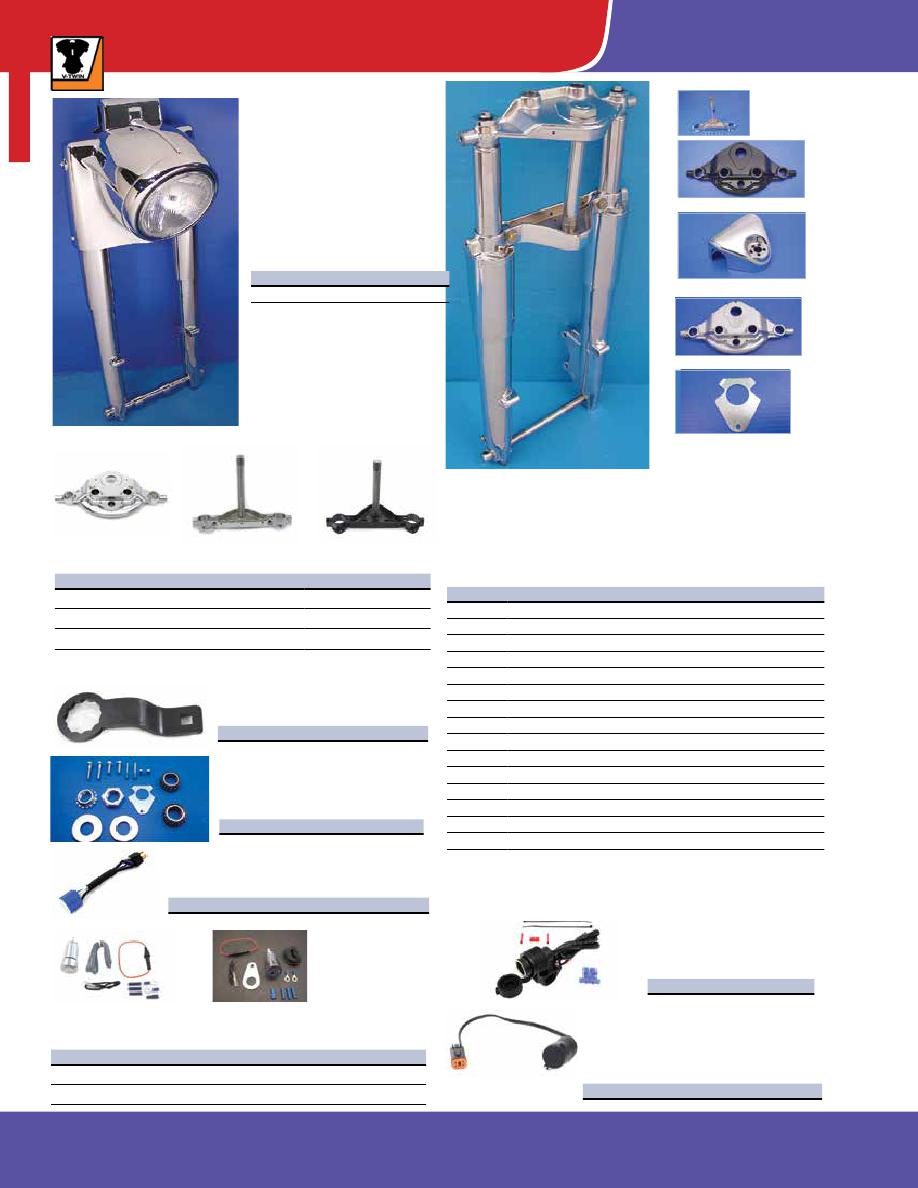 12V Receptacle
• For cell phone, MP3
player or lighter.
VT No. 32-0845
Headlamp Static Harness.
VT No. 32-1721
24-0211
24-0178
FLT Fork Assembly
• Fits 1984-99 FLT and includes chrome lower sliders with all
internals and stock length tubes installed, chrome triple tree set,
chrome slider covers, axle, bearings and dust covers. Accepts
FLHR cowl set not included. Also accepts 11.5" dual disc com-
ponents.
VT No.
Item
24-9999 Fork Assembly Complete w/Chrome Sliders
52-0856 16" Chrome Wheel
24-0355 Cowl Assembly
24-0268 Top Handlebar Chrome Cover
31-0246 Cowl Top Trim Piece
24-0522 Right and Left Leg Assembly, Chrome
24-0210 Chrome Upper Tree
24-0211 Chrome Lower Tree
24-0212 Chrome Tree Set
24-9960 Chrome Slider Covers
37-0860 Slider Cover Screws
24-0772 Fork Installation Kit
44-0675 Axle Kit Only
17-0949 Nut Lock Tab
37-1010 Pinch Bolt Set
24-9999
Neck Hardware Kit
• FLT 1980-up
• Available separately.
VT No. 24-0367
Triple Trees for 2009-13
VT No.
Item
Finish
24-1311
24-1312
24-0313
Fork Stem Nut Wrench
VT No. 16-1977
24-2223
Chrome Fork
Assembly
• Features chrome triple trees,
chrome or polished lower legs,
axle, chrome upper fork cov-
ers and full chrome cowl and
handlebar top chrome cover
assembly.
• Units accept dual disc caliper
as required by year.
2000-06
24-2223
24-1311
24-1312
24-0313
112
WWW.VTWINMFG.COM
TOURING
Fork Assembly
33-0562
VT No.
Type
33-0561 Without bracket
33-0562 With bracket
Universal Cigarette Lighter
• Available for panel mounting
33-0561
Namz On Board Power Port
• With dust cover.
• Plugs into on board diagnostic port.
Fits 1994-11 FLT models.
VT No. 32-6579