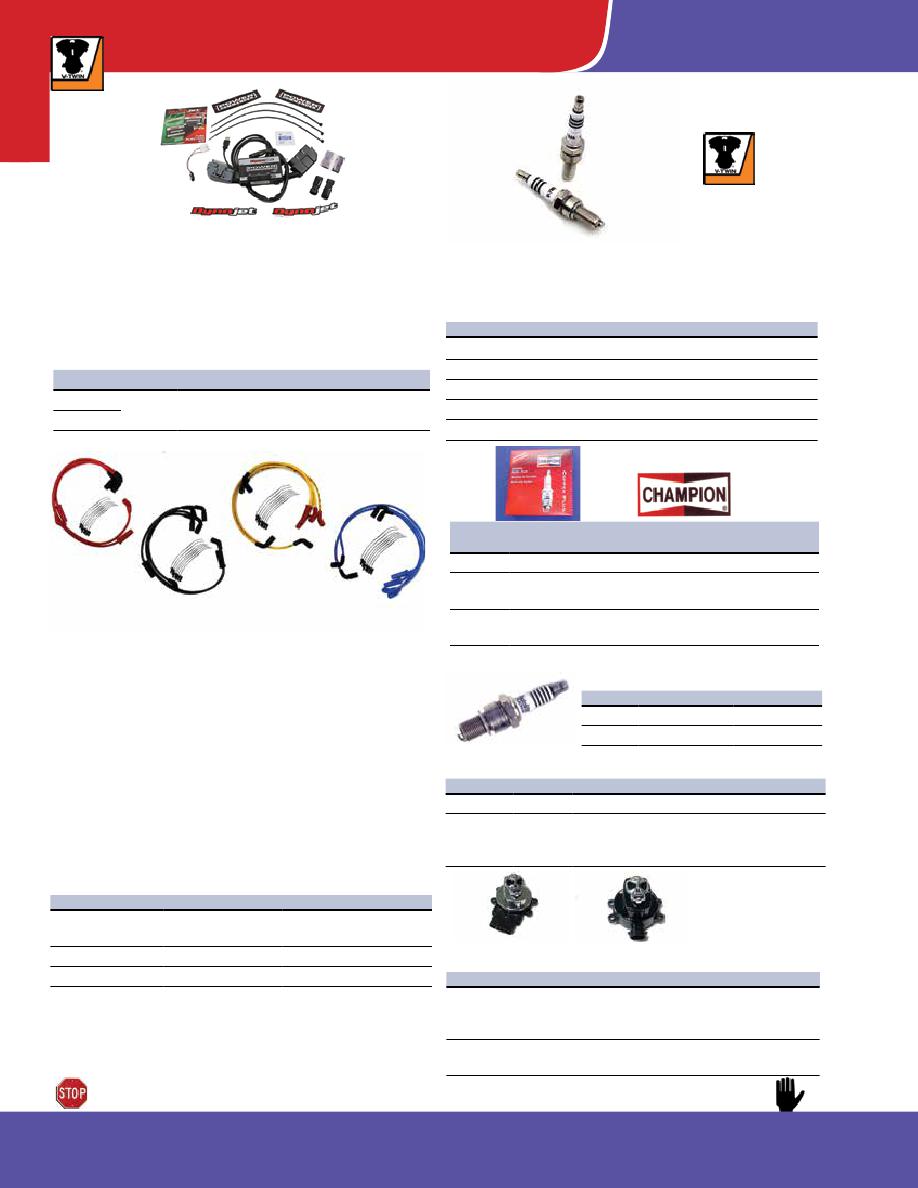 VT No.
Fits
32-1325
2017-up M-8 applications 108 cubic inch
32-6692
32-6691
32-6693
As Above One Heat Range Hotter
32-6694
As Above One Heat Range Colder
Important Note: Some items on this page may be emission-related parts subject to California or other emission control laws. Please see
note for important information regarding emission control regulatory compliance and warranty information.
Black
Blue
Red
Yellow Year
32-9162 32-9183 32-9184 32-9185
1999-08 FLT w/EFI
carb
32-9186 32-9187 32-9191 32-9188 2009-16 FLT
32-9190 32-9191 32-9292 32-9193 2017-18 FLT
Accel 8mm Stainless Steel Spiral Core Wire
Set
• Designed specifically for Harley-Davidson Milwaukee 8, Twin
Cam
• Delivers up to 5 times more peak energy than other
"Performance Wires"
• Maximum RFI protection to shield sensitive electronics with 500
Ohms per foot
• Spiral cover wire utilizes stainless steel alloy conductor with
fiberglass/Kevlar inner core for strength
• Lower resistance delivers more energy to the spark plug
• Custom fit sets are ready to install-no cutting or crimping
required
• Fully capable with Delphi fuel injection system
• 1.5mm x 6.5 mm x 8mm
32-9190
32-9191
32-9192
32-9193
104
WWW.VTWINMFG.COM
TOURING
Controller
Power Commander III USB Engine Management System for
fuel injected models and allow for both fuel and ignition adjust-
ments. Each unit includes a specific map, designed to improve
performance over stock. The Power Commander includes IBM
compatible link cable and software package which allows you
to fully map the fuel ignition curves on IBM compatible com-
puters. If a computer is not available, the fuel curves can be
adjusted by using three touch buttons on the face plate.
VT No.
Year
Model
32-3012* 2007
*Note: Includes O
V-Twin Performance Spark Plugs
• For M-8 models features a copper core electrode for a longer
service life, nickel plated housing, 95% pure alumina insulator
and a heat crimping process to ensure a leak free seal.
Autolite Standard Spark Plugs
10 Pack
Pair
Autolite#
H-D#
Fits
32-9295
—
32-9297
32-9298 4265
5RL
5R6
5A6A
VT No.
Engine
Fits
HD#
Copper Plus
Champion
32-7547 TC-88
32-7540
Evo
1340
32-0160
Shop
Pack of 24
Autolite Platinum Plugs.
VT No. Autolite#
Fits
32-9231 AP4265DP2
32-9232 AP4164DP2
32-1442
32-1441
Chrome Black
Fits
32-1439 32-1440
2011-2017 FLST, FLSTF
2014-2018 FLHR, FLHRC
2012-2017 FLD, FXDF, FXDWG, FXDB
32-1441 32-1442
1996-2010 FXST, 1996-2011 FXDWG,
1995-2013 FLHR
Skull Ignition Switch
Plugs