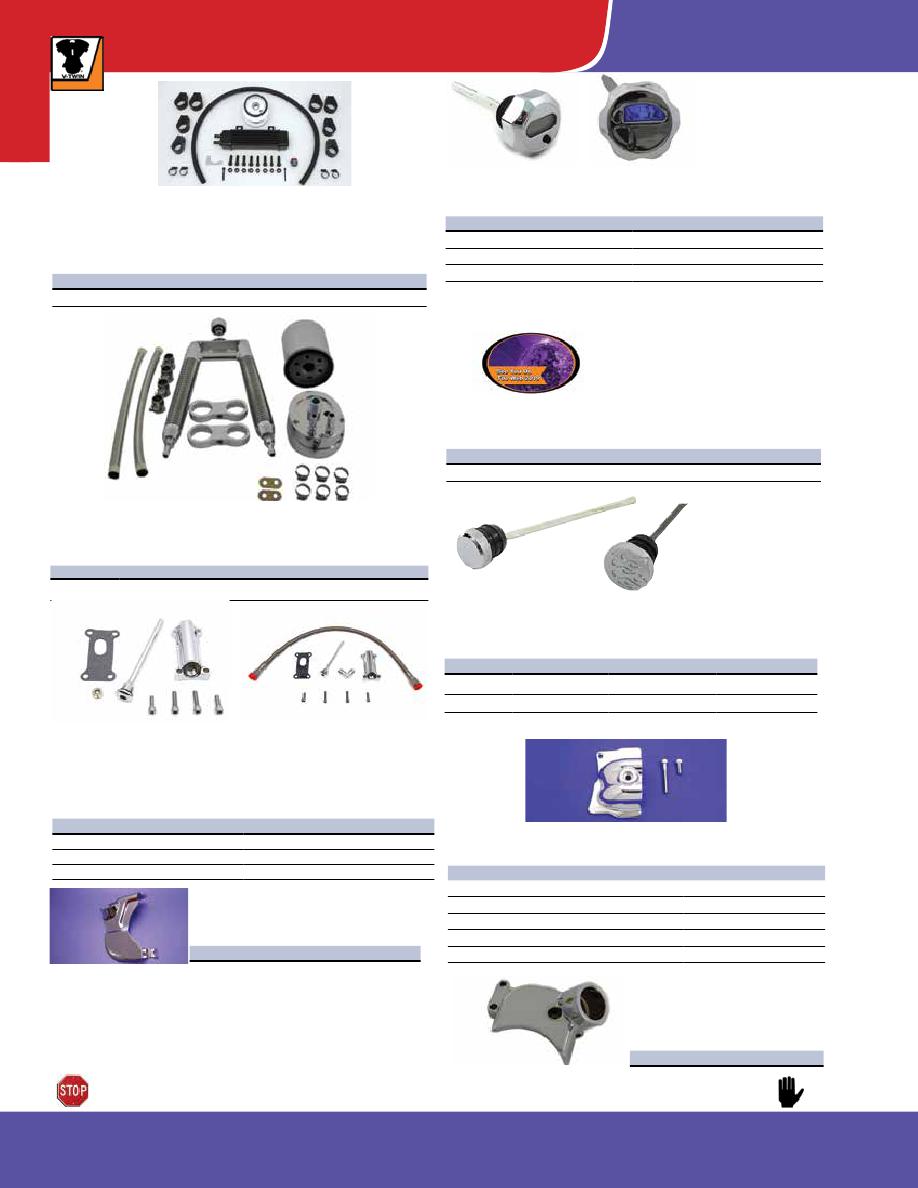 • Includes dual tube vertical oil cooler with billet mount clamps
measuring 10" long and 4¹⁄₈" at top diameter.
• Stainless steel braided lines and 4 chrome seal ends included.
VT No.
Fits
40-0471
Jagg Black Oil Cooler
• Features multipass oil flow configuration, specially designed
turbulators in each oil passageway, and highly concentrated
mini louvered air fins.
• Available in vertical mounting orientations.
Vertical Mount
40-1500
Dual Oil Cooler Kit
Chrome
Black
Fits
40-0890
40-1286
40-0886
40-1285*
• Features a hex design, lighted LCD readout, Fahrenheit or
Celsius operation and a replaceable battery.
Oil Temperature Dipsticks
40-0471
40-1500
40-1281
40-0661
Radium Engine Oil Filler Kit
• CNC machined from 6061-T6 billet aluminum
• A thread in one piece dipstick, which eliminates dipstick blow
out on acceleration.
VT No.
Fits
40-0022
40-0023
40-0024
Important Note: Some items on this page may be emission-related parts subject to California or other emission control laws. Please see
note for important information regarding emission control regulatory compliance and warranty information.
40-0886
40-0024
Chrome Oil Hose Cover
• Includes all chrome plated mounting hardware
Oil Filler Spout Cover
• Match the chrome transmission
interface cover. Fits 1999-01 FLT.
VT No. 42-0824
Chrome Oil Filler
Spout
fits 1993-06 FLT mod-
VT No. 42-0887
42-0887
VT No.
Item
Year
42-0695
9949-6
9949-6T
9950-6
9950-6-P Polished Allen Mounting Kit
40-0022
40-0890
Oil Temperature Dipstick for M-8 Touring
• Features a black finish with machined hi lites. Replaces
OEM#62700136. Fits 2017-up FLT models.
VT No.
40-0634
*Note: Oil level and temperature dipstick. All others are oil tem-
perature only.
Custom Oil Dipsticks
• Chrome finish and designs as noted.
• For FLT
Style
1993-98
1999-06
2007-16
40-0661
40-1281
40-1273
40-0625
98
WWW.VTWINMFG.COM
TOURING
Oil Cooler