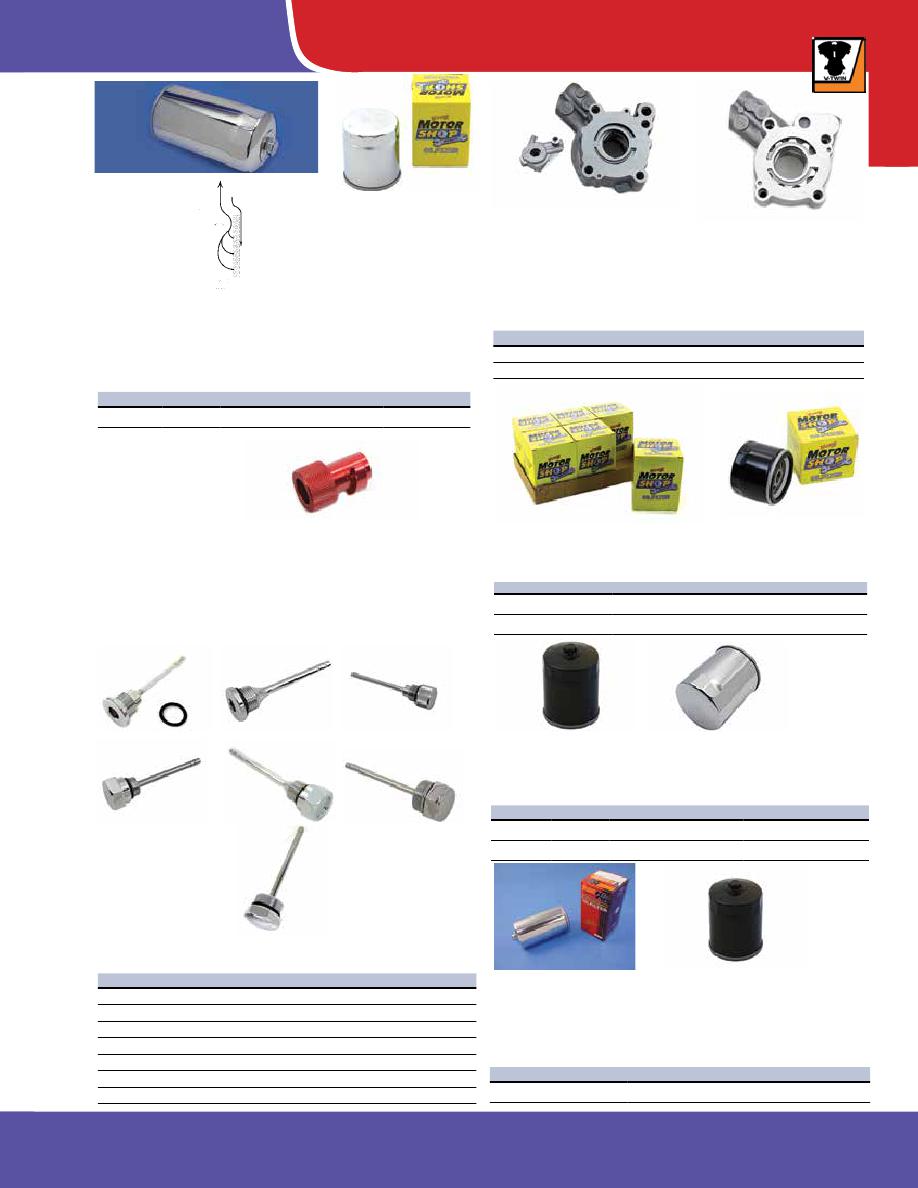 Hex
Stock
OEM
Fits
Length
40-0864 40-0852 63796-77 1980-98 FLT 3.75"
Hex
Chrome
Black
Fits
Length
40-1710
40-1711
Oil flows in around the outer
diameter, through the filter media
and out passing by the magnet.
The magnet captures particles
less than 10 microns which could
have escaped through the filter
wall.
Magnetek
TM
Oil Filter
•
Feature a magnetic ring in center tower to trap particles
less than 10 microns which could have escaped thru the
filter wall.
• Available in stock style or with built in hex nut.
K&N Spin-On Oil Filters
• Available in chrome or black finish. Feature hex nut end for
easy removal and installation, improved pressure relief valve,
anti-drain back valve and heavy duty base plate with improved
rolled seal.
Spin-On Oil Filters
• Replaces stock units in chrome or black, V-Twin Brand in
stock or with hex nut.
• Length is 3.75"
Hex
Stock
OEM
Finish
Fits
40-0860 40-0708 63805-80T Black
40-0872 40-0709 63796-77T Chrome As Above
Motorshop
TM
Brand Filter Pack
• Includes 6 pieces of individually wrapped and numbered fil-
ters with 3" outside diameter and length as listed.
Sifton TC-88 Super Pump
• Utilizes an oversized highly efficient Geo Rotor design.
• Provides a 40% increase in pump volume and a 60% more
scavenging volume.
• Bolts into the stock location and includes O-Rings and mount-
ing hardware
12-9990
VT No.
Fits
12-9902
12-9990
Stock
Chrome Black
OEM
Type
Length
40-0198 40-0836 63782-80T 1982-84
40-0233 40-0838 63798-99
40-0836
40-0860
40-0709
17-1542
40-0673
Transmission Filler Plug with Dipstick
• All plugs are chrome except 8804-2 as noted.
40-0932
VT No.
Head Style
Fits
40-0932
17-0789
40-0941
17-0958
40-0673
17-1542
8405-2
8405-2
Oil Drain Spigot
• Fits 2009-up FLT.
• Red anodized finish keeps the fluid off of the frame.
• Channels transmission fluid from the bottom of your transmis-
sion case into the drain pan instead of onto your frame.
• Features a helical design that locks the tool into the frame
cross member and around the drain plug. This allows you to
remove the drain plug through the center of the tool.
VT No. 16-0096
12-9992
17-0789
40-0941
17-0958
40-171
40-1710
97
TOURING
WWW.VTWINMFG.COM
Oil