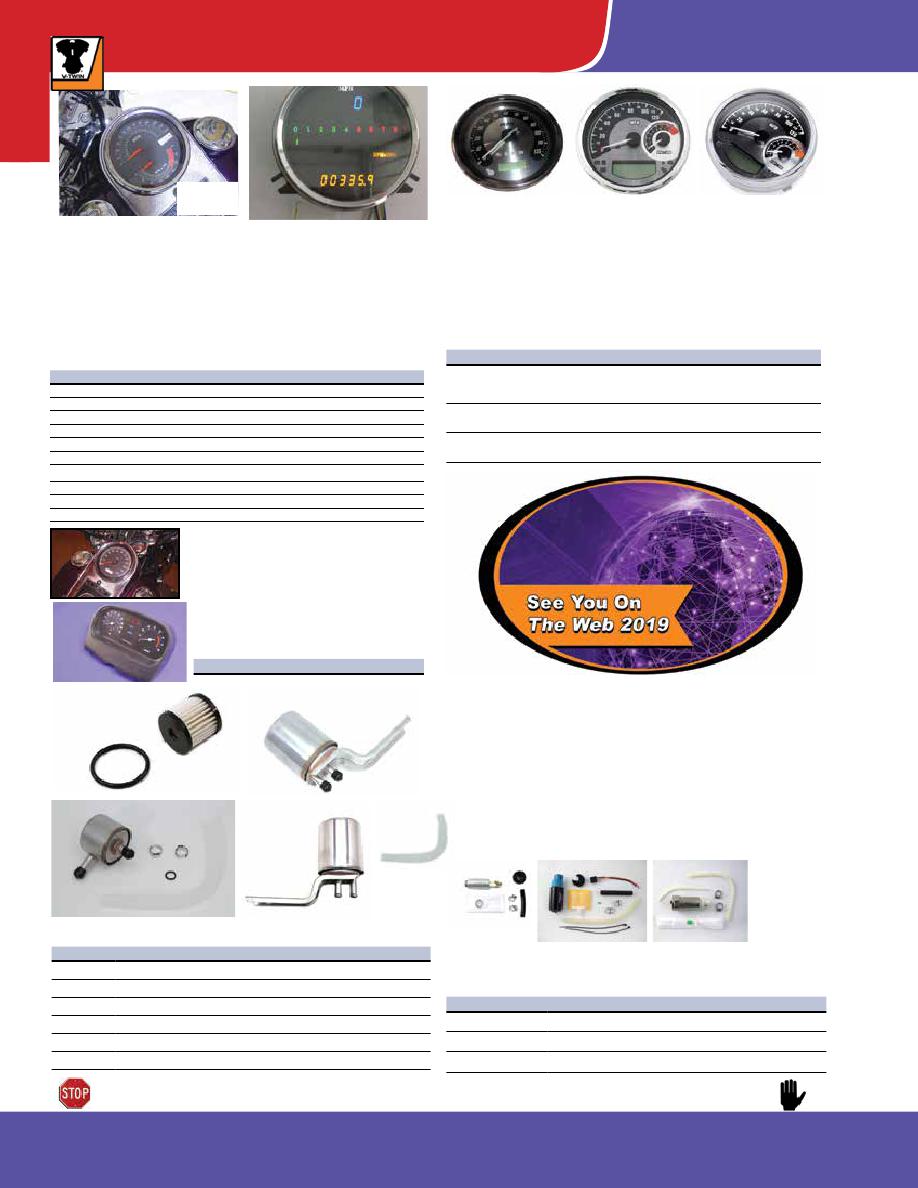 VT No.
Fits
Item
35-6105 2008-up FLT, FLHT, FLHR, FLST Fuel Filter Only
35-6106 1995-99 FLT, FLHT, FLHR
35-6104 2002-07 FLHT, FLT, FLHR
35-6108 2000-07 FLHT, FLHR
35-6109 1995-99 FLT, FLHT, FLHR
35-0189 Petcock Fitting
Fuel Filters
35-6105
35-6106
35-6104
35-6109
35-6108
EFI Replacement Fuel Pump Kit
• Direct replacement for the OEM pump and includes pump hose and
hardware.
VT No.
Fits
35-1075
35-1076
35-1077
35-1076
35-1077
35-1075
39-0651
Installed
39-0610
FLT Dash Console •
Includes tachometer and speedome-
ter housing for 1981-84. KM/H.
VT No. 39-0398
Electric Speedometer Assembly
Important Note:
Some items on this page may be emission-related parts subject to California or other emission control laws. Please see
note for important information regarding emission control regulatory compliance and warranty information.
Speedometer and Tachometer Combination with a 5"
speedometer featuring MPH numerals. Display shows engine
speed, segmented fuel level, gear position, tripmeter, miles-
to-empty and time. Features adjustable push button with
multi-color backlighting which allows for adjustment of the
face. Mounts to the stock dash opening with direct plug in
installation. Mileage must be updated at the time of installa-
tion, no programming required.
VT No.
OEM
Fits
39-0084
2004-06 FXDWG, 2007 FXDC
2004-06 FXST
39-0085
2004-11 FXD, 2004-10 FXST,
2004-13 FLHR
39-0086
2011-up FLST
2014-up FLHR
39-0084
39-0086
39-0085
with digital tachometer available with black face that looks
like stock gauge or LED type. Both units feature a 8000 RPM
tachometer, LCD odometer and trip meter. Plug installation for
all 1999-03 models and 1996-98 models will require a separate
purchase of sub-wiring harness for correct installation. All 1993-
03 models with require the use of a tachometer wiring kit sold
separately.
Fits 1996-03 FLHR, FXST, FLST, FXDWG
VT No.
Item
39-0651
39-0610
Sub-Wiring Harness Required for Above
VT No.
Use On
32-0587
32-1334
32-1335
39-0768
Tachometer Wiring Kit
32-1336
Chrome Gauge Trim Set
• Fits 2014-up.
VT No. 39-0547
96
WWW.VTWINMFG.COM
TOURING
Speedometer
39-0453
Stock Replacement Electronic
Speedometer to fit 1999-03 FLHR
models. Replaces OEM#67033-99A.
VT No. 39-0453