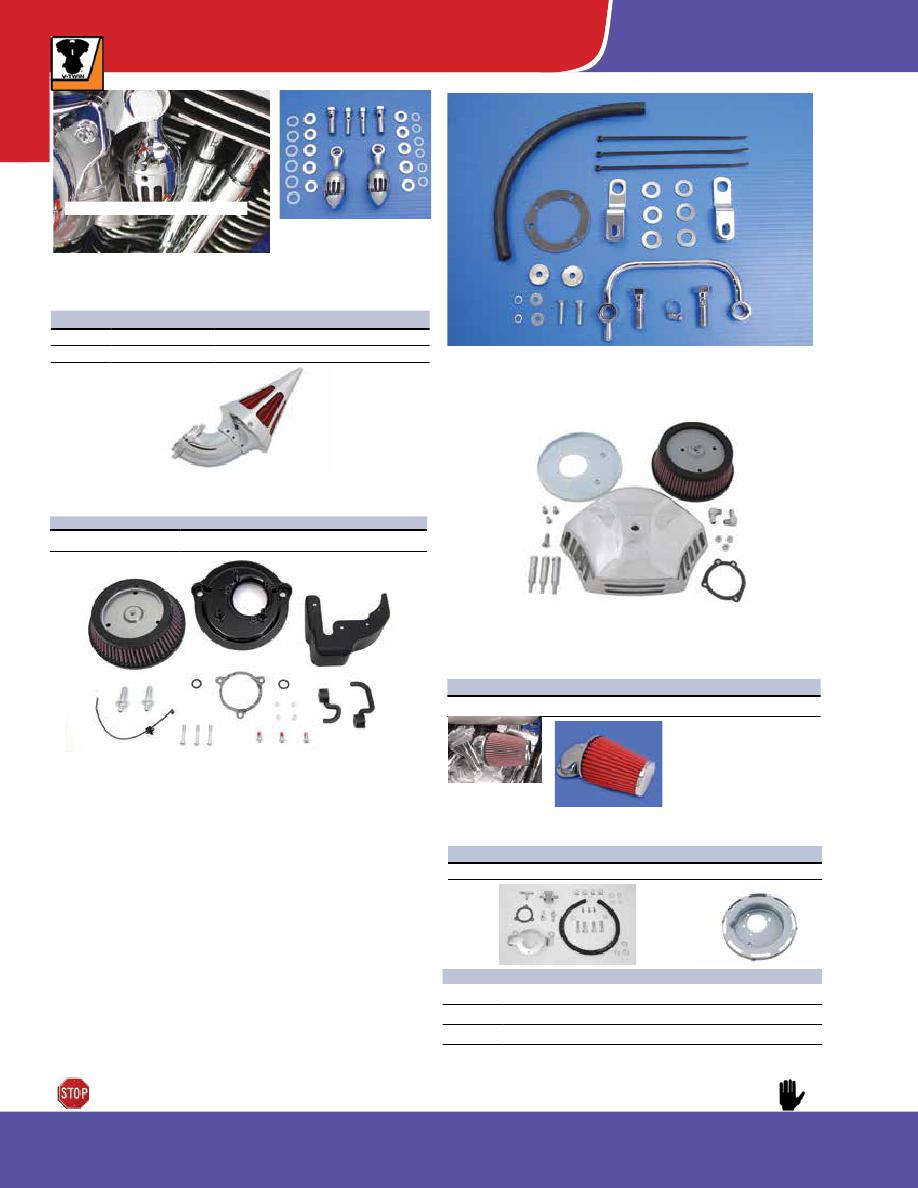 Chrome Panzer Air Cleaner
• Can be installed on CV or S&S Super E carburetor.
VT No.
Style
34-0772
Chrome Acorn Billet Canister Set
• Made from chrome billet aluminum and comes with bolts for
Evolution and TC-88 models.
VT No.
Item
Fits
40-0346 Full Set
40-0345 Single Canister Custom for crossover metal tubes
VT No.
Fits
34-0773
FLT 1993-2007 Except 1995-2001 EFI
Cycovator Air Cleaner Kit
• Forward mount air cleaner kit with tapered air filter
40-0346
• Fits CV carburetors. Includes two ³⁄₈" x 16 and ¹⁄₂" x 13
threaded breather bolts. Fits 1992-98 FLT.
VT No. 31-0430
Crankcase Breather and Bracket Kit
40-0346 installed on 34-1174
34-0772
• For CV and EFI models.
• Kit includes air filter element, chrome mounting bracket, and
breather connectors.
VT No.
Fits
34-1882
Chrome Billet Air Cleaner Kit
34-0773
Installed
34-0773
34-1882
31-0430
Miscellaneous Air Cleaner for FLT
34-1286 Tapered Air Cleaner Assembly, FLT 1992-1999 FLT
34-0469 Chrome EFI Bracket, Fits 2008-16
34-0927 Backing Plate, 2008-16
Important Note:
Some items on this page may be emission-related parts subject to California or other emission control laws. Please see
note for important information regarding emission control regulatory compliance and warranty information.
34-0469
34-0927
Round High Flow Air Cleaner Kit
• Fits 2017-up FLHR, FLHT, FLHX, FLTR
FXFB 2018-up FXFB. FXBB. FXLR, FXFBS, FXBR
VT No. 34-1466
92
WWW.VTWINMFG.COM
TOURING
Air Cleaner