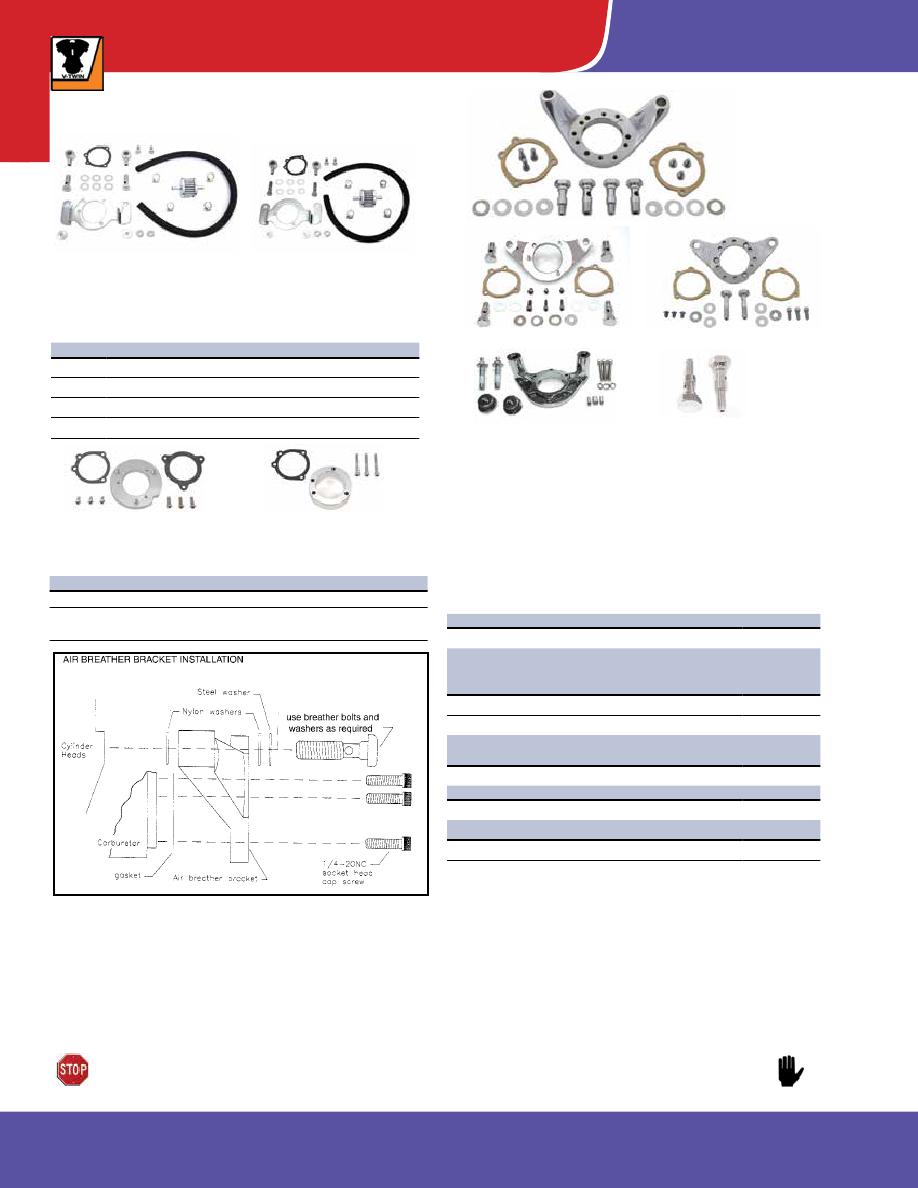 Important Note: Some items on this page may be emission-related parts subject to California or other emission control laws. Please see
note on for important information regarding emission control regulatory compliance and warranty information.
Crankcase Breather and Bracket Kit
• Allows installation of aftermarket CV type air cleaner on mod-
els with CV carb or EFI system.
• Includes bracket, filter, hose and mounting hardware.
VT No. Fits
35-0122 1993-98 FLT
35-0125 1999-07 FLT
35-0698 2008-up FLT
40-0350 Filter for Above
35-0122
VT No. Fits
34-1326 2008-14 FLHT, FLHX, FLR FLTR and FL Trike
34-1327
2001-14 w/Delphi EFI except 2008-14 Dressers
and FL Trike
34-1326
Air Cleaner Adapters
• Allow installation of Dragton II air cleaner to models listed.
• Plain machine finish.
34-1327
35-0125
• Mount any CV carburetor air cleaner to performance aftermar-
ket carburetor kits.
• Simply order any CV air cleaner and appropriate adapter
flange for bolt on installation.
• Allow crankcase to breathe back into the carb on throttle body
so no external hoses are required.
• For use on 1993-98 Evolution and 1999-up Twin Cam models.
Allow use of CV on S&S "E" bolt pattern air cleaners or velocity
stacks to be installed on models list
Sifton
Carburetor
Bracket
No Hoses
Needed
!
34-1519
34-0713
34-1369
34-0792
34-0661
Air Cleaner Adapters
1993-07 FLT w/carb or EFI
34-0661
1993-07 FLT with carb or EFI or S&S "E" type air clean-
ers or velocity stack to be installed in horizontal or verti-
cal position.
34-1519
1993-07 includes Evo & TC bolts
34-0713
1999-07 includes TC breather bolts only
1999-07 FLT with carb or EFI. Allows the installation of
CV type air cleaners
34-0705
2008-2016 FLT with 50 mm throttle body.
34-1369
Replacement Bolts for Above Brackets.
35-0792
88
WWW.VTWINMFG.COM
TOURING
Air Cleaner Adapter