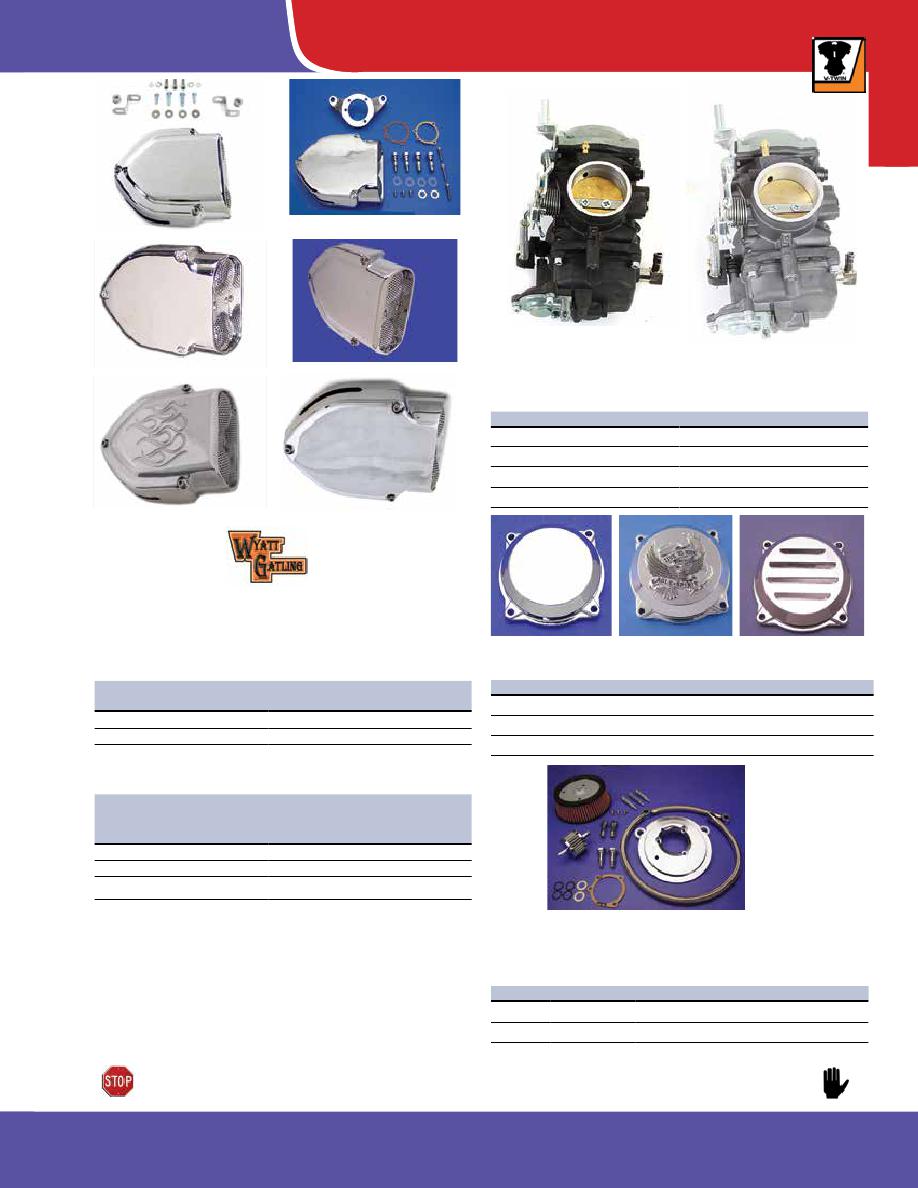 34-0640
34-0638
34-0596
Full Kits with chrome air cleaner
VT No.
Style Fits
34-0467
34-0596
34-1241
FLT 1999-2006 with Carburetor,
Air Cleaner Assemblies Only. Order mounting bracket
separately.
Chrome
Style
Fits
34-0638
34-0640
34-0087
Replacement Cover Only for 34-0638
Chrome V-Charger Air Cleaner
• Features scoop "blower" design and includes a built-in chrome
screen and filter element.
• Kits include bracket and/or integral bracket, and breather
system. Air filter measures 2" wide, 4" inner diameter, and 5⁵⁄₁₆"
outer diameter.
• Includes one piece alloy backing plate, washable element,
stainless steel breather kit with fittings, chrome breather filter
and mounting hardware. Order cover separately.
Velo Air Cleaner Backing Plate Kit
VT No.
Cover Size
Fits
34-1105 7"
34-1076 8"
34-0620
Important Note: Some items on this page may be emission-related parts subject to California or other emission control laws. Please see
note on for important information regarding emission control regulatory compliance and warranty information.
34-1241
VT No.
Item
35-0707
35-0990
35-0969
35-0987
35-0987
40mm CV Carburetors.
• Fit 1986-07 FLT cable operated
Chrome CV Carburetor Top
Replaces black plastic cover on 1990-up Big Twin models.
VT No.
Type
35-8025
35-8029
35-8032
35-8025
35-8029
35-8032
35-0990
34-0467
87
TOURING
WWW.VTWINMFG.COM
Carb