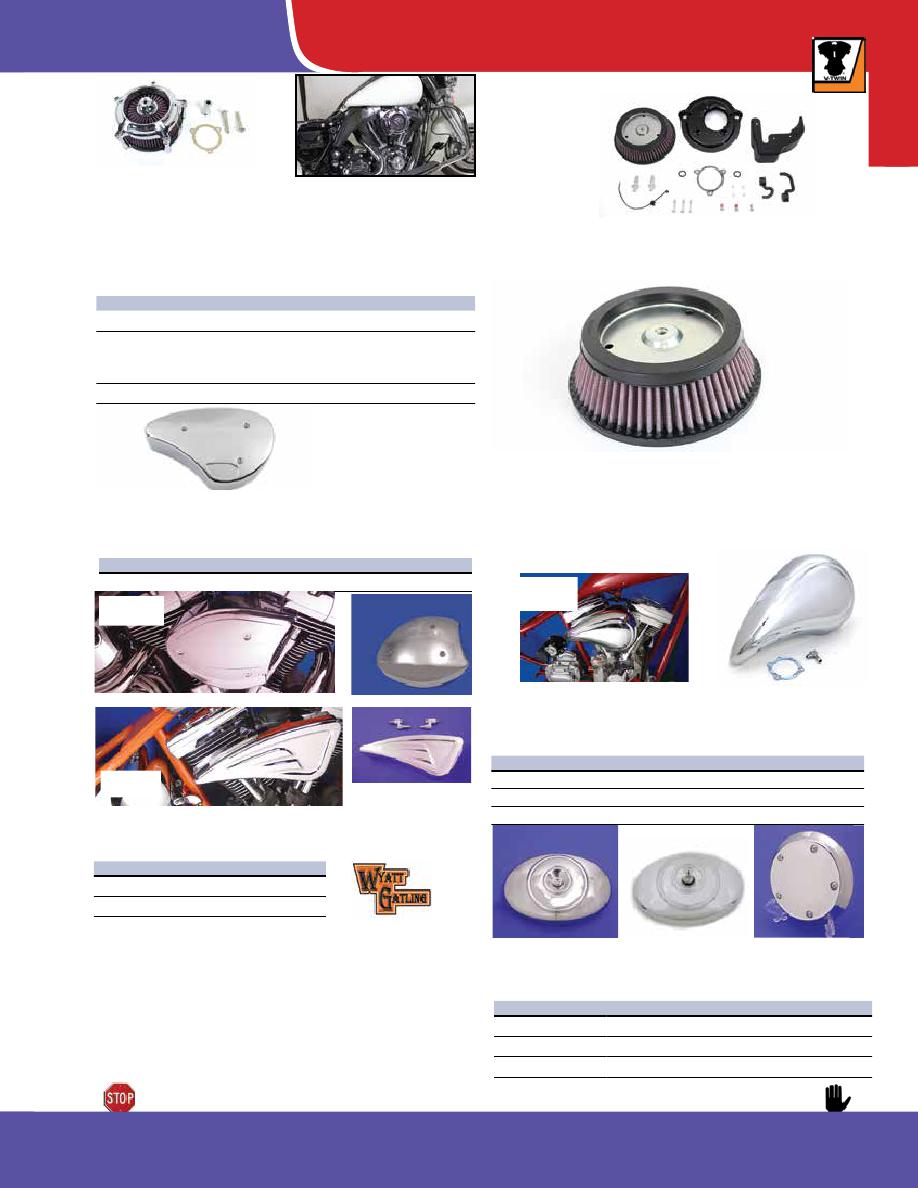 Sweeper Air Cleaner Assembly
• Includes the filter and back plate for Keihin and CV carbure-
tors, and also EFI.
VT No.
Fits
34-2123
FLT 1993-2007 Except 1995-2001 EFI
High Flow Air Sweep Cleaner Kit
• Includes a low restriction filter.
• Backing plate kit includes air cleaner element, gasket, and
mounting hardware.
VT No.
Item
Fits
34-0822
Air Cleaner Kit, FLT 1993-2007
34-0948
Air Filter Replacement for Stage 1 kits
34-1182
Replacement studs for velocity air cleaner
34-0444
Chrome Oval Air Cleaner Cover
• Steel oval air cleaner cover has a chrome finish.
• Insert also available.
VT No.
Application
Fits
34-0400
34-0401
34-0444
34-0400
34-0401
34-0822
Installed
34-0822
34-0668
Installed
34-0455
34-0455
Installed
Important Note
:
Some items on this page may be emission-related parts subject to California or other emission control laws. Please see
note on for important information regarding emission control regulatory compliance and warranty information.
• For round air cleaners. Designed to increase acceleration
and horsepower with optimum air flow. Air filter is washable
and reuseable. OEM# 29400358.
• Fits 2017-up FLT, FLHXXX.
VT No. 34-0626
Cyclone High Flow Replacement Air Filter
Wyatt Exposed Filter
• Offers enhanced air flow. Backing plate promotes smooth air
flow into carb/throttle body. Built in internal crankcase breathers.
All mounting hardware included.
• With 1.734 spacer
• For 2008-16 FLT and FL Trike, 2016-17 FXDLS, 2016-17
FLST, 2014-15 FLSTNSE, 2013-14 FXBSE and 2011-12
FLSTSE
Chrome
Black
34-1672
34-1673
With 1.514 spacer
For 2001-15 FLST, 2004-17 FXD (except FXDLS), 2002-07
FLT w/Delphi EFI, 1993-06 Big Twins
34-1711
34-1712
34-1672
Round High Flow Air Cleaner Kit
• Fits 2017-up FLHR, FLHT, FLHX, FLTR
FXFB 2018-up FXFB. FXBB. FXLR, FXFBS, FXBR
VT No. 34-1466
• For CV Carburetors. Bracket not included. Air cleaners in-
clude alloy backing plate.
VT No.
Item
34-0668
34-0455
Chrome Air Filter Assemblies
34-0668
83
TOURING
WWW.VTWINMFG.COM
Air Cleaner