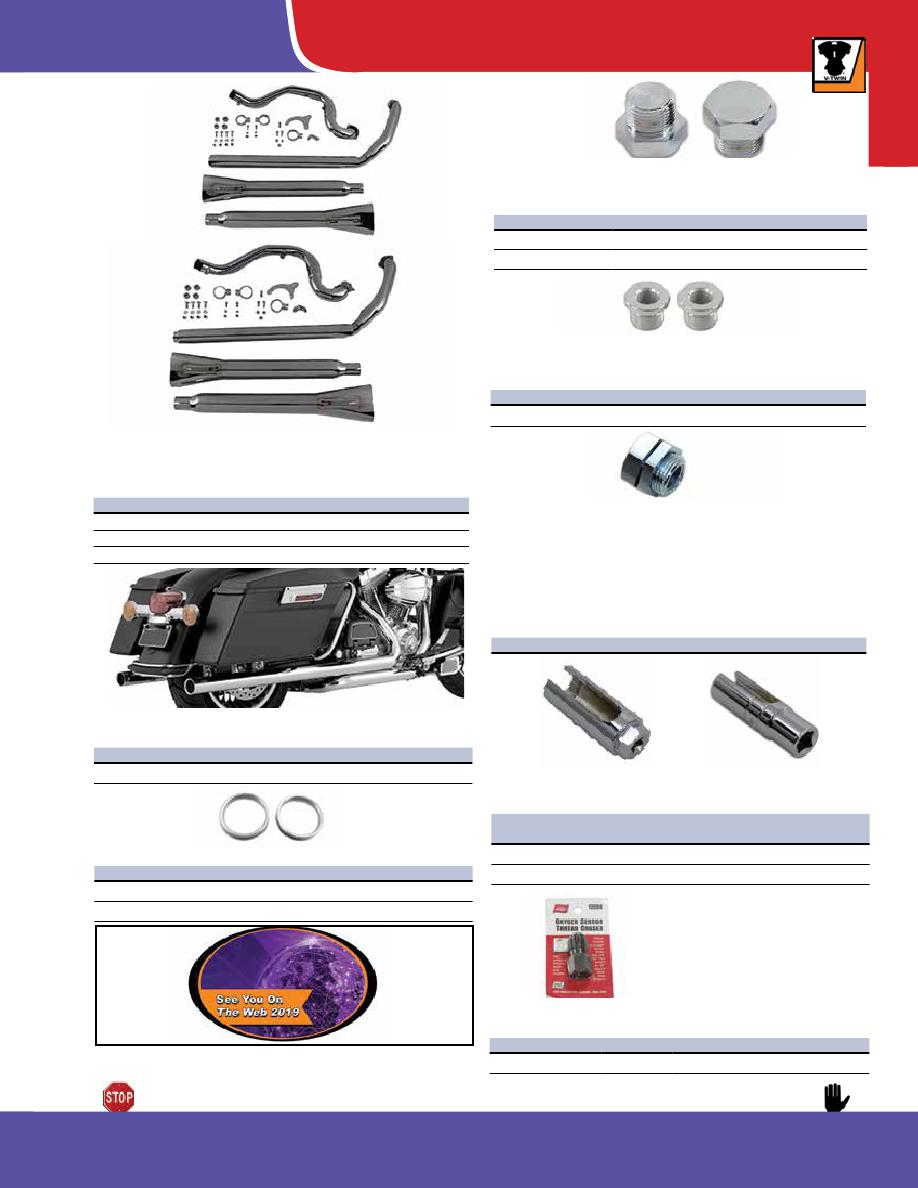 Chrome Tru Dual Oval Crossover Exhaust
Header System
• With oxygen sensor ports.
• Includes crossover kit with clamps.
VT No.
Fits
30-0764
30-0763
30-0588
FLT, FLHT, FLHR, FLTR 1995-2006
VT No.
Fits
30-1578
Vance & Hines Exhaust Drag Pipe Set
• Include pipes, heat shields, caps, baffles and hardware.
30-1578
30-0763
30-0588
Important Note: Some items on this page may be emission-related parts subject to California or other emission control laws. Please see
note on for important information regarding emission control regulatory compliance and warranty information.
30-0423
Exhaust Oxygen Sensor Plugs
• If you are doing away with your oxygen sensor, use this-
threaded plug in its place.
VT No.
Fits
30-0423
30-0448
32-6578
Oxygen Sensor Reducer Plug Set
• Allow the use of late type 12mm sensors in earlier exhaust
pipes with 18mm sensor bungs.
VT No.
Fits
32-6578
Oxygen Sensor Bung
• Features a zinc plated 18mm threaded fitting that accepts
12mm oxygen sensors.
• Bungs can be installed in any exhaust pipe to allow the use
of oxygen sensors.
• Recommended to drill a hole in the exhaust pipe where the
nut can be easily installed. To enlarge a small hole, use point-
ed harbor freight uni-bit.
VT No. 30-0494
Oxygen Sensor Removal Tool
• Easily removes or installs sensors on fuel injected models.
Fits FLT 2006-16
VT No.
Application
16-1131
7/8" wrench or 3/8" drive
16-1132
3/8" drive for 12mm sensors
16-1131
16-1132
16-1385
Oxygen Sensor Plug Thread Chaser Tool
• Used to repair damaged sensor threaded bungs in exhaust pipes.
VT No.
Size
Fits
16-1385
Oxygen Sensor Sealing Washer
VT No.
Year
MM
15-0081
15-0012
Wyatt Gatling Muffler Set with Tapered Tips
VT No. 29-0050
81
TOURING
WWW.VTWINMFG.COM
Muffler Component
Muffler Set