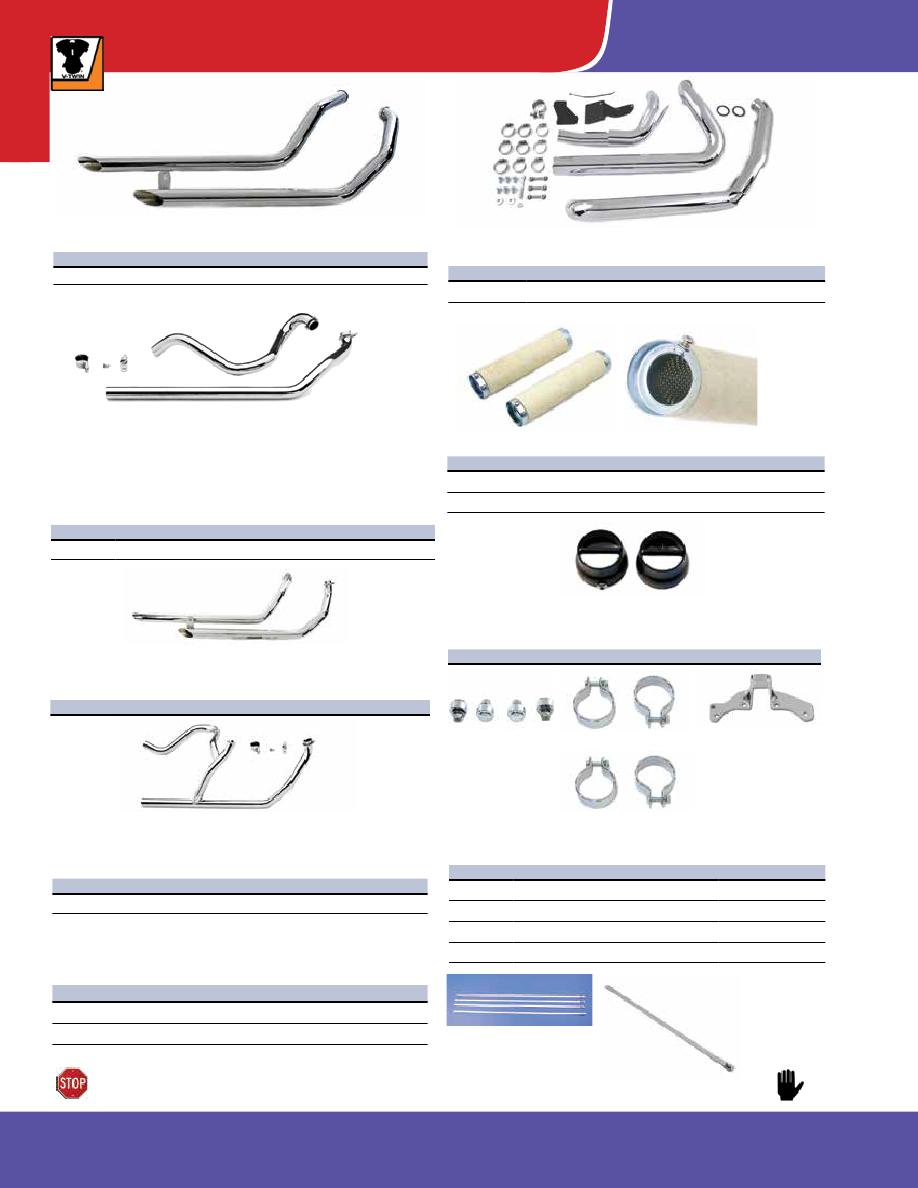 Vance & Hines Independent Chrome Dual
Exhaust Header
• Full length 2¹⁄₈" heat shields.
VT No.
Fits
29
-0079
29-0081
Chrome Slash Cut Exhaust Drag Pipe Set
• Slash cut ends and include mounting hardware.
VT No.
Fits
30-3157
VT No. 30-0050
Open Core Baffle Set.
VT No.
Tube I.D.
30-0351 2¹⁄₄"
30-1434 2"
31-2132
31-1250
37-0977
Hardware for Exhaust Pipes.
• All hardware is chrome finished
VT No.
Item
Fits
31-1250 Mount Bracket
37-0977 2³⁄₈
" Pipe Bolt and Spacer Kit
31-2132 1³⁄₄
"Pipe Clamp Set Custom application
31-3979 3" Muffler Body Clamp Set Chrome
Baffle Ring Set
• Set is for exhaust pipe set with a 2¹⁄₄" outside diameter.
• Creates back pressure.
30-0050
29-1109
Shovelhead Pipes for FLT
VT No.
Fits
Shield Set
29-1109 1980-83 Shovelhead FLT
30-0316
Chrome Drag Pipe with Slash Cut End.
• Fits FLT 1980-1984 FLT.
• Includes mounting hardware for Shovelhead models.
VT No. 30-3208
30-0351
True Dual Chrome Exhaust Systems
• By Paughco
• Feature a single pipe for each side. Each pipe is independent,
rear pipe for the left and front pipe for the right without inter-
section. Pipes have a 1³⁄₄" outside diameter. Order heat shield
set separately. Does not include hardware. Uses 1³⁄₄" slip on
mufflers
31-3979
Important Note: Some items on this page may be emission-related parts subject to California or other emission control laws. Please see
note on for important information regarding emission control regulatory compliance and warranty information.
Chrome Dual Pipe Crossover System less
Mufflers
• Feature intersection of left cross over at rear pipe, 1³⁄₄" O.D.
VT No.
Year/Model
29-1162 1980-83 FLT
29-1162
30-3157
Stainless Steel Tie Wraps
• For securing exhaust wrap to pipes.
VT No.
Length
Qty.
48-0125 14"
48-0157 11¹³⁄₁₆" 300 mm x 7.9 mm x .25mm
48-0157
48-0125
80
WWW.VTWINMFG.COM
TOURING
Complete Pipe & Muffler Set