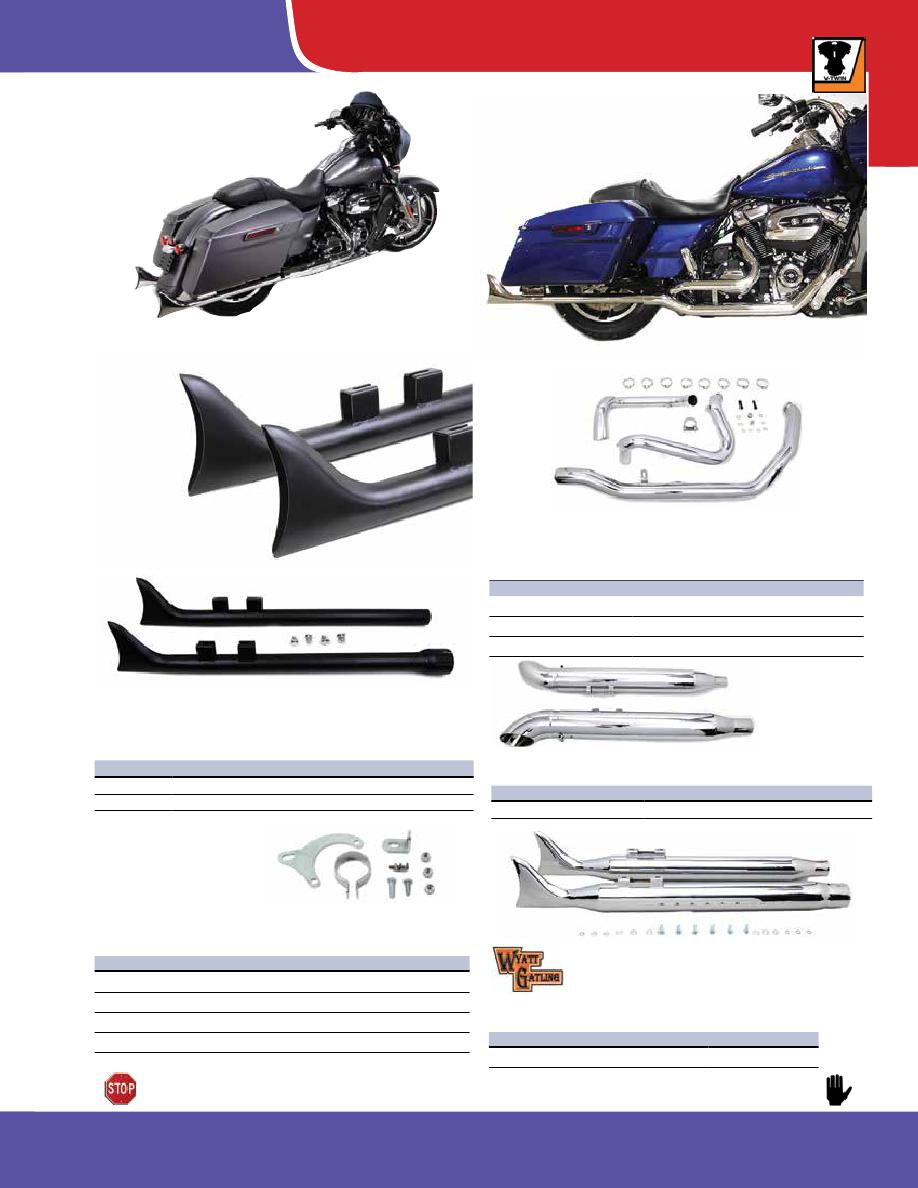 Wyatt Gatling Tru-Dual Head Pipe Set
• Includes independent exhaust pipes for both cylinders,
chrome full length heat shields and allows the use of 1³⁄₄"
mufflers. Features12mm oxygen sensor bungs.
Straight Fishtail Extension Set
• Direct bolt on for Milwaukee-Eight 2017-up Touring model.
• Both extensions are straight through without any type of baffles
not for legal use in any state or highway.
30-0958 installed on 2017 Milwaukee 8 model.
30-0973
30-0973
Chrome
Black
Length
30-0958
30-0960
30-0972
30-0973
Turnout Muffler Set
VT No.
Year
O.D.
Length
30-1750
30-1750
VT No.
Fits
O.D. Style
Finish
30-1606 FLT 2017-up
• Fit the existing clamps and hangers.
• Muffler set features 4" waffle type baffle.
Wyatt Gatling Fishtail Muffler Set
30-0933
VT No.
Year
Type
30-0933
30-0940
31-1737
VT No.
Item
Fits
31-1069 Exhaust Clamp & Bracket Set FLT 1995-2008
30-0637 Front Exhaust Header Pipe
30-0615 Front Exhaust Header Pipe
30-0614 Rear Exhaust Header Pipe
Individual Header Pipe Components
• Clamp and bracket set, as well as specific pipe sections.
31-1069
30-0940 Installed
Important Note: Some items on this page may be emission-related parts subject to California or other emission control laws. Please see
note for important information regarding emission control regulatory compliance and warranty information.
77
TOURING
WWW.VTWINMFG.COM
For M-8 models